Lunging pics from today (Lots!)
---
Well, lately I haven't really been enjoying my rides, as Shea is being totally out of character - lots of general silliness, shying, running through the bit, focusing on pretty much everything but me.
So I decided today to lunge him before I rode which is something I don't usually do. I thought it might take the edge off his energy but mainly I used it as groundwork to get his attention on me, and not the imagined gremlins in the grass.
I know he's not pushing from behind in these pics, but I have him in the running reins because I figure if he's going to be working I don't want him running around with his head in the air like a lama.
I was just happy that he was tracking up and that he's landing heel first which is something myself and my barefoot trimmer have been working on for a year. He used to land (very obviously) toe first, and had this wussy little short-strided trot.
Anyways, I took a ton of pics, so here are some of my favorites.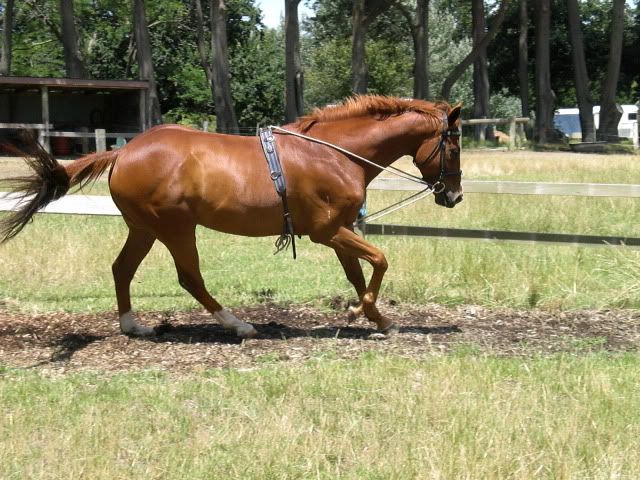 And after that we had a brilliant ride!
---
Do not follow where the path may lead, go instead where there is no path and leave a trail...
Yearling
Join Date: Feb 2007
Location: In the Phantomof the Opera's lair beneath the Opera Garnier
Posts: 1,112
• Horses:
3
yeah sometimes lunging is the answer. he looks like he was work well into the bit too which is excellent
very nice!! looks nice and warm. this is my pic from today...lol brrrrrrr...
Yeah, I'm in Australia and it's summer over here so it's warming up. Not too bad yet, but it does get pretty hot. I end up getting up early to ride to try and beat the heat. I'm more of a cool weather person, and I'd love to ride in the snow someday
Thanks for the compliments!
---
Do not follow where the path may lead, go instead where there is no path and leave a trail...
Looks good! I'm going to start lungeing a few times a week with my boy. He's been very much the same as yours it sounds like, ha ha. Also going to be in side reins (not tight at all) to help him build up his topline. It's not a bad idea and a good exercise if done properly.
He's a lovely looking horse and looks like he was using himself pretty darn well.
---
I give myself very good advice, But I very seldom follow it
gorgeous photos !
---
Gypsy & Scout <3
Everybody is a genius. But if you judge a fish by its ability to climb a tree it will live its whole life believing that it is stupid. ~Albert Einstein
Gillian - yeah, it's almost like Shea is determined to focus on anything but me, so I'm trying to re-establish some rules, like the one where I'M the boss, lol.
If you want to lunge him with some sort of reins I would recommend using running reins, as they don't tie their head down, unless I have them REALLY tight, Shea can still put his head up if he wants (which eliminates any panic attacks as he hates feeling trapped) but the higher he puts his head the tighter the reins get. They also give some flexibility with head placement.
This is an interesting read if you're thinking of using side-reins.
The damage done by side reins
I would never use them as I don't believe I have enough experience and I don't think they would do Shea any good, where he's at atm.
gypsygirl - thank you!
blush - he actually used to be a pretty ordinary mover. But I previously discovered he was having issues with saddle fit and a sore back, despite the fact that his had had been fitted only months ago. So he's had a couple of sessions with an equine massage therapist, and will have more. Plus it looks like he finally becoming more comfortable with his feet.
I actually hadn't lunged him for ages before taking these pics and so when I put him in the round pen and he started trotting I was like 0.0 BIG improvement!
---
Do not follow where the path may lead, go instead where there is no path and leave a trail...