My mare does that with me. I had an incredible experience a few weeks ago where my mare put herself between me and 2 playing foals. As it happened to be one of the foals stumbled down. If it hadnt been for her clearly putting herself next to me I would have been trampled which at the time would have not been a good thing as I was on crutches.
gangsta what a great shot-that is too funny
haha thanks! i needed that one for the memory box :)
I´ve a funny picture like that too
Just the horse of my sister....
My poor baby has to bear this the whole day
but he is just soooo in love with her :roll:
---
So long...
Freya + Nando the Joker
Started
Join Date: Apr 2007
Location: Australia-The best Country!
Posts: 2,192
• Horses: 0
Ok ok, the first one has defanaitly gotta be up there. But with all the others, I never knew horses could be so mean! Lol, kidding. You guys must have the camera out at the right time eh? I'll try and get a funny but mean picture soon. The one that is just above, LOOKS hilarious!!!
---
Rach
WE ARE GEELONG! THE GREATEST TEAM OF ALL.....
Haha. Great pictures everyone!! :P
---
"'For I know the plans I have for you,' declares the Lord. 'Plans to prosper you and not to harm you, plans to give you a hope and a future'" ~ Jeremiah 29:11
I'm pretty sure that Toby was sticking his tongue out at me behind my back.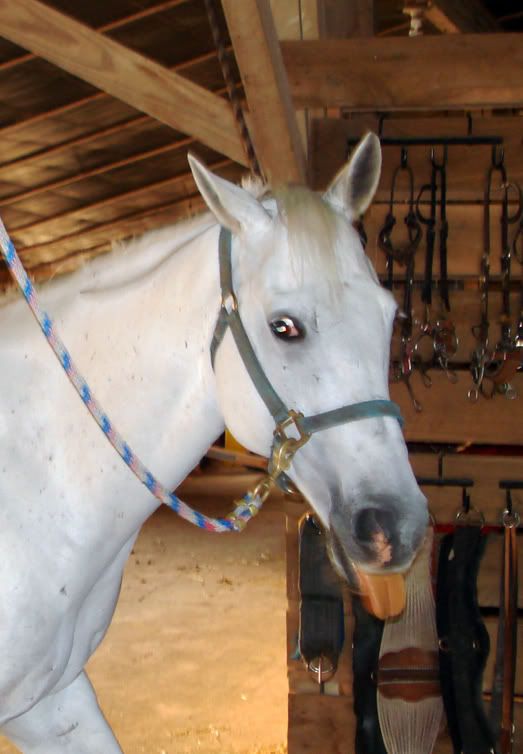 ---
Cocoa - 32 yr old QH, Cherokee - 8 yr old TWH & Toby - 16 yr old QH
R.I.P. Cocoa 4/13/78 - 2/9/11
Dumas didn't appreciate Twister playing with him at this moment.
Dumas is top dog...but Twister likes to get him all riled up and take off!