Meet Ebzeenah
---
So now I guess I will tell you Ebzeenah's story along with posting some pic of her - finally!
An elderly gentleman wanted to have a black foal from his beloved black Arab mare so he bred her to a black Arab stud and Ebzeenah was born. Unfortunately, he took ill and died sometime during her first year. Ebzeenah was bought and sold a number of times mainly either due to finances and/or her owner(s) not having enough time to work with her.
So here I am looking for another horse. I wanted a younger horse that I could do most of the training with. A good friend of mine breeds, trains, and sells horses and somehow she even manages to compete regularly. I think she gets about two hours of sleep each week! I gave her a call so I could go out and look at her herd to see if I "clicked" with any of them. She's got some great horses, but none of them were the fit I was looking for. On our way home, she said she had to stop and worm a green horse she had just put into 30 days of training for a lady who had just purchased her. She was having some reservations as this lady was a fairly experienced horse person, but had never owned a horse. Moreso, she wanted this mare for her teenage kids who had no horse experience. And then they were talking about getting a black stud to breed to the black mare, etc. She knew the green horse with the green owner(s) was a potential for disaster.
We walked out into the pasture and she called for the mare. Here comes this little spitfire black mare running up to see us. Now this figures - the only horse out of 40+ that I bond with and she is already sold. I told my friend that if for some reason this sale to the lady with the kids didn't work out, then I'd be interested in buying Ebzeenah. I didn't really give it much thought after that.
The next evening, we get a call from my friend. "Are you really serious about wanting Ebzeenah," she asks. "Heck yes! But didn't you already sell her," I reply. She told me she knew it was a bad idea to put the mare with this family and that she would find a horse that was the right fit for them.
Ebzeenah has been absolutely the perfect fit for us. She has a lot to learn, but is wicked smart and usually catches on after being shown something only once. There is so much more to tell about this wonderful little mare, but I'll have to leave that for some other threads!
She's overweight and her hooves need trimming (appt with farrier in AM), but I love every hair on her very faded hide!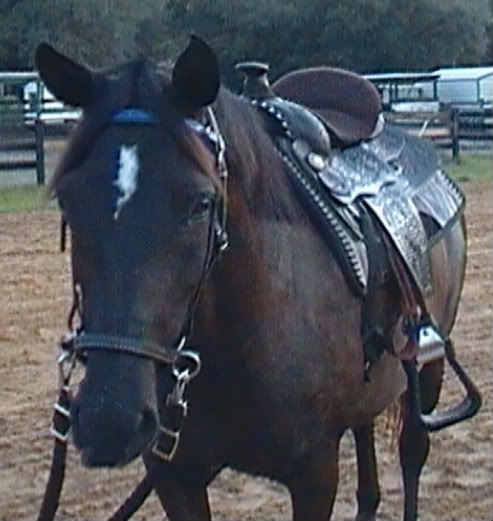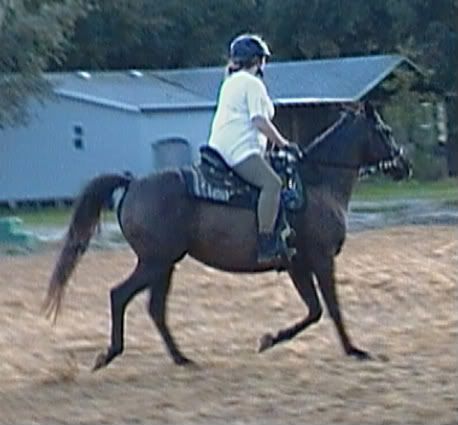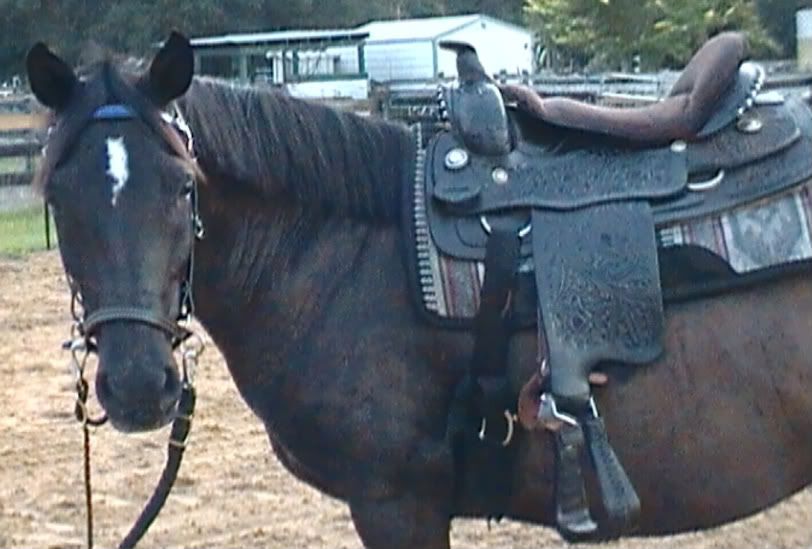 She's pretty! I think that's the first overweight arab I've EVER seen, though. lol Usually they're like hummingbirds on crack (and have a metabolism to match...at least my friends' arabs are like that).
---
Do not tell me I can't...because I will
show
you that I can.
Thanks, DAM!

Actually, all of our Arabs are a little on the heavier side, but Z takes the cake! It is really just a matter of it being too hot or raining to get out and ride them enough. I have to cut her down to a 10% feed now that she's not working much. She only gets 1/4 scoop. She'll slim down and shape up in the next few months. That will give me a good reason to post more pics!
Beautiful girl!
---
People with true credibility and integrity don't need to tell other people how great they are.
She's pretty! : )
---
100% Anti-Slaughter and PROUD of it!

What a story! Congrats on getting her!! Sounds like it was close!!! Thats how it was with my guy Rodeo......look forward to seeing more pics of her!!!!
Thanks, all. She is such a sweetie, and so very laid back. I'm so lucky that I found her.
Wow, that sounds like a storybook perfect ending! I wish I had your luck
Have fun training her! She's very pretty by the way, and will probably be gorgeous once your done with her.
---
Passion-(n)
1.powerful emotion or feeling
2. Horse back riding
I think I just might have to change her name to "Goodyear"! lol
Similar Threads
Thread
Thread Starter
Forum
Replies
Last Post
Meet Roo!

DutchFeather

Miniature Horses

9

08-06-2011

08:05 PM

Meet my boy!

dedebird

Horse Talk

9

09-19-2010

05:12 PM

Meet My New BOY

leviijeans

Horse Pictures

20

05-22-2009

09:36 PM

I want you to meet...

sparky

General Off Topic Discussion

6

03-28-2007

07:47 PM

im new meet me :)

Gammelquarterhorses

Meet the Community

0

12-31-2006

12:17 AM