Meet Fuzz Bucket
---
Oops... Went to an auction and came home with a horse
I did not want, or need another horse. However, I have always wanted a grulla, but as I don't typically buy for color, I've ended up with a bunch of bays. At a recent sale there were a few grade babies that looked very nice, and prices were low, even for nicely built, colored ones. Several went to the meat buyer, in fact the majority of the horses there went that way. My BO was thinking of buying a couple babies to play with over the winter, when its too icy for riding we can be working with them in the barn. It was too good of a deal to pass up, she got a palomino and a very flashy chestnut, and I got - Fuzz bucket. Grulla filly, 5 months old, obviously quarter horse but no papers. She is a bold, defiant little thing, never been handled. Looking closely at her face, I wonder if she is grey as well as grulla, we'll see next spring I guess.
The general consensus around the barn is that I should call her Sage, but I'm not convinced it quite fits. The first time I went to work with them, I discovered the other two were very quiet and obviously played with before. As for my little girl, she was a bit of a handful
I expected fear, but she is just plain rebellious, determined and willful. I'll take my time, and we'll get there, but at the moment she's a little, um, interesting to work with. Without further ado, my new girl: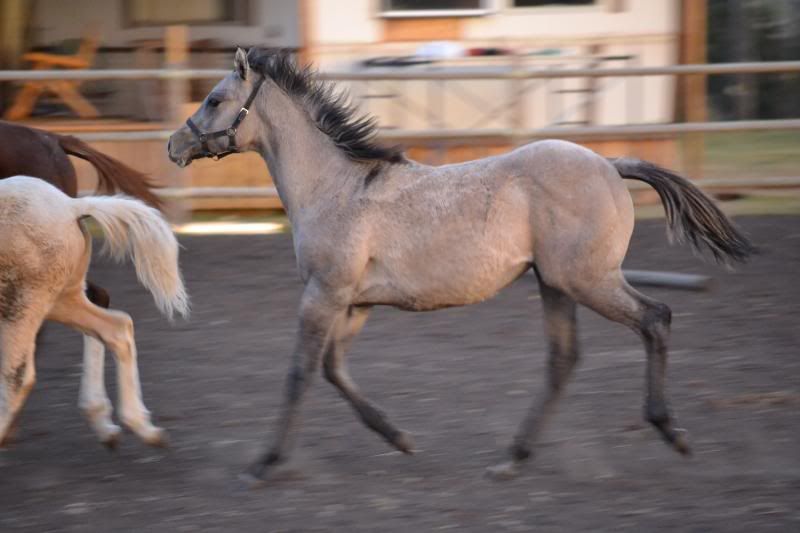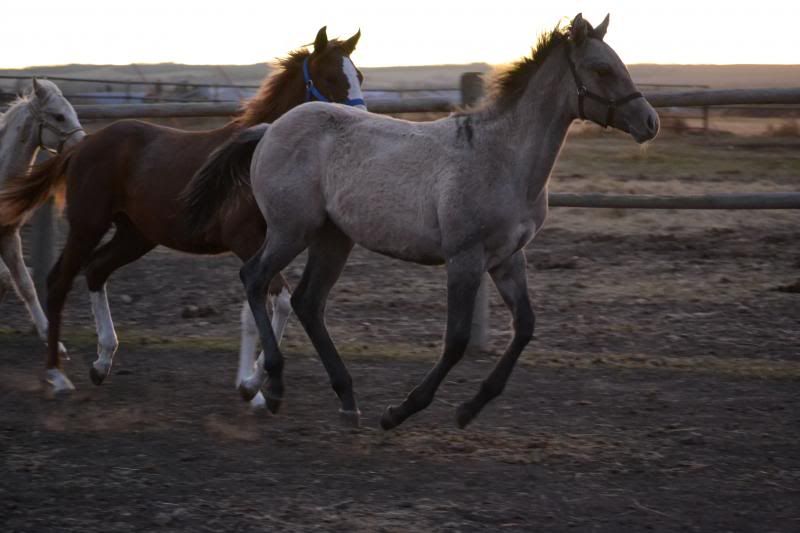 [URL=http://s133.photobucket.com/user/plecii/media/Picture102_zpsa5966
485.jpg.html][/URL
Teen Forum Moderator
Join Date: Dec 2010
Location: South East Texas
Posts: 7,157
• Horses:
2
What a nice little gal! I'm loving that QH booty. She definitely has that look about her that means she isn't going to be any lazy pocket pony...sounds fun >
MORE PICTURES!!!
---
Everyone in your life is meant to
be in your journey, but not all of
them are meant to stay till the end.
Very cute!
Posted via Mobile Device
She's gorgeous :). I adore her colouring as well, so pretty.
shes adorable :):) let us know how she comes along, despite the filly-tude. p.s. thats why i avoid auctions. I would come home with one too LOL
---
Beauty is not diminished by those who refuse to see, hear,feel or in any way sense it. If you refuse to see beauty its you who is weakened.
Update:
Training wise, she is insanely smart, and is learning faster than any other weanling I've ever worked with. Still throws the odd temper tantrum, but progressing
I was looking at her face and noticing that the hairs seemed to be of mixed shades of grey. I was a little worried she would turn grey(it doesn't matter really in the long run, I just thought it would be a shame to cover up that grulla color) so I looked up the previous owner on facebook(from the name on the sales sheet) and tactfully messaged them, asking if they were the person who sold her, and if they wanted to share a bit of info on her sire and dam. Well, she got back to me, and spent half an hour on the phone. Turns out the sire is a bay dun, 16hh, three year old, and the dam is a buckskin saddle horse of theirs, and they are both registered AQHA! They did a test breeding of this stallion(at 2 years old) on three mares last year, and they were not happy with how he had grown, they say he is more of a thoroughbred type, and they were wanting to breed stockier horses, so they gelded the stallion and kept him to use as a saddle horse, and sold the babies, not wanting to invest the time in them if they would turn out like the sire.
so, I can register her! they are sending me the paperwork, and emailing me pictures of the sire and dam, so my grade filly will now be AQHA registered
Oo one of my favorite colors! And that's great you can register her. I can't wait to see how she darkens up over the winter!
---
EQUUS KEEPUS BROKUS
I love her! What a pretty little thing she is. That chestnut, too.
---
"Thoroughbreds are the best. They're lighter, quicker and more
intelligent. The best of any breed is the Thoroughbred horse, the best
of that breed is better than any other breed." - George Morris
Showing
Join Date: Jun 2011
Location: Cariboo, British Columbia
Posts: 11,775
• Horses:
3
All three of those young ones are very decent looking horses! Very nice find at that auction.
---
I am not here to promote anythingNo, that's not true, I am here to promote everything equestrian and everyone enjoying horses!