Meet the herd!
---
So I'm home sick today and bored out of my mind...so I figured I'd introduce you all to my gang! I've made a thread for Eve already somewhere in here, but I'll show a couple of her too since she's my baby! Might as well start with her! Eve is a 2 year old Clydesdale/TB filly, so far just worked on ground manners and introducing tack, desensatizing and all the youngster things! I bought her unhandled as a yearling and I think she's come far since last August...
Playing in the paddock
And learning to lunge now
Next up is Cinder, she's an 18 year old heinz 57! I was told she was a TB/Appy but I'm convinced there is arab somewhere in her bloodlines...she's a very high spirited mare with some soundness issues. Well, not soundness, she's never been lame...but her hip is partially fused to her spine so my western saddle just wasn't comfortable. Under directions from my vet I've started her on a small dose of bute to see if there's any change. I've also upgraded to an all purpose english saddle that doesn't sit on her "tickle spot" so I'm working on my velcrow butt since THIS is her most famous move...
Since starting the bute she's come a LONG way though! Still has her fire, but not so irritated as she always was.
Last for this post is Justus. She's a 4 year old Appy/Mustang X Welsh Pony mare that I gifted to a kid that was coming out to ride for the last year. She's an awesome kid, loves horses, and I'm just too tall for Justus. She's 14.2hh and I'm 5'9 so my leg cues were being mistaken for bugs on her belly...
Justus with her new kid on her
I'll post in this thread again to do the rest of the horses since you can only add so many pics...I'm a bit of a picture freak! LOL!
---
Never ride faster than your guardian angel can fly
OK, so moving onto my mom's horses! First, she's got Justus' dam, an 11 year old Appy/Mustang mare that is willing to do ANYTHING! She's the sweetest horse, and so honest...it's almost funny when she gives attitude because you can feel it coming a mile away and it's the TINIEST crow hop ever! LOL! Anyway, here's Dove
When I broke my leg, she was the ONLY horse I rode! She's so trustworthy...a true kid's horse!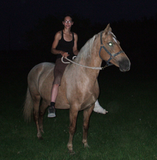 She's a trail horse at heart, but she tries hard with english and even harder over jumps!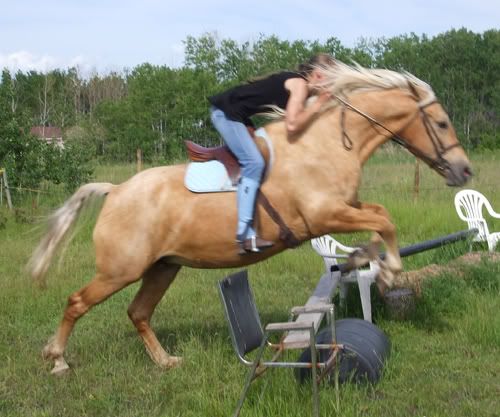 She's so tolerant too! She's my trick horse...not my best attempt, but the only one I can find right now!
Next is my mom's 11 year old Arabian/QH mare, Flika! I don't have many riding pics of her since she's been off for just over a year with a leg injury, but now she's sound and ready to go again! I have some from last summer though...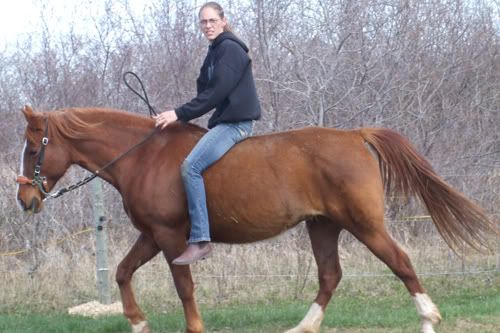 Cheater pony trots over crossrails...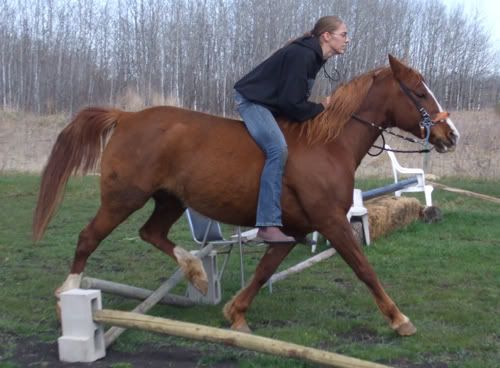 As a 3 year old I was still a little scared of her since she was a bit of a handful so I spent most of my time with her doing groundwork and teaching her tricks! The only one she really remembers is how to smile!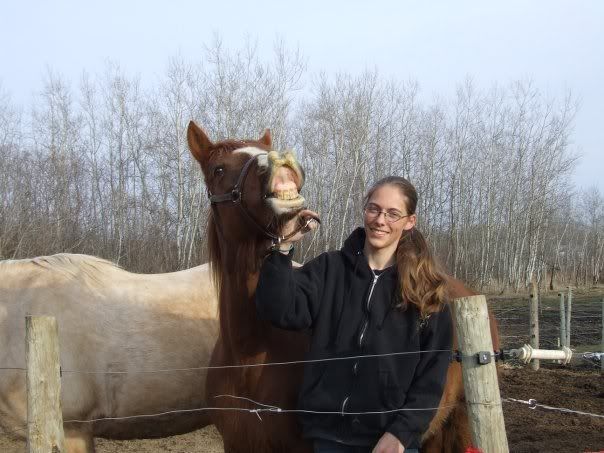 This was from when we were just teaching her to jump...
And last for this post is Mini Man! He's an adorable Miniature horse gelding, 6 years old now. Bought him from a guy that had over 250 minis on about 5 acres...only 2 of those were for the minis though since he bred paints as well. Poor guy was wormy, underweight, and had HORRID feet...but now he's pleasantly plump and sound!
Just standing up from a nap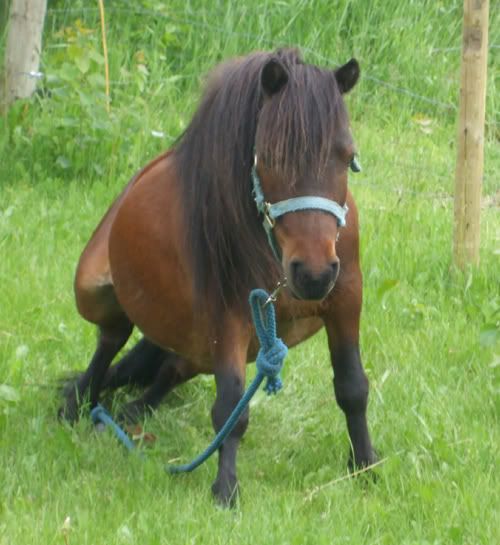 Playing with his BFF, Tink the Pitty/Lab!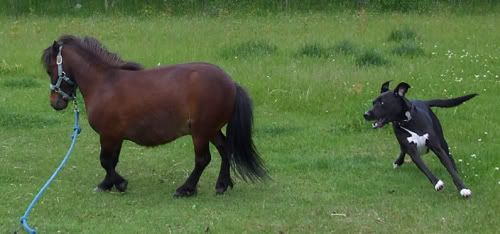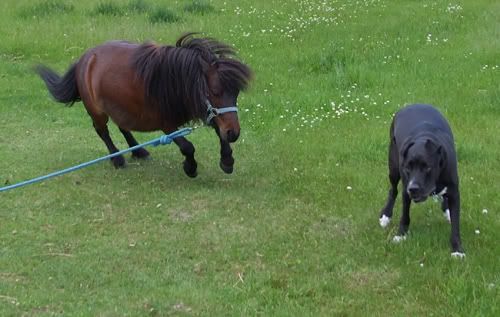 LOVIN the scritches!
And just for kicks...he gets SOOOOOO fluffy in the winter!
He's built for comfort, not speed!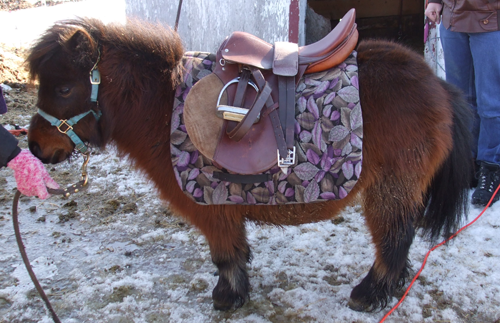 ---
Never ride faster than your guardian angel can fly
Oh my gosh, your mini is ADORABLE! That last picture just cracks me up!
hhaha there all so pretty i like the mini the most!!! and the last pic lmao!!
adorable bunch you have
how is it even possible to have 250 minis on just 2 acres
---
Horses lend us the wings we lack
Thanks everyone, Mini Man's quite the character...he knows he's king of the farm...quite the ladies man too considering he's the only gelding!

As for where he came from, the guy had about 10 pens the size of a normal box stall which was where he kept his stallions...2 to a pen. The other 1 1/2 acre was a "pasture" with a row of round bales down the middle so nobody got cornered when sorting out their pecking order. It was sad. I was upset I was only able to bring 2 home! I wanted to take them all!

The area the breeding paints had was worse...
---
Never ride faster than your guardian angel can fly
awh! all your horses are SO pretty!!!

and dove looks HUGE to be a mustang/appy X. BEAUTIFUL!
---
When God Made Horses, He Painted The Good Ones.
"All I pay my psychiatrist is the cost of feed and hay, and he'll listen to me any day."

Green Broke
Join Date: May 2009
Location: Winnipeg, Manitoba, Canada
Posts: 4,510
• Horses:
2
Haha, ok, I have orders to reply since this is my best friend Shay-la, and this is also where I keep Zierra and Jynx! So for those of you who haven't met the last two in our little group:
Zierra my 10 year old 14.3hh chestnut Arab mare who I've had since she was born (owned her dam).
And Jynx is my new 2 year old 14.1hh black tobiano Paint filly!
ROFL, Jynx and Zierra being all cute together:
And the "big pasture" herd! This is Zierra, Jynx, Eve, Dove & Cinder. Flika & Justus are kept in a smaller, more secure paddock since they're absolute escape artists until we finish fixing the fence (the rest of the girls would stay behind TWINE if you asked them to, so they're fine behind the three strands, we just need it to be zapping for the Houdini ponies!)
---
Quote:
I hope God tells her to smash her computer with a sledgehammer.
Quote:
awh! all your horses are SO pretty!!!

and dove looks HUGE to be a mustang/appy X. BEAUTIFUL!
She just looks bigger in pictures!!! She's actually only 14.3hh-ish! She's just built like a tank, kinda moves like one too sometimes! LOL
---
Never ride faster than your guardian angel can fly
Your mini is just flat-out adorable! The last piccie of him made me laugh xD I love all of your horses, tho!
---
The horse in my avatar is not mine, he belongs to a neighbor down the road.