Teen Forum Moderator
Join Date: Dec 2010
Location: South East Texas
Posts: 7,157
• Horses:
2
meeting the oldies =]
---
alrighty guys, lets see your old horses! I'd love to know their ages/breeds/former jobs(or current, if they're still working!)/ and if you have time, what you do to keep them looking spry!
I'll go first =]
This is
Puddin'
who was donated to us this past fall by a local tack store.
we don't know a whole lot about old Pud, but her estimated age is about 28 years old and that she is an unregistered quarterhorse. We use her for very beginner lessons and for therapy, but we limit her use to an hour or so of work per week due to having an extremely swayed back and an old eye injury that limits her eyesight in one eye. She's a trooper though and is the sweetest old girl. We're still in the process of getting her out of the work horse mentality (showing no affection, just going through the motions) and helping her enjoy her semi retirement, but she's made a lot of progress!
Delriah
is a wonder horse. She is a registered QH mare and if you can believe it, she is now
fourty nine
years old! If that wasn't enough to wow you, this old lady is not only a two time world champion cutting horse, she is still working happily and comfortably as a therapy horse weekly! She loves her job and she loves her kids- and believe me, the day that old Del passes, there will not by a dry eye on the place. She's taught many of us to ride, and introduced dozens of fearful children to love. There is no doubt that Delriah is the favorite, we love her to pieces!
(second picture most recent, last two taken last winter)
---
Everyone in your life is meant to
be in your journey, but not all of
them are meant to stay till the end.
Nelson, 21 year old TB gelding, turning 22 on the 23rd of this month *April*. Eventer, Fox Hunter, Companion, Trail Blazer.
---
Teen Forum Moderator
Join Date: Dec 2010
Location: South East Texas
Posts: 7,157
• Horses:
2
what a hansome boy! If you hadn't said he's already in his twenties, I would of thought he was still in his prime!
---
Everyone in your life is meant to
be in your journey, but not all of
them are meant to stay till the end.
This is Drummer. He is a friends horse, well pony. Drummer is a 25ish Welsh pony gelding. Now he is just a companion horse, but supposedly he was a pony ride pony, and he would just lay down when there were kids on him....his gaits are beautiful by the way!!!
And this is Carl, also a friends horse. Would be 24 this year, purebred Morgan gelding. Did some dressage, but mostly used for trail riding. Poor guy got EPM last year, fought it for a good while(close to a year) when things were looking better for him, everything went downhill, and was soon euthanized after that...here he is RIP Carl
Here is my 24 year old Quarter horse, Pesky Nebraska girl ''Pesky''
She was originally a working cow horse in Nebraska and was ridden barefoot, 7 days a week for 10 years.
Then she came to maine and barrel raced for 9 years, now she enjoys trail riding with me.
I'm just starting to get her in condition with lot's of trotting and hill work.
Here are some pictures
A few days ago>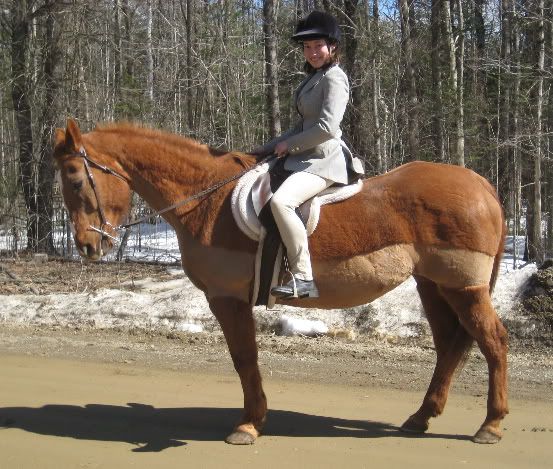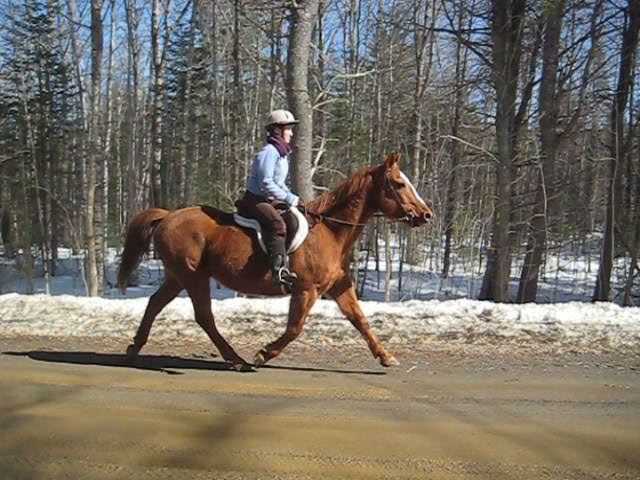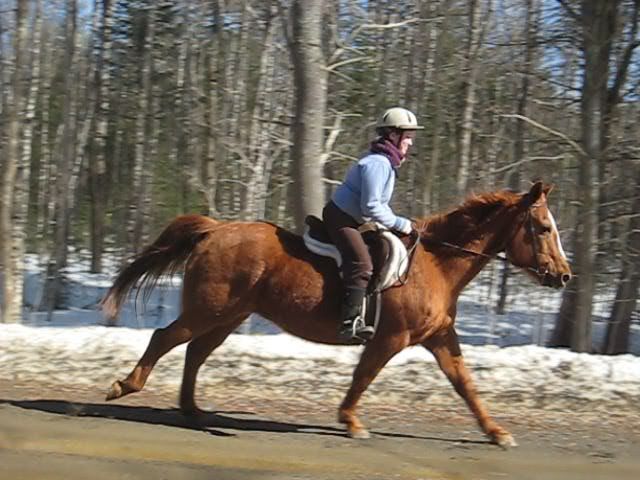 Last summer>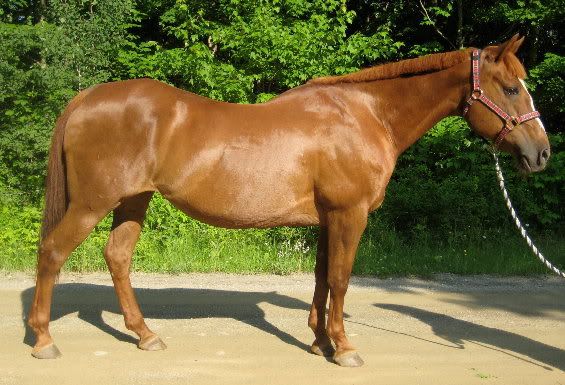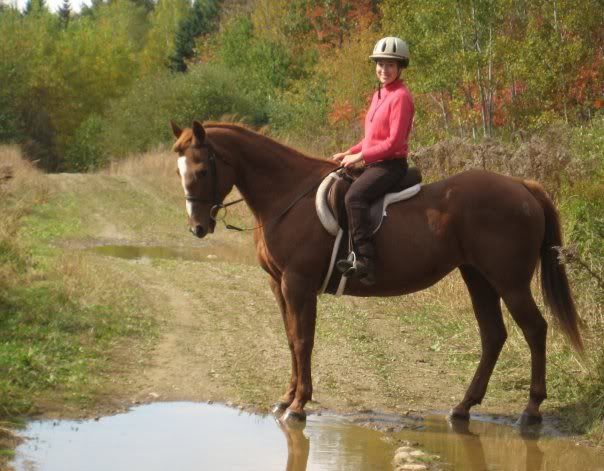 I really need to take some new pics and get old ones transferred to my new pc :(

This is Hondo, "Rey Hondo Dell" our 29 yr old stallion. He's got a bit of a cresty neck and sway back going on but he is happy, healthy & sound. I ride him occasionally just for kicks (he has the ultimate rocking chair trot) but his current job is appeasing my 5 yr old daughter. He is so careful with little ones, he knows what he should and shouldn't do. My daughter can w/t/c any of the mares, but she finally got him to lope for her last week and she is still walking around like a rooster with it's chest out LOL
---
Life is like a camera. Focus on what's important, Capture the good times, Develop from the negatives and if things don't work out, Take another shot.
I have Pepper (Peporoni Princess) a little Appaloosa who is 27 this year. She was bought as a 3 yr old by our friend when she was 12. She broke Pepper in and used her for pony club, a bit of jumping, basic dressage, trails (including galloping up and down the edge of highways), showing, Peppys favourite barrelracing. Just a couple of years ago she was used in race against a bike at a rodeo with three differnt courses and she won two of them. There is probably other stuff too but I can't remember. She is a beautiful little girl who gives her all she will be slow steady for the little ones but still has the get up and go of a 3 yr old for people who want to go. She is a blast to ride and has a beautiful canter. She is semi-retired now she only gets ridden occasionally if there are people over, I need a confidence boost or I just feel like having a ride on her. The day she passes will be a very sad one, everyone who meets her loves her.
---
My two horse Apache and Sammy are my world
along with our dogs Patch and Bear.
But I will always love you Jimmy R.I.P
I don't have a pic, but there is a horse at my barn that is a 33 year old OTTB, she isn't ridden much anymore but she hangs out with her best buddies in the pasture, a percheron and another draft mix, both are three years old. They are so cute together.
---
You are never better than anyone. Every rider has skills they need to improve. The only one you must compare yourself with, is you.
Adorable!!!!!!
This is such a great thread :) Love seeing the oldies!

~Endiku- I'm going to have to show Hondo the pic of Delriah and tell him he has a new goal to shoot for, I'm still amazed at her age. What a great old mare :)
---
Life is like a camera. Focus on what's important, Capture the good times, Develop from the negatives and if things don't work out, Take another shot.