Mini horse fun day!
---
Saturday the mini/pony club I'm in had a fun day, so we loaded up three minis and headed on up there! :) We took my CDE gelding Chili, hubby's CDE gelding Cruiser, and baby Shakespeare :) CDE: Combined Driving Event.
The morning stuff was in hand stuff. Craig didn't want to do those, as he doesn't care too much and he has a hurt foot. I wasn't sure just WHAT we were doing, but it wasn't real close to the trailers. So I wanted to take Shakespeare for some experience, but if there were things I couldn't do with him, I wanted to have Chili, so Craig brought down Chili for me. Shakespeare was just weaned last week, and I wasn't sure if he'd lead real well. So I brought a butt rope and had it on him, but he is SUCH a good boy, I didn't even need it! :) (well, a couple times but hardly at all). He trotted and walked very well with me! :)
The first game we did was a relay race with two teams. To make them even, Craig ended up doing it with Chili. There were two buckets full of things with a towel. One at a time, a person had to go over with their horse, take an object and set it on the table, run back and the next person goes. Each person had to stack the objects on each other, with nothing inside another. It wasn't until both teams were almost done we realized the BUCKET had to be used, too! So both "pyramids" toppled and we had to start over lol! Our team won, BARELY, Shakespeare crossed the finish line a nose before the other team's horse! No photos since Craig had to play.
Next we did "pole bending" around cones :) I forget who won. Here are some photos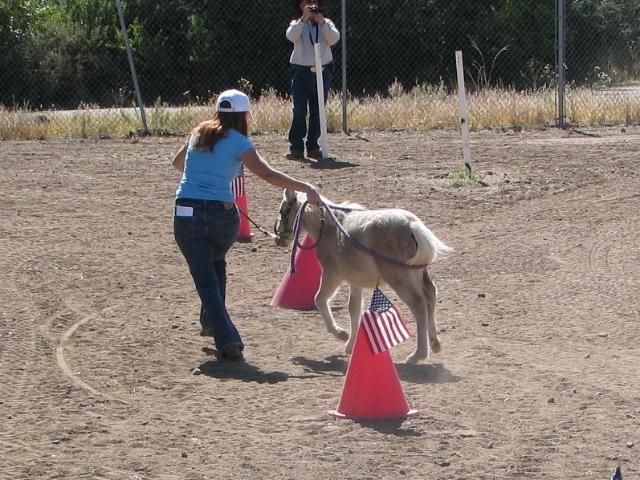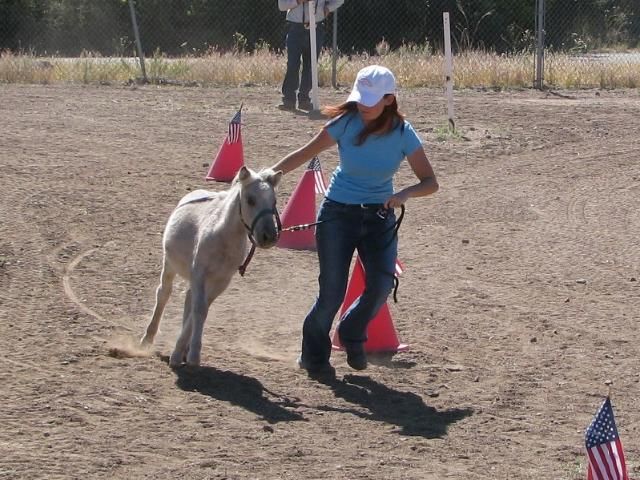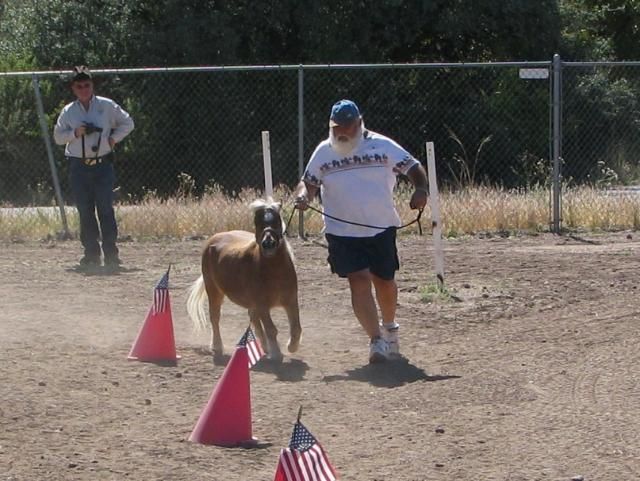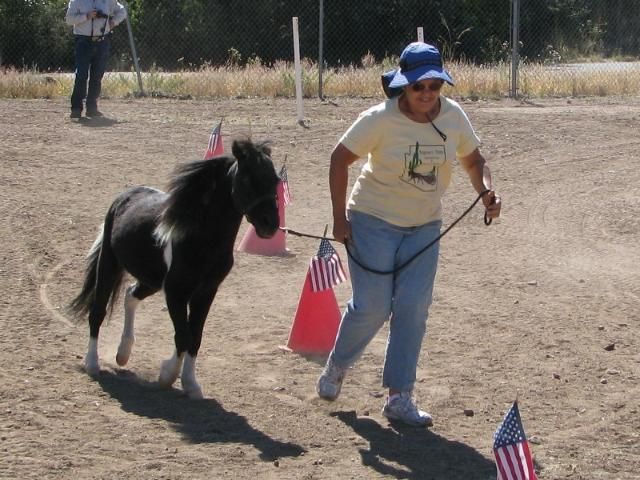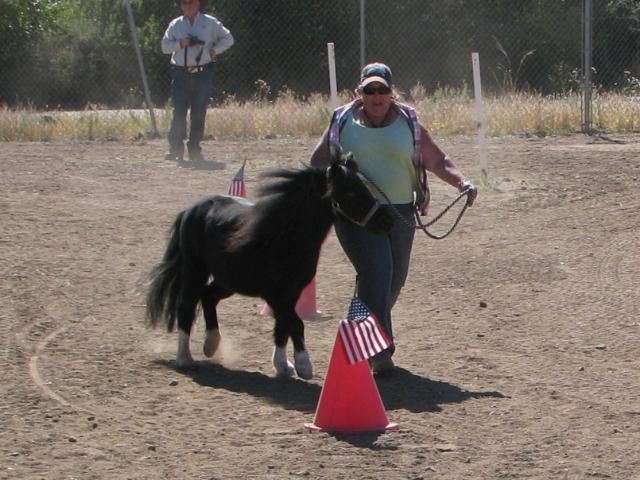 Then we had another relay race. Craig had to join again, so no photos. But we had to run to a table, which had a shirt, hat, and two leg wraps. Put them on your mini anyway you want, run over to someone who took your photo, back to the table to take off the cloths, then back to your group for the next person. Hopefully I'll get the photos that were taken though! Shakespeare didn't care about all the stuff on him! :) Neither did Chili, but I knew he wouldn't. Actually, none of the horses had a problem with it! Our team won again, a full horse ahead :)
Next was a trail course. First over a bridge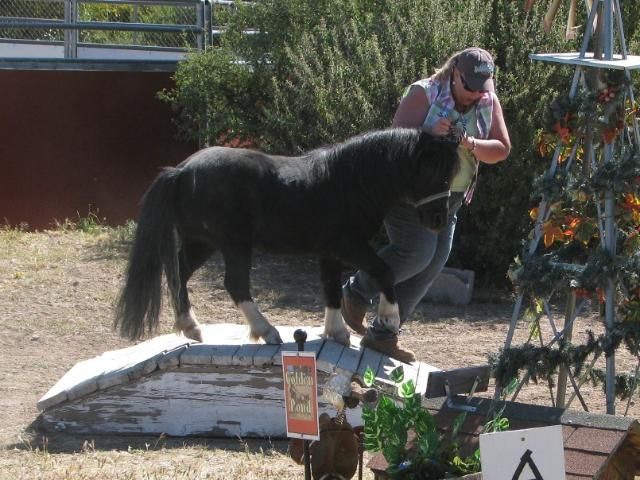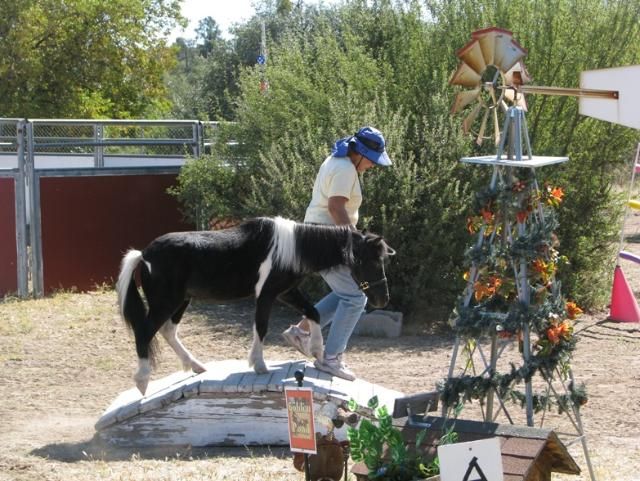 Shakespeare said no lol but I got him to go up and sniff it, so that was good enough for me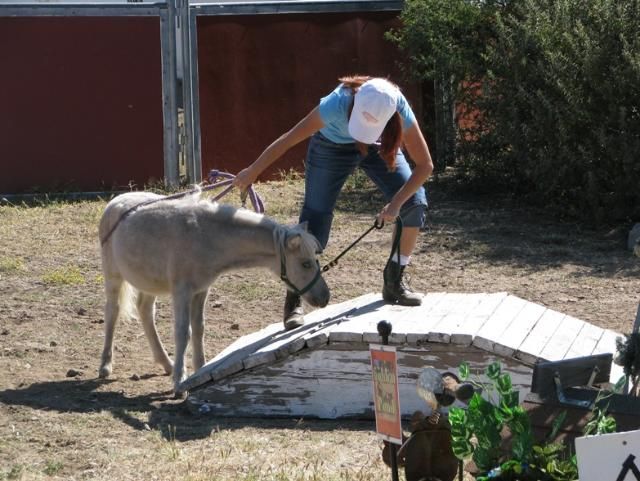 Then through, um... pool noodles? Since it was going away, Craig didn't take many photos, but all the horses went through it fine.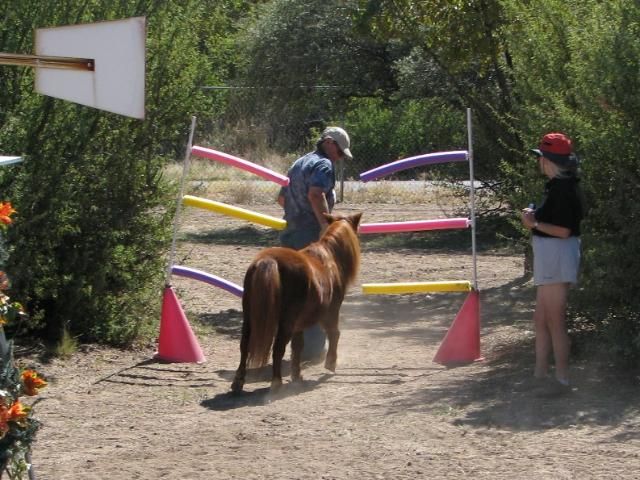 Then over a "jump" (Shakespeare walked over it, but the photo was SUPER blurry because Chili bumped Craig's arm :( )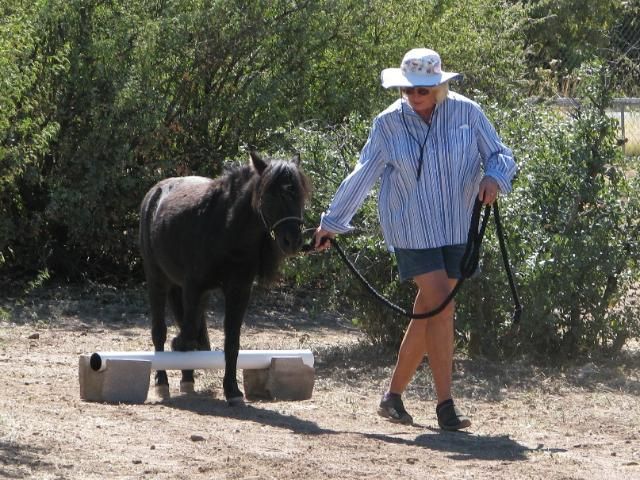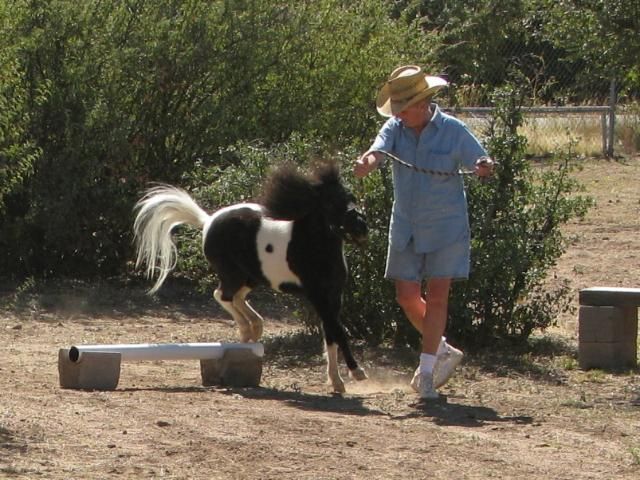 Then go get all four feet in a "box." Shakespeare didn't want to go through the tall side, but did go in on the lower side. No photo of him in it though?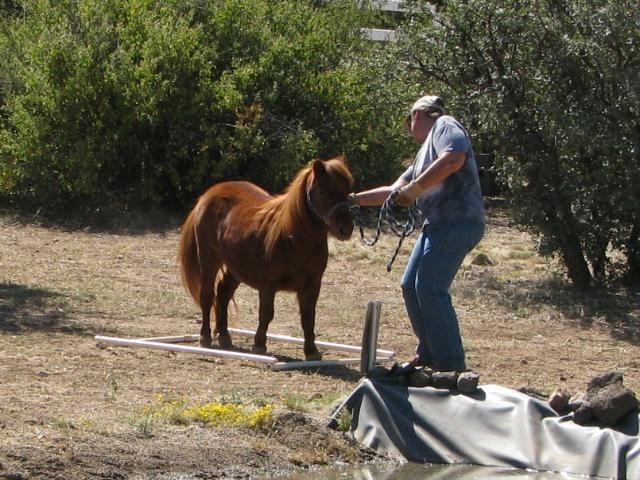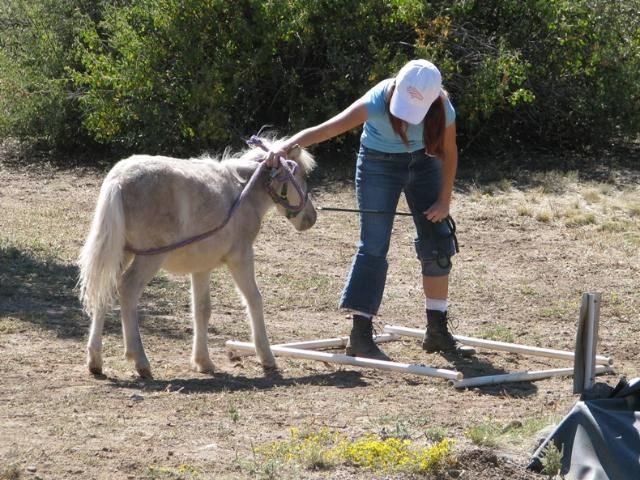 More to come...
Then through water. Some horses, no problem. Others, no way! LOL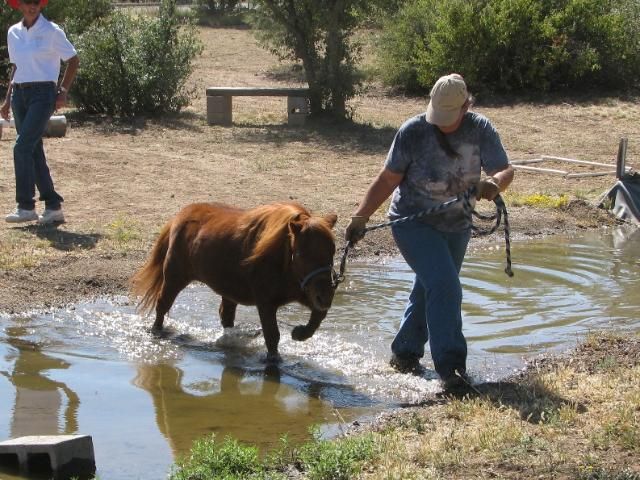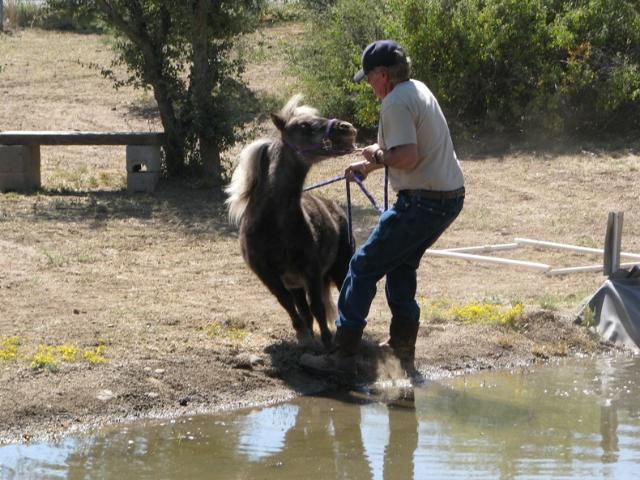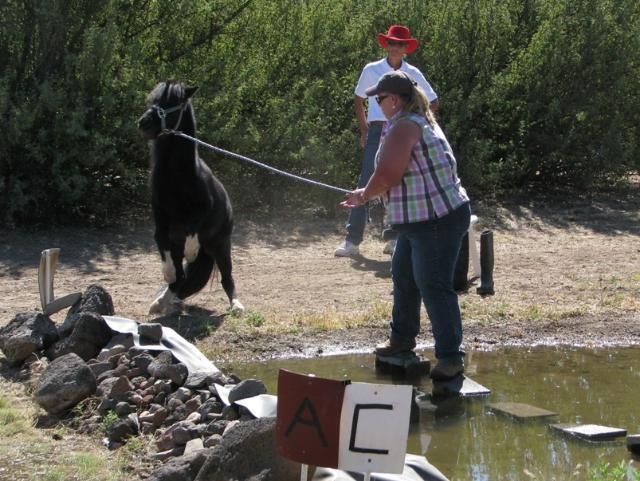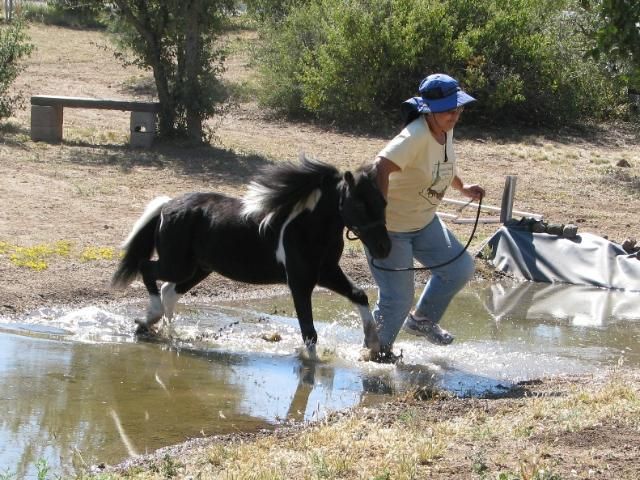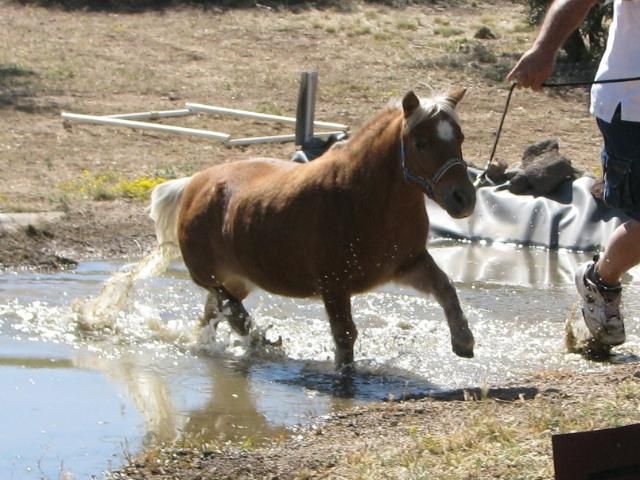 My friend Shirlee took the dryer way, luckily her horse didn't pull/knock her off!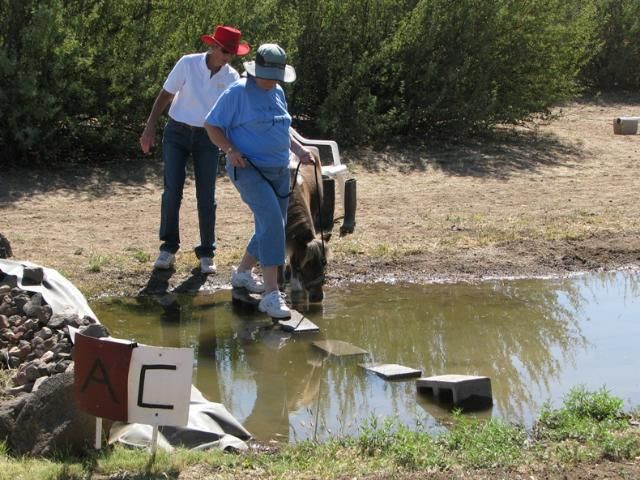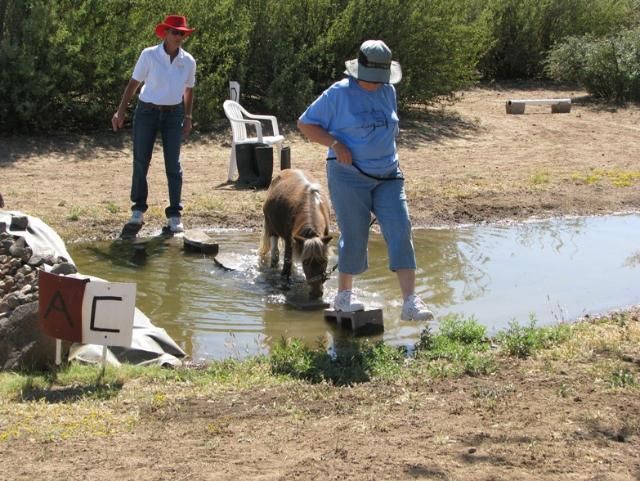 Shakespeare didn't want to go in!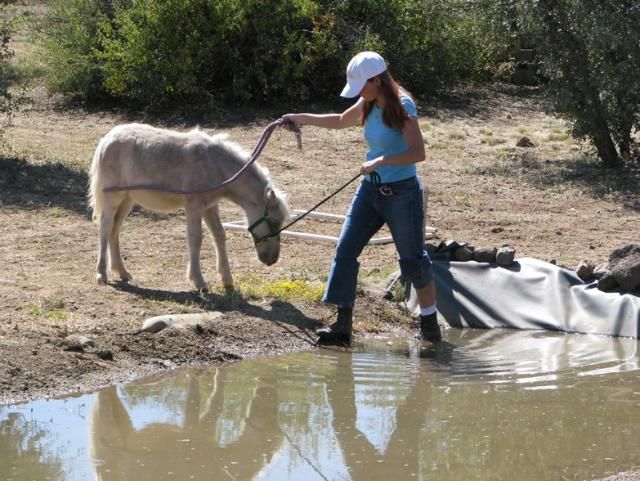 So we cheated and went through a puddle instead ;)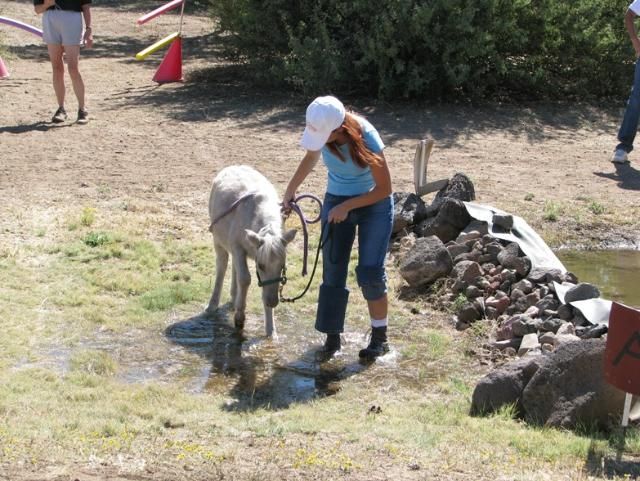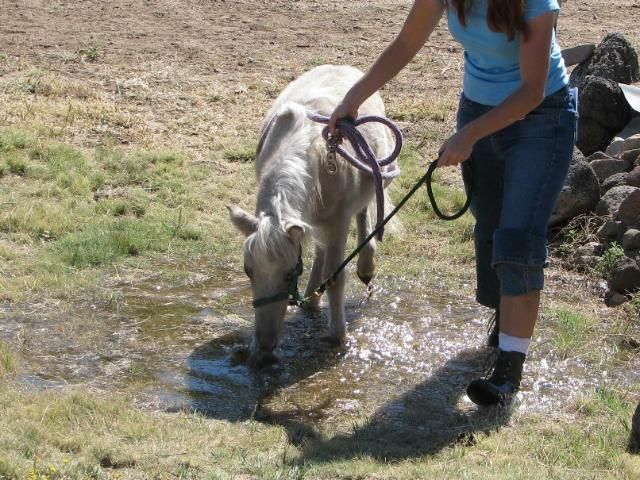 I think my friend Ann won, but I forget ;)
Then after a lunch, we harness up for a Driving Darby. A darby has cones and hazards (like a CDE) but all together, with no dressage. It's easy, quick, and a lot of fun! One horse did crash through a hazard, but after the others finished she went back in with that mini and he had no problems :) Chili and I won the expert division :) I'm not sure who won training.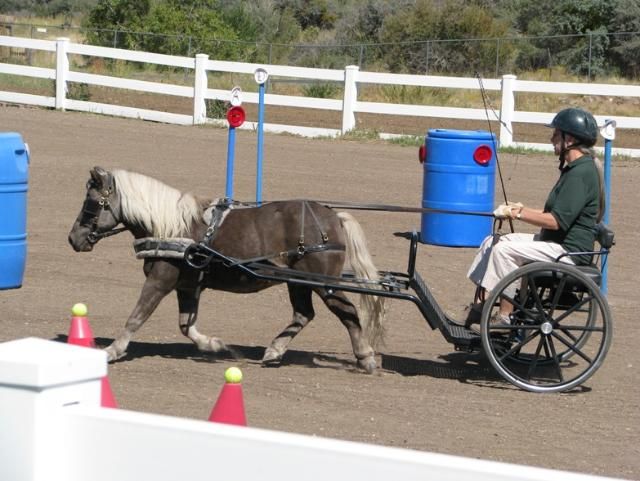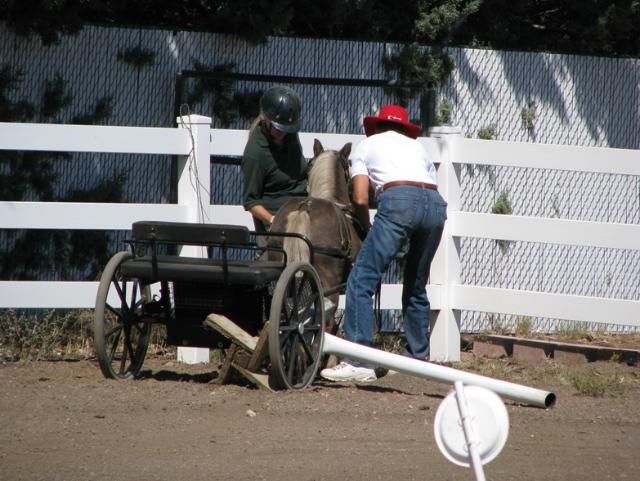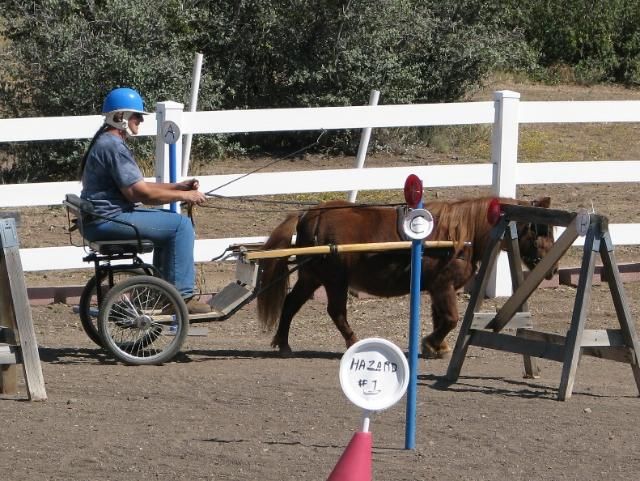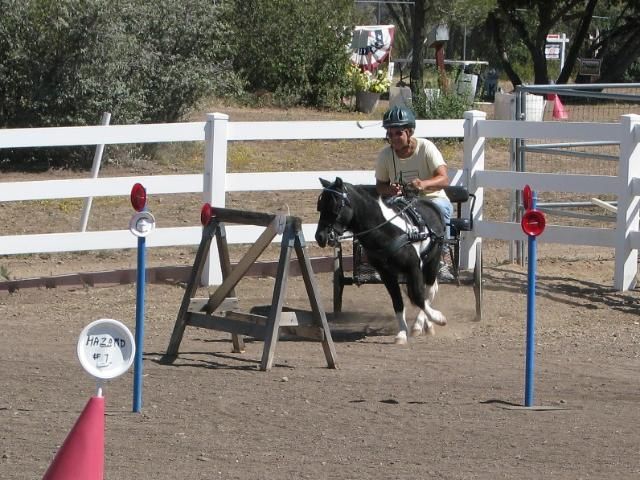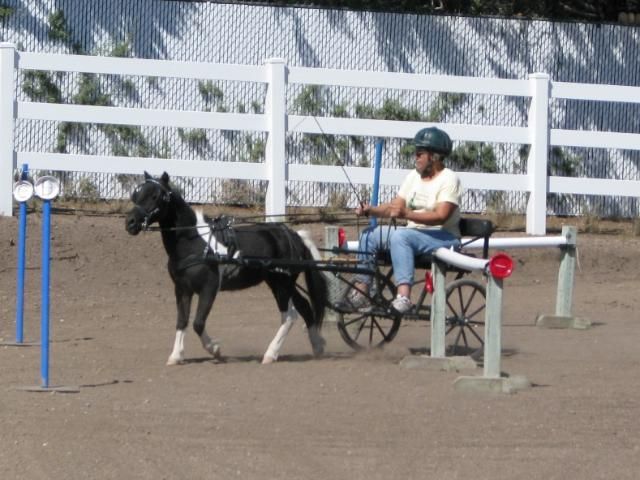 Stay tuned...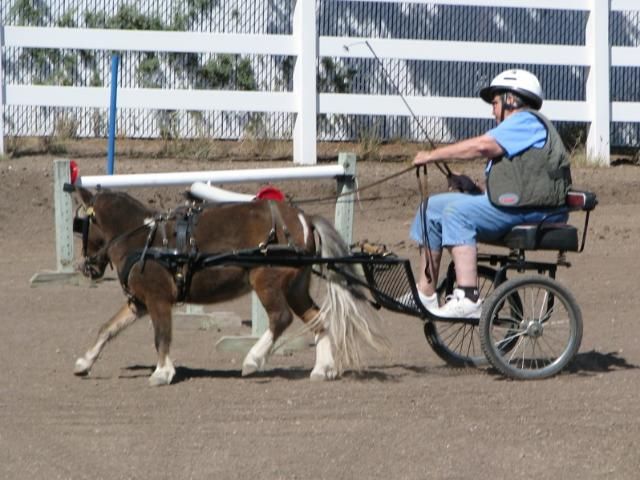 The Chili Pepper and I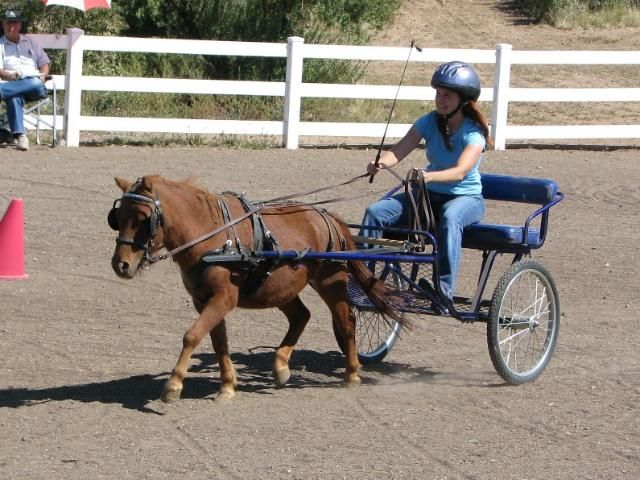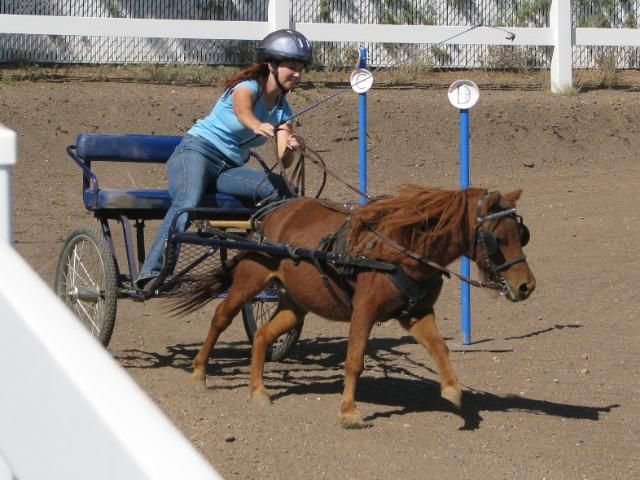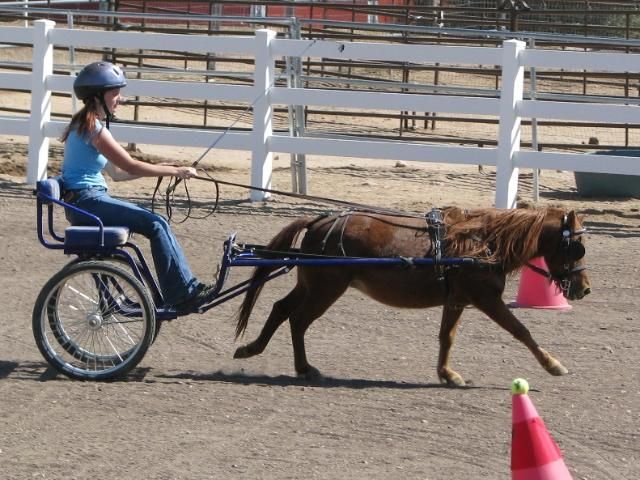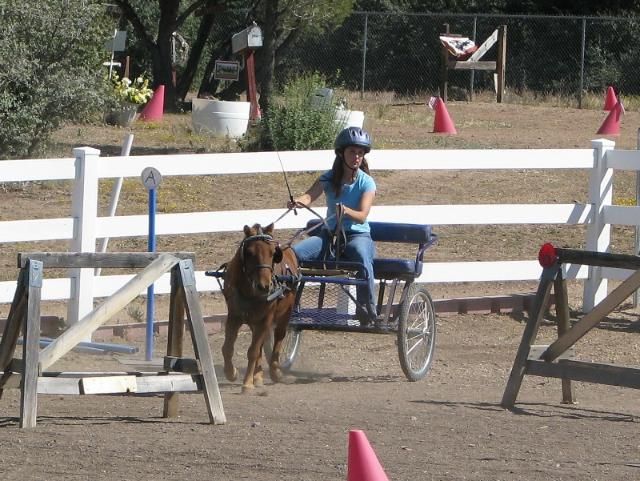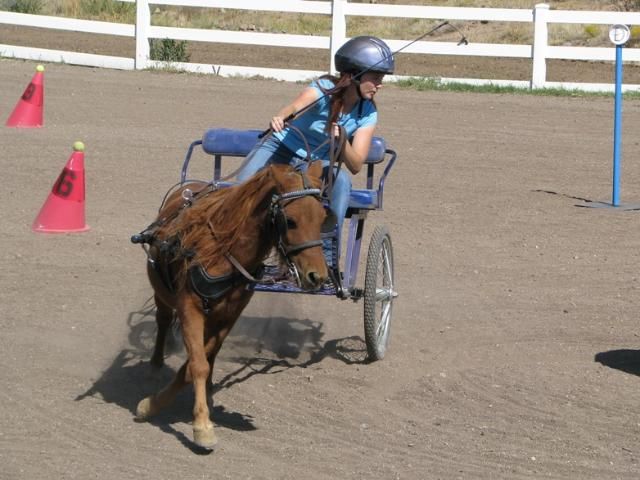 No photos of Craig, since I was harnessing Chili when he went.
After, some friends and I went and played in the hazards, mainly the water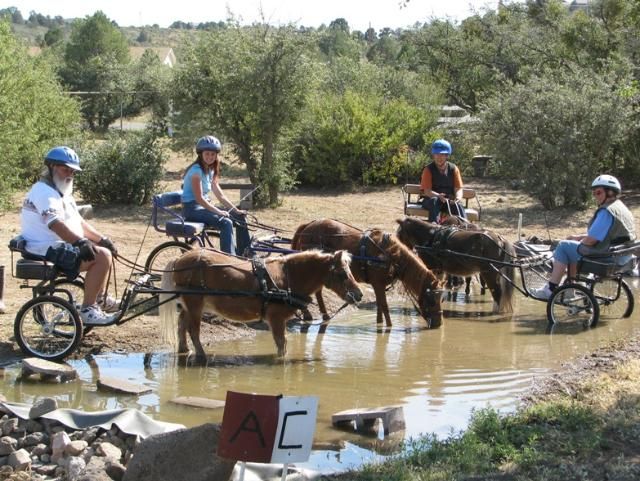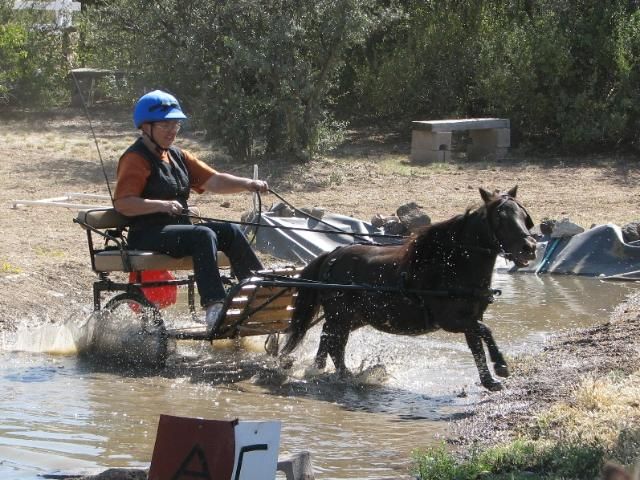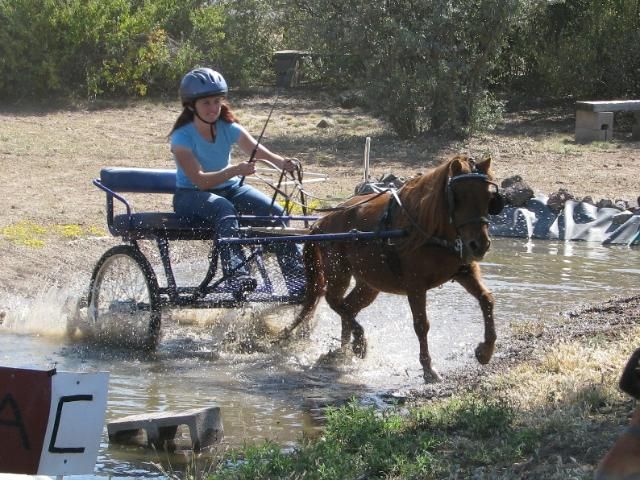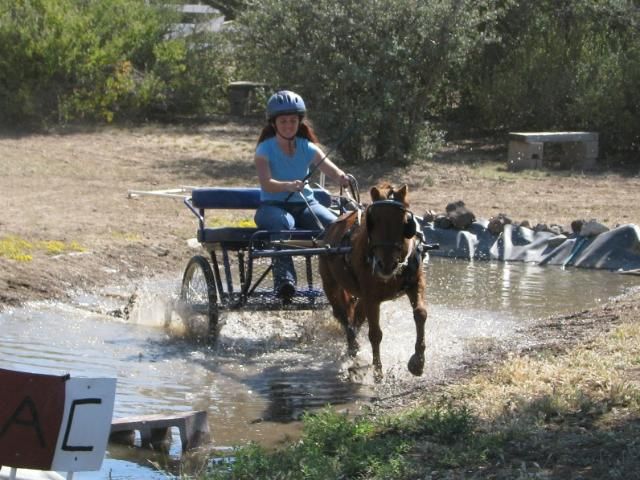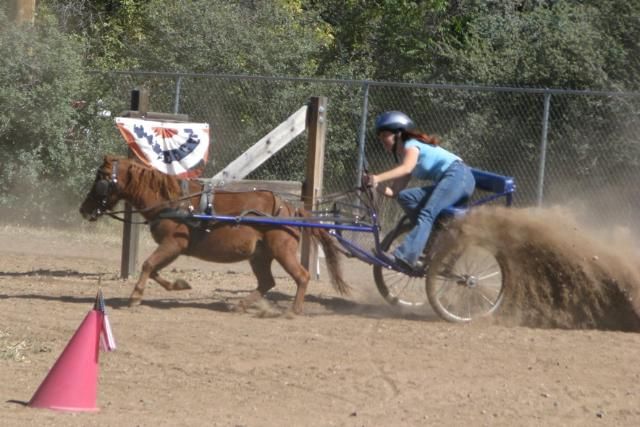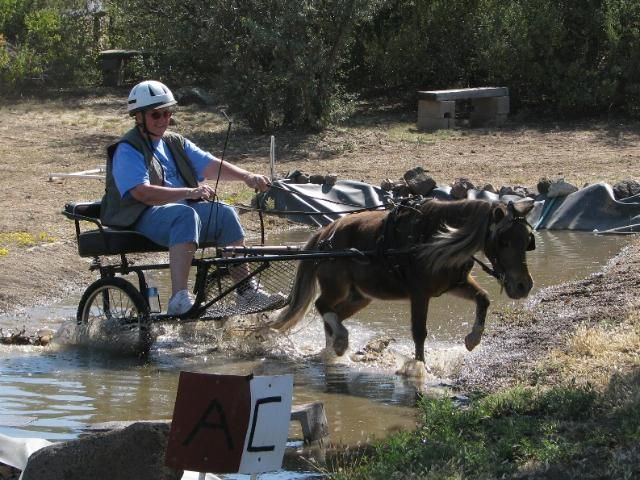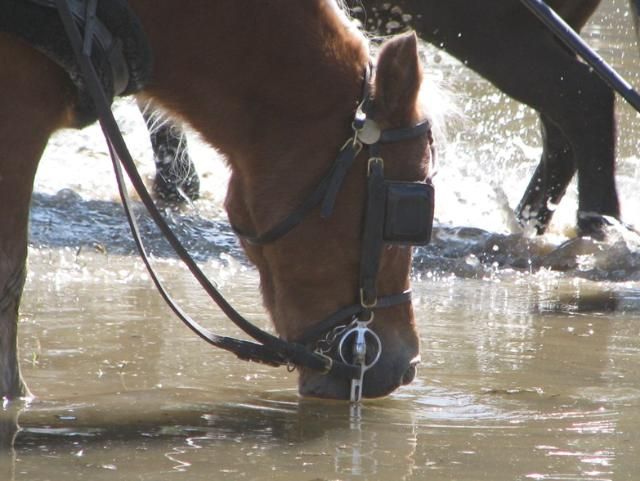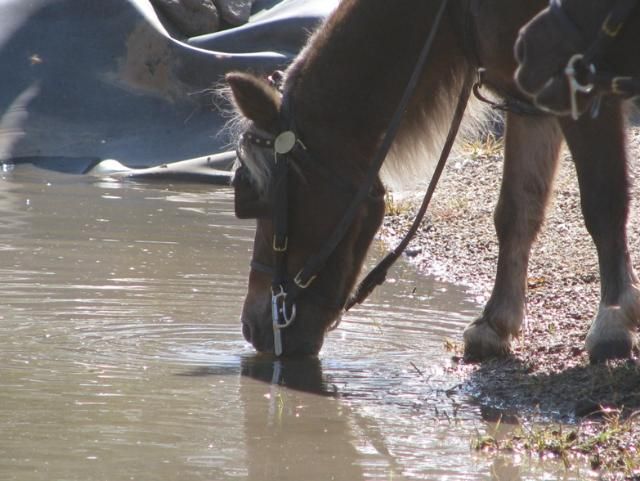 Full album here:
SSCFunDay pictures by CheyAut - Photobucket
Aww!
*squeals*
They are SOOO adorable!
Sure looks like you an awesome job with your training and handling!
Oh my they are all sooo adoable! I love Shakespeare :)
---
Blue Eyed BLY~ 2/3/03
Calico Sonny Stockman x She's On Cloud Nine
If Chili is gone, you know he didn't come to Oklahoma....... erhem...

Awesome horses! My mini leads, eats, sleeps. Well, he shakes, turns in a circle, and can jump into the BACKSEAT of my truck xD
Thanks everyone! :) It was so much fun :) And someone there is interested in buying Shakespeare, so maybe he found a new home! We'll see!
Oh wow. Your minis are sooo cute
Great job. Im hoping to enter Sarah in some competitions like that next year. I think she would do great at the trail courses and driving. She already knows how to flex, back, disengage her hindquarters and Ive been working to despook her and I feel by next year she'll be ready. Your chestnut minis are built just like sarah :) Same body build.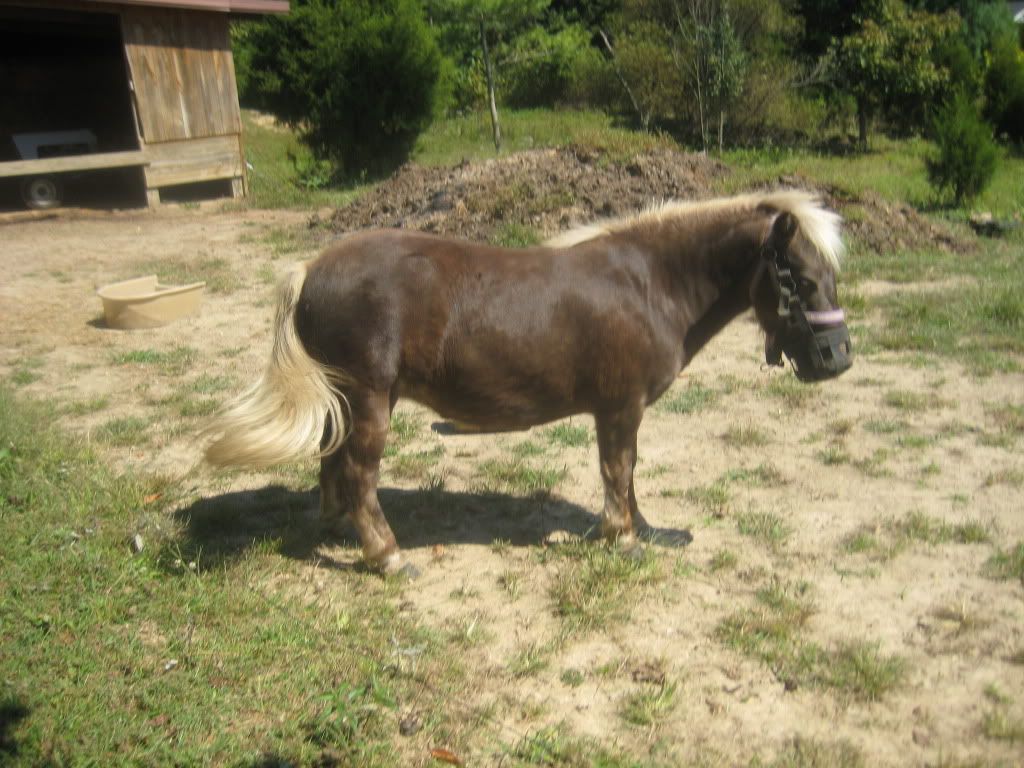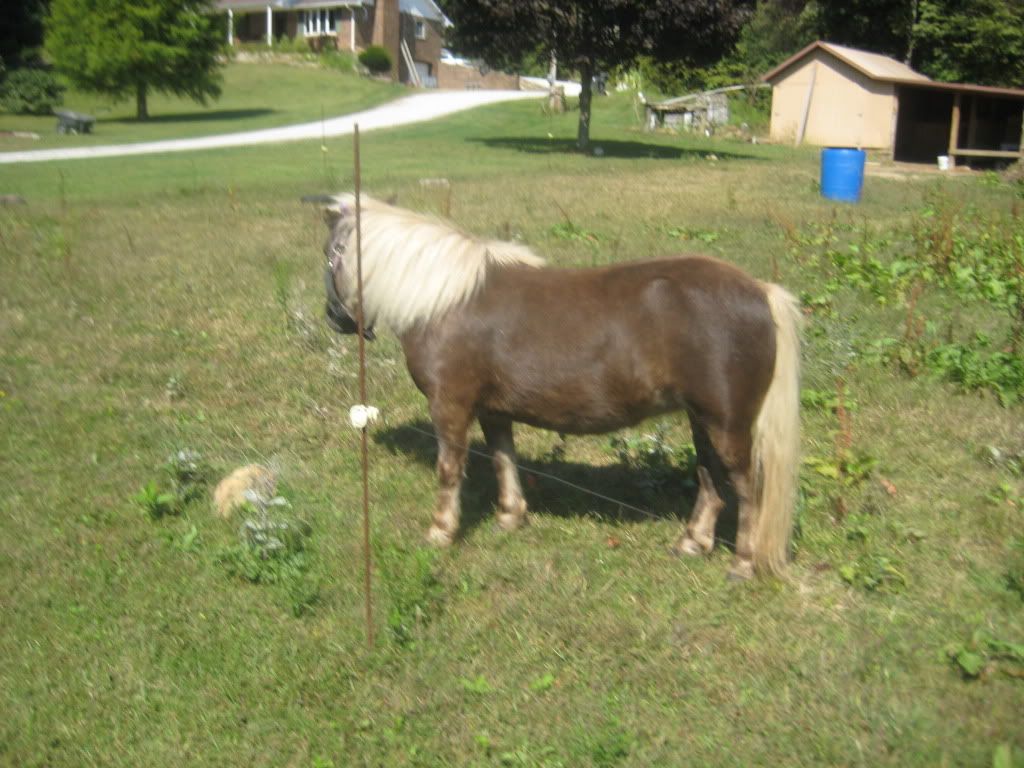 See same body style. :) What are the bloodlines of your two chestnuts? Maybe there's a relation somewhere..
Love the pics Cheyaut!!!! The pictures made me want to be there it looked like so much fun (well, except the wet feet part) lol
Looks and Sounds like it was a blast!!!
---
"The ideal horseman has the courage of a lion, the patience of a saint, and the hands of a woman..."