Miss Dent
---
Hi guys,
I'd like to introduce my mare 'Dent'
This is a pic of when i first got her
and this is a few months later in the summer
and this is about 3 weeks ago (winter) at a clinic
hope you like her!! I LOVE her!!
wow she's really nice. how did she get her name Dent?
---
HOME IS WHERE THE HORSE IS.........
Thanks.
You cant really see in the pics but on the right side of her face she has a dent, like a big dish down the whole length of her face. Almost like an arab dished head. just down the one side. she was born like it!!
Her racing name is Dished Up.
she has nver had any trouble with it and it hasnt hampered her breathing at all...


She's coming along very nicely for me lately. really settling down..
i;'m doing lots of natural horsemanship with her..
Nice job on conditioning her, she looks good. Very pretty mare.
mmmm i agree very pretty mare!!
---
AUSTRALIAN STOCK HORSE SOCITY
Thanks guys,
I've only had her a year and half now and we're doing great! I have known her for years tho. she is a t/b trained and owned by a freind of mine but after her first trial she was too slow but as she was so quiet they used her to pony the younger race horses and used as a pace horse.
She had been in the paddock for a year when i bought her, hence the first photo, complete paddock condition!
She has the most amazing coat.... she goes so dark and rich, and shiny!!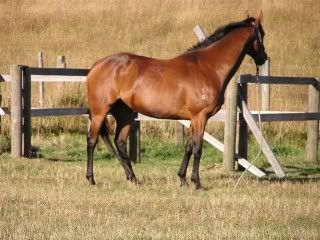 not the best pic of her but you can see how shiny she is just after her bath..