more pics of my shire
---
Hello again. Earlier I was in a hurry and didn't really give a great description and didn't have very many pics of her.
So...Kit kat is 17.3hh and about 1800 pounds(?) When I first went to go and look at her in August, she wasn't that underweight. I gave the lady my word about buying her and she said ok. It took a month until I had everything settled with the vet coming out and finding the best place to board a draft in my area. When I went back in the end of september to buy her, she was skin and bones. The lady had like 10 draft horses and a few other normal sized horses. She hadn't fed them hay for at least a week and was giving them straight corn from the field. The other horses started loosing weight too. I tried calling animal control, but they couldn't do anything.
When I first got her to where I am boarding, the owner was like "OMG" what happened to this horse? Kitty was put in a pen by herself from sept-nov so she could build up weight and not have to compete for her food. Now she is living with the ponies instead of the big horses. Kit has become pretty good buds with the ponies, especially a little baby pony, so I don't think she minds. I don't know how they feel though:)
Kit kat had issues with being caught, having her head touched and having her feet picked up when I got her. Now, she lets me catch her pretty good, touch her head, but we still can't get her feet done. We tried to, but she fights it really bad. I think I will have to have her put in a stock or something. I want to start riding her, but I don't have a saddle yet and she's really hard to get on bareback. Both me and my boyfriend are really short, (i'm 5 foot and my bf is 5'6") so it makes it even harder!! Anyways, enjoy the other pictures.
kit kat all skinny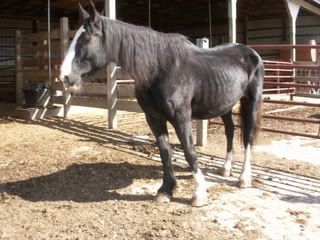 really skinny (sept)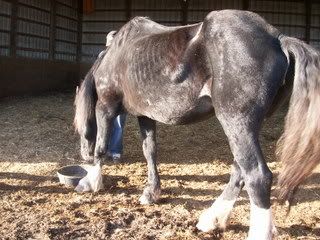 kit kat and her buddy savannah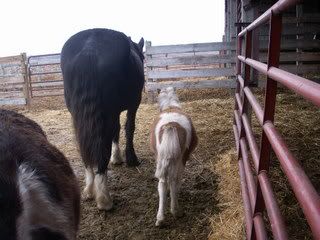 kitty laying down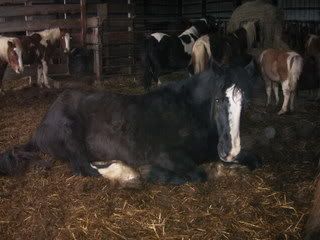 me with kit kat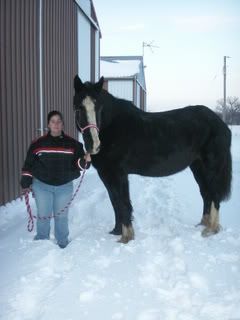 standing in the snow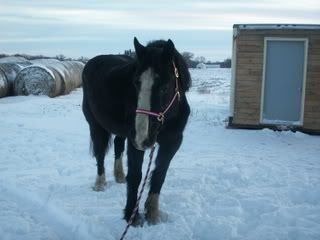 Waiting to go back in her pen
Going for a morning walk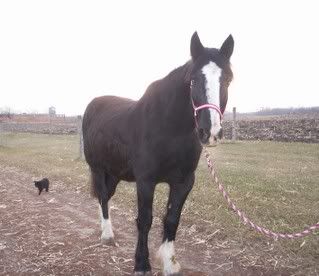 OMG, those early pictures are horrifying. Its hard to believe how people can allow things to get to that stage, we had a grass shortage last summer during a drought and even before my horses had lost a pound i had spent a fortune renting extra grass pastures for them. I also have 2 ponies which i rescued from neglect, one of which had been wounded and had received no vetinary attention but its amazing how resillient horses are and you wouldnt guess they had been so poorly treated today. Its nice to see her on the mend in the last pics, good luck with her progress.
Baka! not you or your horse of course but that Baka woman...I bet she had figured she already found a place for it and she was not going to spend money on it anymore or something. BAKA!
Well done for saving her. The pictures of her in earlier days are shocking.
wow she looks great now well done for getting her up to standard
GOOD ONE !!!! Thank goodness you saved this horse. I loved the pictures send more !!
It's always great to see a horse improve it's condition!!!!
---
Riding a horse is not a gentle hobby, to be picked up and laid down like a game of solitaire. It is a grand passion. It seizes a person whole and, once it has done so, he will have to accept that his life will be radically changed.