More pictures of your favorite geriatric in her new home: Lacey!
---
This morning I went up to see my baby! This time I took my dog cuz I figured he might as well get used to it since he'll be coming with us when we go trail riding and stuff. Lacey could have cared less about him. In the past, about the other horses up there, he's been really skittish but he seemed to like Lacey. I think it helped a lot that she's pretty laid back and doesn't force herself on anybody, yknow? Hopefully they'll end up having a great relationship!
Anyway, so we hung out for a while and didn't do much. I just brushed her and picked out her feet and then I was done with her. I had to haul water in buckets for her water trough which was lame but hey, it was good muscle building cardio! hahaha I really wanted to ride but my saddle was at my house and it's heavy enough that I didn't want to carry it up, and Lacey was being weird enough about somethings that I decided to just let her be. I have until June to ride as much as I want, I'm sure there will be a chance to ride eventually. hahaha
The llamas and Lacey aren't besties yet but they seemed a lot more relaxed around each other. Then, the other horses (two paint mares that Lacey shares quite a bit of fence line with) came over and seemed to really want to meet Lacey. However, Lacey couldn't have cared less about them. Haha
Pictures!
"Hi Mom!!!"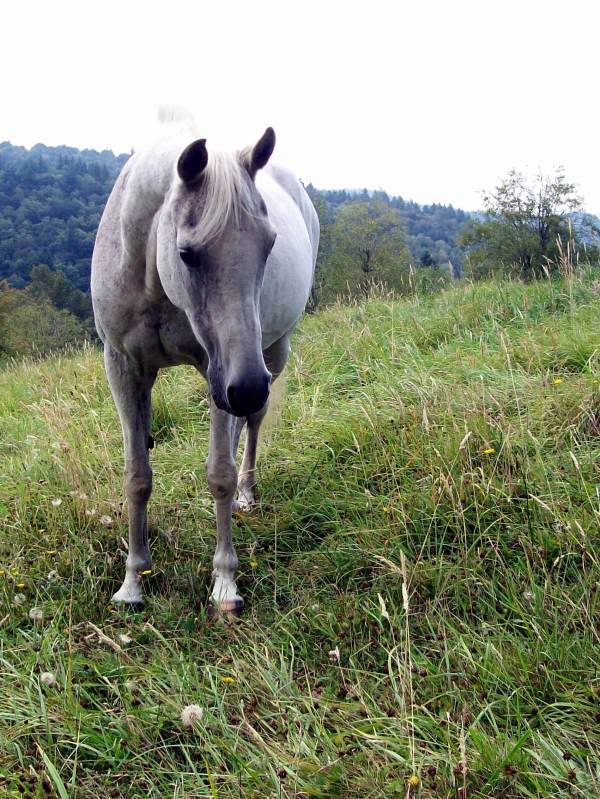 "You brought a dog? Are you for serious?"
"Let's be besties, cuz I think I like you..."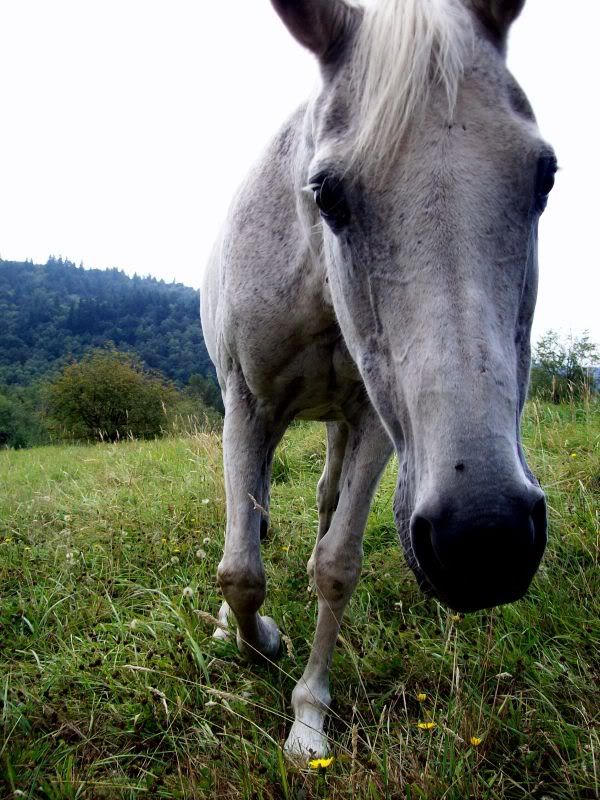 *sniffs Wallaby's head*
Furry ears already? It's not even October!
My Charlie-dog! I had tied him up using my lunge line because since he's half Border Collie and half Lab, he's a pretty high drive dog and even though he's well enough trained that I could probably keep him from any trouble I figured I'd hedge my bets for the first day at least. He was super happy to see me come back. Haha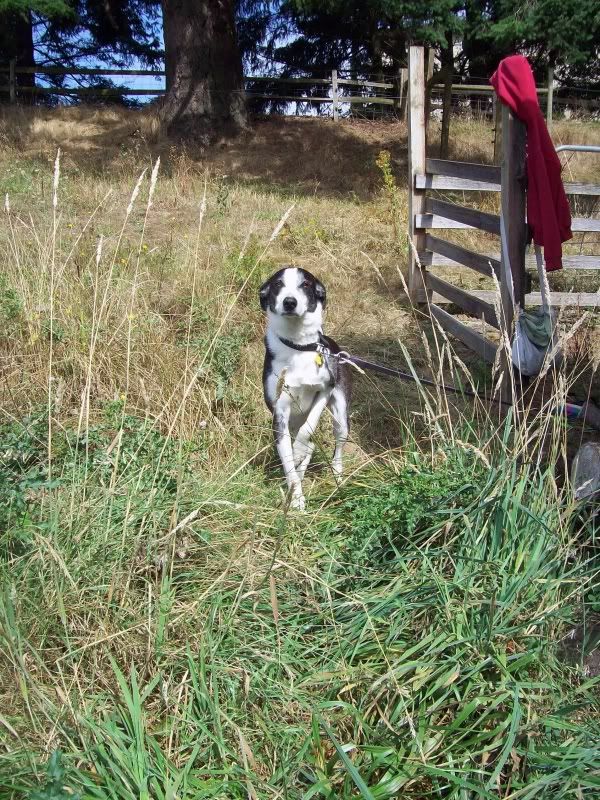 A praying mantis that decided to visit me by placing him/herself on my brush...
The Paints...
"'Eeehhh! How's it goin'?"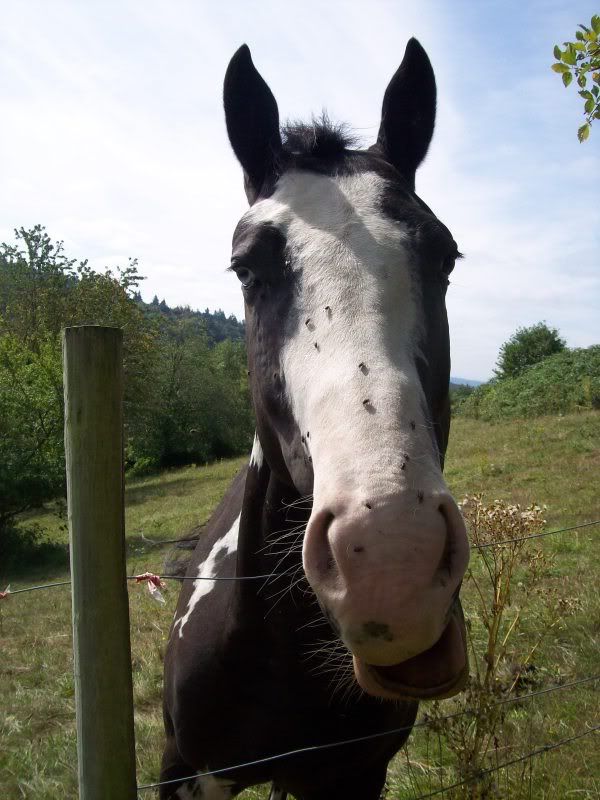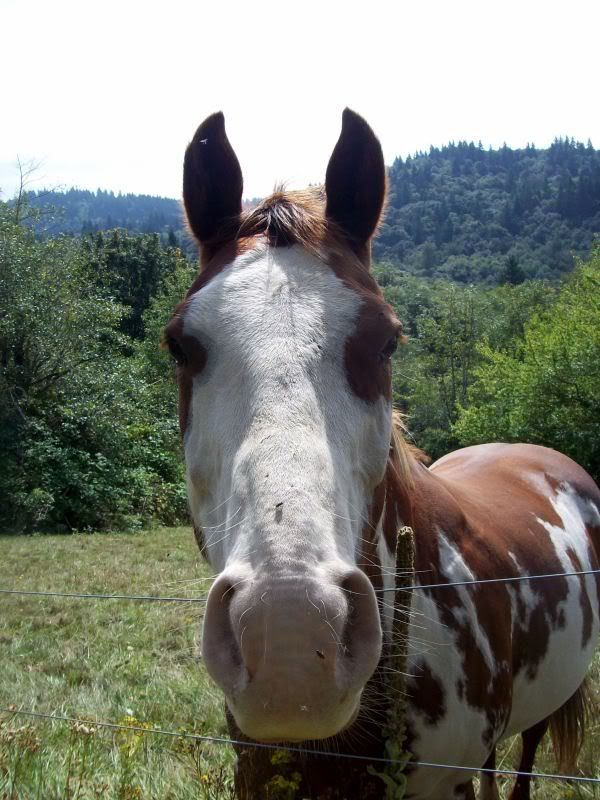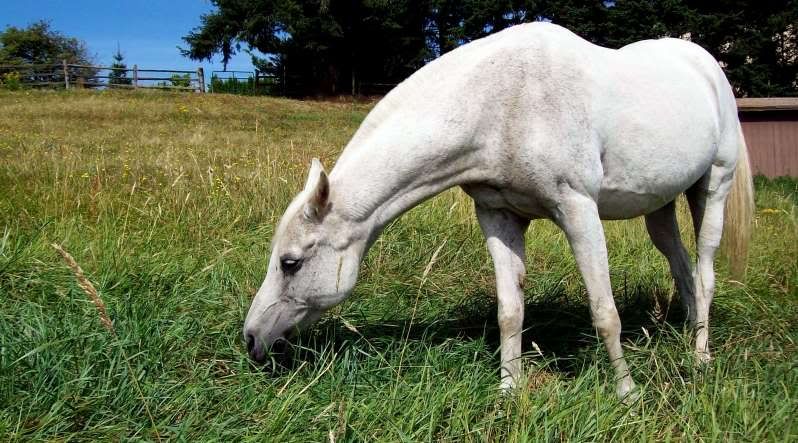 "You again? Do I see a fly mask in your hand? Yes please!!!"
"I gotta check this one out for myself!"
Continued in the next post!
---
Fabio - 13 year old Arabian/Lipizzan gelding

~
Rest peacefully, Lacey.

*nudges hand* "I NEED that on me, do you see the flies on my face, woman?"
"Yes, yes, there is no need for flattery, I know I look pretty fly..." (Lacey is very very punny, hahaha)
*strikes model pose* "Now that I am suitably attired I do believe I will start take over the world... Hope you don't mind..."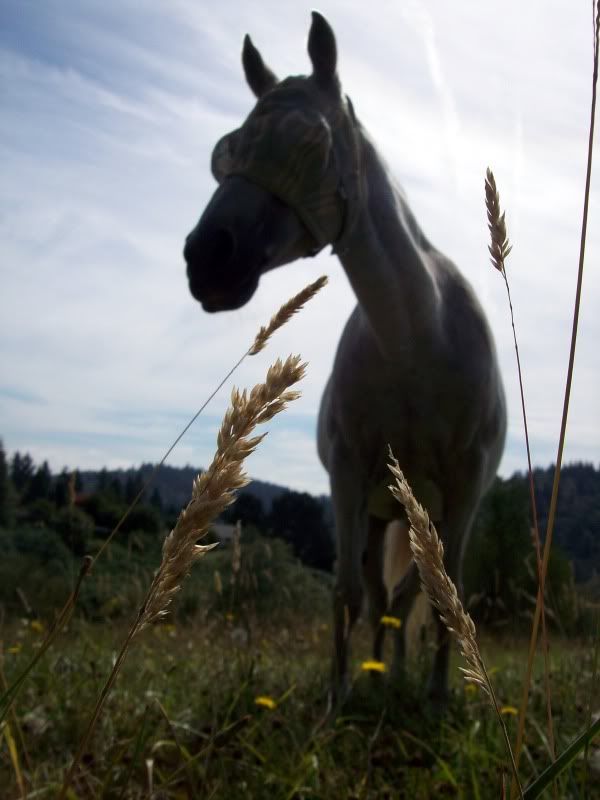 Her pasture! That line of trees way over there is that end of the pasture...
Then, it goes down to that second fence line that you can barely see...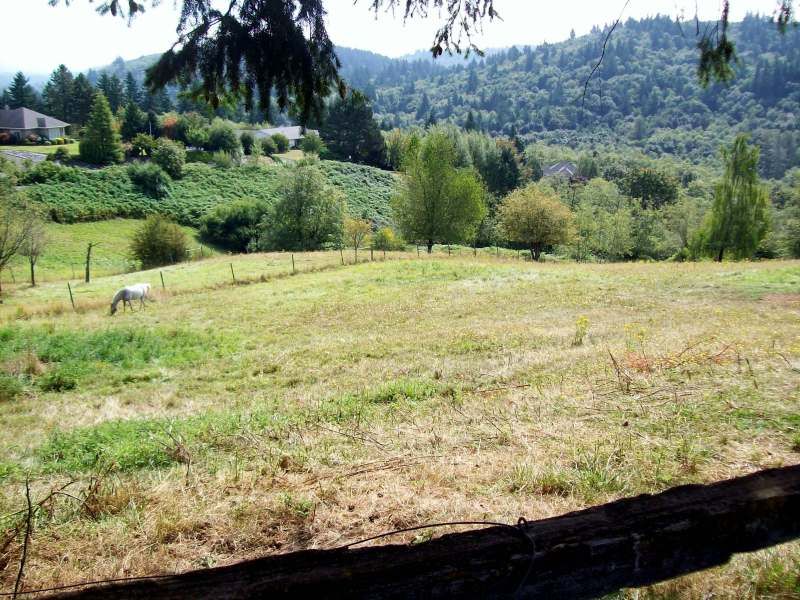 And her shed! Isn't that huge and nice?
Happy day!
Thanks for looking!
---
Fabio - 13 year old Arabian/Lipizzan gelding

~
Rest peacefully, Lacey.

---
Last edited by Wallaby; 09-13-2010 at

06:12 PM

.
Pretty pictures! I second the beautiful surroundings, very nice!
Beautiful like always!
---
RIP Minnie, 1981-January 15, 2010
RIP Maggie Mae I miss you
lacey looks so happy to have all that room and nummy grass. lacey is gorgeous as always. pretty paints to. nice shed to
---
quarter horses.....simply the best
Looks like she likes it there : )
Thanks guys! She's settling in really really well. I feel kinda bad cuz it's her 2nd move in 2 weeks and 3rd new place in 4 months but she seems to be adapting very well.

I love the scenery around my house too! I can't wait to ride in it and see it from a whole new perspective!
---
Fabio - 13 year old Arabian/Lipizzan gelding

~
Rest peacefully, Lacey.