More pictures of your favorite geriatric: Lacey!
---
Today, as I was feeling more an more irritated with Lacey since she would not stop cantering when I was free lunging her, I realized something that made me feel way less irritated with her. I realized that currently, Lacey is in the best shape and the fittest she's been in at least 7-8 years.
I know her previous owner had basically retired her for no reason other than she was "hard to ride" and Lacey had been in this retired state for around 5 years when I came upon her. Then, last year, she was still recovering from being so overweight for so long and she was still building significant muscle mass that she hadn't had in years. This year however, she's all muscled up and raring to go.
So, I felt way less irritated. Also, this is the second time, ever, in the two years I've been working with her, that she's been able to keep a canter going without falling out at all (the first time was last Friday). This is the first time EVER that she actually offered to canter without any suggestion from me.
AND THEN, I was thinking about her being fitter than she's been in years, how many 60-70 year old human athletes go from being chubby couch potatoes for 10 years, then make a change and start running marathons regularly? Not too many... Haha
Yeah, I'm proud of my girl, can you tell?
But anyway, what you've been waiting for: Pictures!
Vrrrroooooom!!!
Cuz, yknow, we actually jump canter poles. We're just that legit.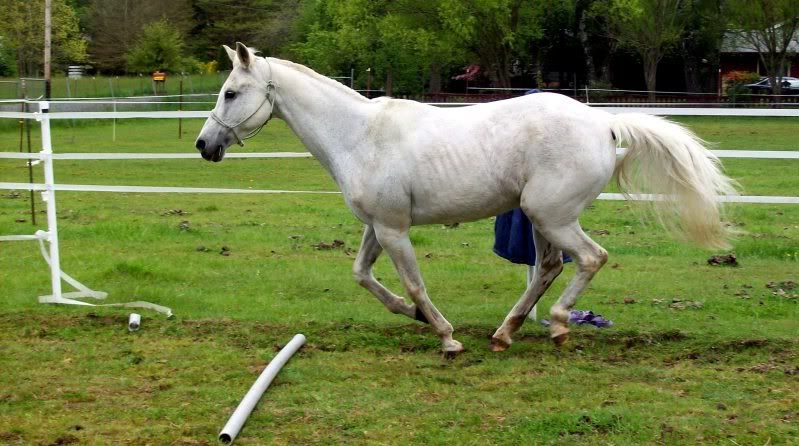 Exxxxxxteeennnsion! That front leg looks a little painful, I hafta say.
*airplane noises*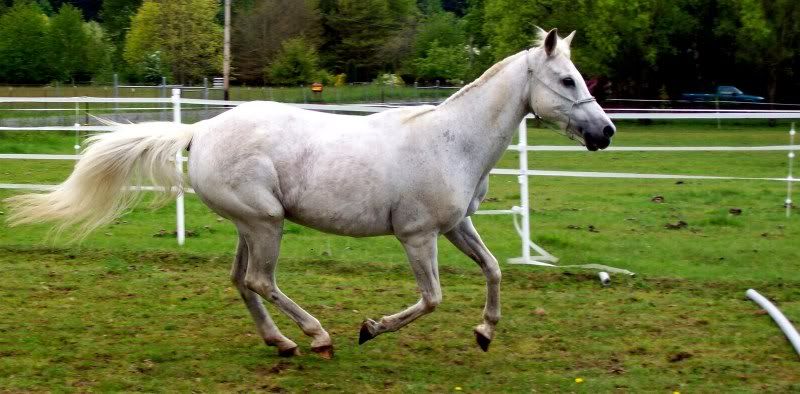 What a strange sort of leg arrangement to catch on camera! Maybe it was the stride after a downward transition? I'm not too sure. Haha
Then I rode a little and turned her out. She's being amazing right now undersaddle. She's gained a bunch of muscle and weight in the last month or so and she's feeling like such a solid ride right now. Like she is just one of those horses that when you get on, even in a saddle, you feel like you're riding a couch. I LOVE it!
Her leg is green cuz she got a cut on it and it's been kinda swollen. The cut has healed but the swelling has stuck around, so I've been putting liniment on it. Today it was much better than last week. Last week it was just continuously swollen but today, it was swollen when I went out there but once I started working Lacey the swelling disappeared. I probably didn't need to put any on today, but better safe than sorry!
Techincolor poneh!
Some of her buddies:
And this one was just funny cuz she got to that little log thing and sniffed it quite thoroughly, and because of that other horse looking at her quizzically. Haha
Also, disclaimer: her ribs are not visible at any other time than when she's moving like that. She really is borderline chubby right now. I guess she's just one of those horses that shows her ribs off like no other because when she's standing still you cannot see them and they have a lovely cushion of fat over them. :)
---
Fabio - 13 year old Arabian/Lipizzan gelding

~
Rest peacefully, Lacey.

Hehe Lacie is such a cutie-patootie. She is a very lovely looking mare!
---
RIP Minnie, 1981-January 15, 2010
RIP Maggie Mae I miss you
Honestly, she looks AMAZING. It's rare that I find an Arab who actually looks good. They are almost always huge with a big hay belly, or way too thin in the topline with a decent hay belly. She's truly beautiful, and I think you've given her a good few years of life that she probably wouldn't have if you hadn't gotten ahold of her. She doesn't look her age anywhere near as much as she used to. You're making her young again, and you should be so very proud.

PS. Love the roach. =]
---
"Great spirits have always encountered violent opposition from mediocre minds."

Agh, I would kill for my two Arabs to be in that shape. Wildey has never been thin, no matter how fit he has been (And has has been VERY fit!) and Latte is just a chub chub!

She looks so good - Don't forget to be proud of yourself in amongst all the pride for Lacey :]
---
She is absolutely beautiful! Job well done!!! She looks very happy, healthy and comfortable!

She doesn't look her age!
---
Aww! Thank you ladies!
However, she's really not that good looking standing still. She's one of those horses that looks great in any situation with a saddle on or in motion, but standing still she
is
one of those Arabs with a huge belly AND an ugly topline.
But, I thank you for your compliments! I think I'm going to need to stop telling her about how much you guys like her though, I think it's going to her head. LOL
I hope I will have many more years with her. It's my dream to get her completely safe and easy undersaddle, then have her live long enough for me to find the right guy and settle down and have kids, then have her teach them to ride. I'm not sure how well that'll work since I have no male prospects whatsoever, but hopefully! Maybe she'll live to be 50 or something.
I try to remind myself every once in a while that I did have something to do with her becoming this neat, but I think it was really mostly her. I mean, I never really had any clue what I was doing. I just kinda watched what she reacted the best to, with various things, and used what she seemed to like to get her here. I just followed her lead, really. I've basically been, like in JDI's "playing the hero" thread, that girl who managed to not die through a systematic use of trial and error. hahaha
---
Fabio - 13 year old Arabian/Lipizzan gelding

~
Rest peacefully, Lacey.

Oh the Lovely Lacey! I am so in love with your mare! She looks AMAZING for her age, and you have truly done so great with her! And as always, I love your pictures!
---
♥ Gypsy gold does not chink and glitter. It gleams in the sun and neighs in the dark ♥
Aww I luv Lacey and I don't even know her! haha =)
Wow. She is looking realy good! Be proud of yourself and of her to. She defienatly does not look her age. Keep up the good work! :)
---
There is one principle that should never be abandoned, namely, that the rider must first learn to control himself before he can control his horse. This is the basic, most important principle to be preserved in equitation - Alois Podhajsky