Moving to a new home
---
I moved my gelding, Snickers, to a new 24/7 pasture boarding place last Saturday. It was extremely cold and I was worried of how'd he do, but he was just fine andmade himself comfortable quite soon. Of course, here's some pictures. :)
1. As I said, it was cold. Around -25 by Celsium, that's why the ninja face. Snickers is observing the first one of the new herd approaching.
2. Curious...
3. The friendliest of them all - a young gelding, named Roi - approaches:
4. Getting to know...
5. Starting to play already!
6. Interesting enough, Roi is very protective and guards the newcomers against attacks of the other herdmates:
7. First meal:
8. Grain is served like this, so that the horses don't fight over it, but Snickers managed to annoy one of his new buddies, lol:
9. Some of the others, enjoying winter:
10. And some more. The flaxen chesnut is the leader, a Latvian Draft gelding: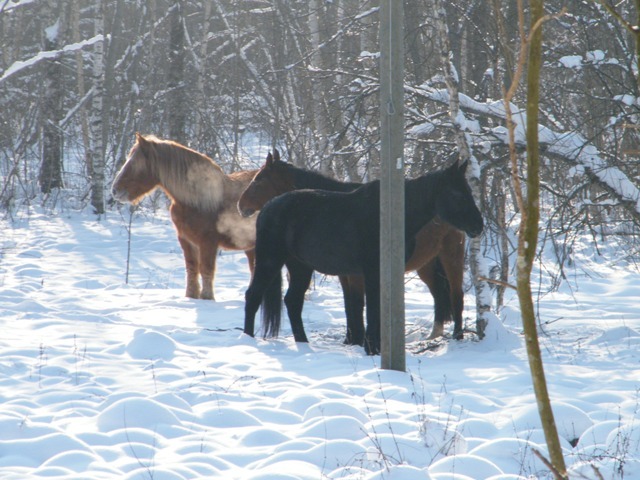 ---
I have come a long way, to surrender my shadow to the shadow of my horse.
/James Wright/
Love these pictures!
---
A woman needs two animals - the horse of her dreams and a jackass to pay for it.
wow! that's cold...it's amazing the temps horses can deal with...very nice pics! what breed is snickers? and, love the name!
---
Great pictures!! More please :)
---
Tease
14.2hh Quarter Horse Mare
~~~~~~~~~~~~~~~~~~~~~~

Thanks, I'll let Snickers know he's looking great. :)

annaleah, yeah, it's amazing. The first night was a bit too cold for him, as the others chased him away from hay all the time, but it's ok now and he got used to it. Also, he gets additional hay. :) Snickers is a Latvian Warmblood gelding, light draft type. They come also in sports type and are the most popular breed in Latvia.

Logibear, Snickers is throwing a pasturewarming party this weekend, so I hope somebody will bring a camera (I don't have one) and I'll be able to post some more. :)
---
I have come a long way, to surrender my shadow to the shadow of my horse.
/James Wright/
Aw! I love his new Pal bein protective of him! too cute! Somebody doesnt want to share his new friend eh? :) Love the pics too!
---
Stop for a minute, open your mind, learn. You may not agree with what I say, I may not agree with what you say but we will both learn something new.
Yeah, Maple, Roi is one-of-a-kind, I was told that he's always like this with the newcomers and then gradually loses interest about them as they start fitting in the herd. He's like a counselor and a guide to every new horse who joins the herd, and that seems so sweet. :)
---
I have come a long way, to surrender my shadow to the shadow of my horse.
/James Wright/
those are some nice horse pictures
---
Country Woman


Lovely, lovely pictures, Sarandra. My Journey is in 24/7 turnout and she is thriving. She loves it!
I am in love with Snickers! I just dont think he cant get any nicer looking!! He is just gorgeous!

Love the pic of him annoying the other horse at feed time, looks like he has an amazing personality!