Mr G officially ROCKS
---
You have probably seen my introduction to Mr G in this thread
A story of transformations
so you'll know just how proud and excited I am by his performance this weekend. We were at the Fall Dressage Festival, the Early Show on Saturday and the the Championship Show in Sunday.
On Saturday Mr G did not excel, he scored mainly 5's and some 6's, and faulted for disobedience, counter bending and 'chomping' on the bit.
On Sunday he was just awesome, he hardly put a hoof wrong, and tried his little heart out. He scored in the low 60's rather than the low 50's and just blew the judge away. She wrote that she thinks he has a great future
So here he is, with the results if his awesomeness, 4 class wins, 3 rosettes for scoring over 60% in 3 tests, and a ribbon for 2nd highest test score of the day.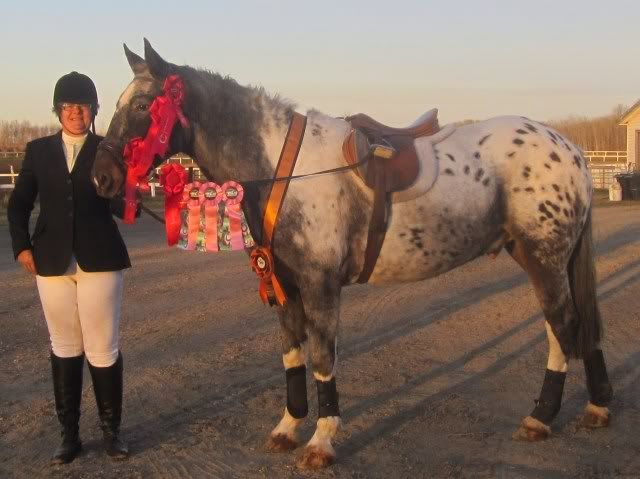 Congrats! I'm so happy to hear you guys did great!

He's such a little cutie in all those ribbons!
Banned
Join Date: Jul 2009
Location: In a land far far away, or so I wish.
Posts: 12,825
• Horses: 0
Sounds like you had fun, you both look great!!!
---
RH Queen O Anywhere "Sydney"
2009 Sugarbush draft
Congrats to you and Mr. G, Golden.
You've both come a long way!
Aw! Congartulations! You guys won more ribbons at one show than I have my entire showing career! (which I have been in two shows) haha. I am planning on doing it more, I love it, now that I have a horse who I think we can make a great team to get there =)
---
Lettin' the cat outta the bag is a whole lot easier than puttin' it back. -- Unkown

LOL, ChevyPrincess, the reason I'm so excited is that this is my third show, and never expected to do that well. Remember we are only doing walk trot tests so far, but we are so ready to move on now.
The key is having the right horse to make a great partnership, I was just so lucky that I found mine
Congrats! I'm so glad to see you two doing so well after coming this far, and you two look really awesome! Can't wait to see more of you two in the future, you guys make a great team.
---
*~ THE HORSE STOPPED WITH A JERK, AND THE JERK FELL OFF -- Jim Culleton ~*
MANURE HAPPENS