Quite the transformation there, GH! Lookin' good!
---
You want the truth? You can't HANDLE the truth!
LOL, Not so much a grooming as peeling one layer off to leave the new shiny layer on show, but an impressive trick all the same, and anyone think that he has lost several pounds as well as cleaning up somewhat?
Here we go, the very technical tools of the trade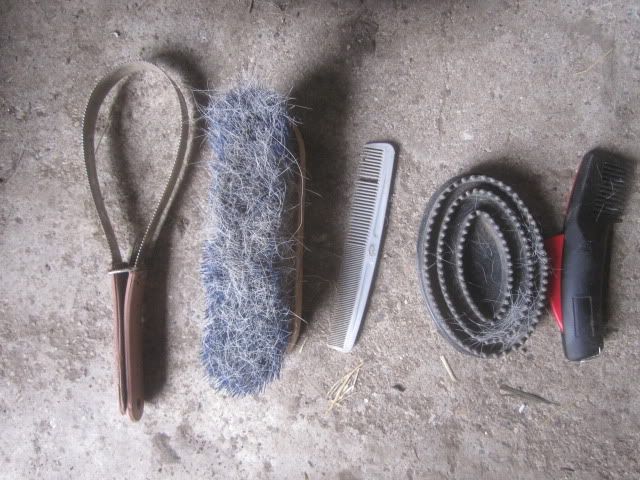 A quick once over with the shedding blade to get rid of the worst of it, then an attack with the dandy brush.
Then it's to work with my favorite secret weapon at this time of year, the very ordinary people comb, go all over with the comb held at an angle to the coat, it pops off dry mud balls, tufts of hair and excess coat like a dream. Then attack with dandy brush again.
Next my beloved rubber curry, round and round nice massage all over hard work for you, a nice feeling for the horse, then guess what, back to that dandy brush and lots of elbow grease, brushing with the well practiced flick at the end of the stroke to clear the crap out. ;D
With my guys because they are out I usually stop at that unless we are actually getting ready for shows, I don't use a body brush on field kept ponies very often.
Last step took my new toy, the Solo Comb, for pulling his mane, WOW several thumbs up for that little gadget, his mane isn't finished but got that far in double quick time. No stress for him, no sore fingers for me, I love it.
Oh and I did run the clippers down his feathers and that tuft by his withers.
Haha wow! The before pics are what my 2 look like right now, I think imma have to do what you did and find my pretty horses under their fluff.
G is beautiful. I normally don't like appies but his big spots are beautiful!
---
RIP Minnie, 1981-January 15, 2010
RIP Maggie Mae I miss you
He looks awesome now
Love the tufts of fur all over the floor!!
The birds love the tufts of hair all over the floor as well
I bet they do! My boy's stable looks like this at the moment, and we have sparrows and swallows in our barn, I'm wondering now whether they use it!!