My biggest jump EVER! *dont laugh...im fragile!*
---
Now just so you know...I am joking...or maybe not. I have always had a pretty bad fear of jumping. To show how far back it went, this is me at 15 jumping my first, very patient QH named King. He was the worlds best teacher and if every girl had a horse like him, the world wouldnt be such a sad place. Yes, I am barefoot. Yes, I am bareback. Yes, I am riding in a beat up halter and a tied around lead rope. Ye, my jump (if you can even call it that!) is made of two cinder blocks and fence post. No, I dont have a helmet...didnt then, dont now. My dad busted this picture out to cheer me up as I have officially sold my horse, Nico due to financial difficulties. Have a laugh! I know I did! Oh, and King was 24 in this picture. Check out my super sweet facial expression...priceless!
Wow, I love breaking out those old pictures LOL. I learned to jump not so differently than you, though I was a bit more stupid about it (pushed to big jumps quickly and riding a very hot blooded horse) LOL. That is an awesome picture and King looks like an absolute darling. I also love that dark chestnut color he is sporting.
Just to make you feel not so bad about your setup, I hope you don't mind if I share a pic that is pretty similar.
Yep, t-posts as jump standards. Yep, metal pipe as a pole. Yep, same halter and tied lead rope reins as you
. Yep, loose in a pasture with other horses.
It's a wonder either of us survived what we did together.
LOL but I think we both know were better for it! I love to know that I am not the only lunatic that did this with her poor forgiving horse!
Those are awesome...and I did the same crazy stuff!!! We would drag logs and other 'stuff' onto some of the trails we rode on, to make our own jumps...tehehe. I did alot of stuff bareback with a halter, too...come to think of it...still do! Lol!
---
"The ideal horseman has the courage of a lion, the patience of a saint, and the hands of a woman..."
Oh I dont bounce the way I used to. I usually opt for a saddle these days! The one time I did try to get my Nico to ride bareback I was so out of practice, i leaped right over him on the mounting block. Almost scared him to death! LOL lesson learned!
Hey, you live and you learn, and most of us still have the scars to prove it ROFL. I like to think that all the things I screwed up as a teenager helped me to figure out how to handle things now.
Agreed. The only difference is...now I try not to ride barefoot! I do have to say though, I took alot of bareback, barefoot rides on that horse and when I think of him, I think of timothy tickleing my feet. Just one of those things that Ill never forget. Ive been chasing down a horse like him for 10 years. Havent found one that was even close.
Green Broke
Join Date: May 2009
Location: Winnipeg, Manitoba, Canada
Posts: 4,510
• Horses:
2
Bahahaha, those are awesome guys! I do a lot of bareback jumping now, but back when I was jumping my horses dam, she was so nuts it was "hang on for dear life"!
I'm spiffier though, I tied a rail to two trees with binder twine to make it EXTRA dangerous. *buffs nails*
That rail was 2'9" by the way, so you do the math. I almost fell off on landing.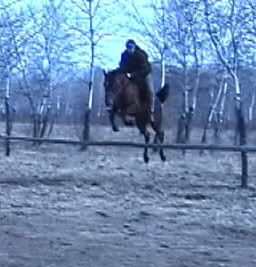 Now I'm much smarter - broken plastic lawn chairs and a PVC pipe!
---
Quote:
I hope God tells her to smash her computer with a sledgehammer.