My first OTTB!
---
Howdy folks! I've been too busy with training my pony's to be around here much, but i felt the need to come share with you my very new (as of a few hours) OTTB!
She's an unraced 4 year old named Stormy Cassette. 16.2 hands. She's out of Storm Bird (Who sired Storm Cat). I was asked through the grapevine, from one person to the next, if I wanted to take this horse.
Supposedly she's gentle and has been ridden by a 15 year old girl (I don't know if i believe that!), but i picked her up this morning directly off the track. She's very well behaved and settled right in almost immediately, and she's a TANK. I didn't see her beforehand, I just wanted to take the horse before he sent her to auction on Monday. I didn't know the first thing about her, just hooked up the trailer and went! I was glad to find that she was unraced, though.
Here she is! Better pictures coming soon. I'm getting ready to sell my mare, she's being picked up tomorrow. Things are a little crazy around here with shuffling around to get her settled. I wish i had been able to get her out in the sun to take good pictures, but now it's raining! She's sooo pretty! I'm quite in love already!
Ever since i loaded her into the trailer, i've been daydreaming of a return to the dressage ring. This coming from the "retired, i'm just going to trail ride" me of the last two years!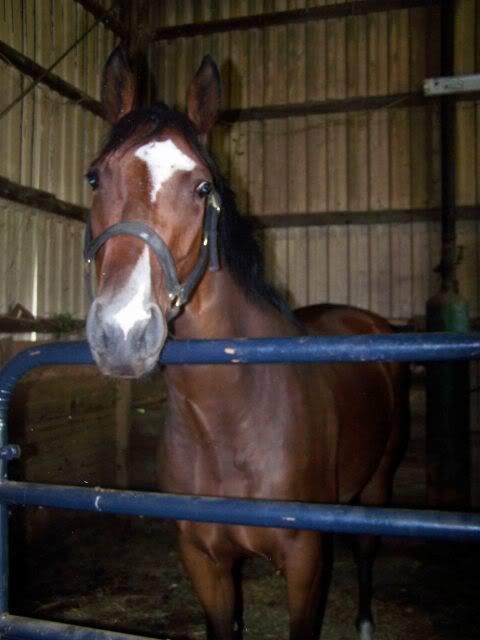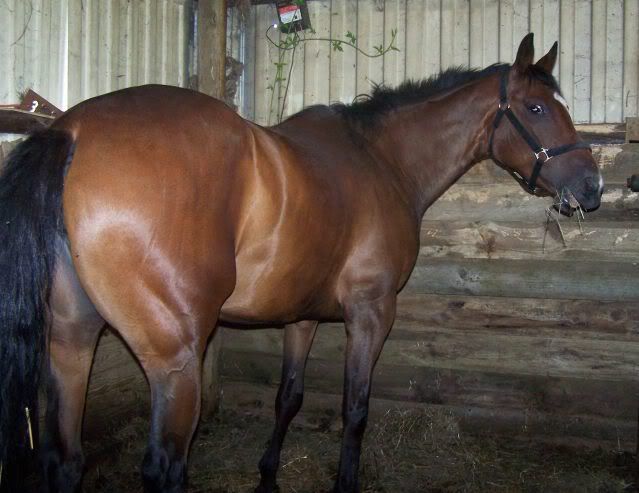 ---
"Animals are not our whole lives, but they make our lives whole."
Ok...shes gorgeous. She has a very sweet face and a nice sturdy build. Good luck with her...she looks like a doll!
Love her!
---
I give myself very good advice, But I very seldom follow it
Yearling
Join Date: Jun 2010
Location: On my horse's back! Obviously!
Posts: 925
• Horses:
2
I LOVE her face marking! She is gorgeous!
Congratulations! I love my OTTB. Unfortunately, mine was raced, and he has some issues to contend with, but his attitude and appreciativeness come through every day. I hope your new horse brings you as much happiness and joy as mine has for me.
She's great! Very sweet girl. She definitely has the racehorse mentality going on, but probably not the extremes as one who has raced. This morning she literally had a coronary over a dog barking (I believe she lived on the track her whole life). And she was suspicious of grass. She danced around not wanting to walk on it! Once she did and then tasted some, she got very happy! She's a big beastie, but gentle and trusting for the most part.
It was a good day so far, for her second day here! She seems to be very good with other horses, and doesn't really act mareish at all! She is stalled next to a colt on one side, and a mare on the other and she kisses them both around the door!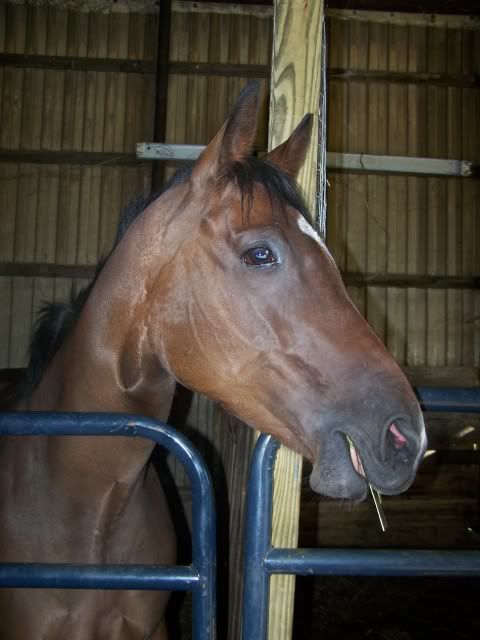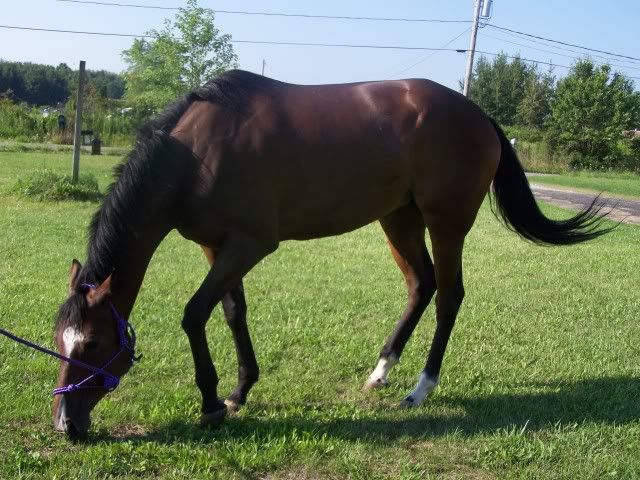 ---
"Animals are not our whole lives, but they make our lives whole."
Weanling
Join Date: Feb 2010
Location: on the way to Hell in a Handbasket
Posts: 291
• Horses:
1
Yearling
Join Date: Jun 2010
Location: On my horse's back! Obviously!
Posts: 925
• Horses:
2
She looks like she's in pretty good condition, as well! Nice find!
I'm in LOVE!
I've been dying to share these pictures with you guys, but I've been out of town for a few days, had my therapy - 4 days in a cabin in the mountains.
I left Monday, we picked Stormy up on Saturday. On Sunday, Stormy was a bundle of energy just about to explode. She was still slightly jumpy and freaked out over being in a new place, and I was hesitant to do much with her. It was like she was a gun about to fire, and i knew she needed to do something. I decided to get the lunge line and see what she could do. She acted like an old pro - aside from the fact that she wanted to flat out RUN. I don't know how she was running so fast in a circle, but there was no slowing her down. I finally gave up and just let her run it out, while wondering what i had gotten myself into. She ran for a good 10 minutes, a full gallop. Then slowed down some, then some more, until she was CANTERING (yes, i said cantering) and finally was a calm happy horse trotting around in a slow relaxed circle. She just had to get it out!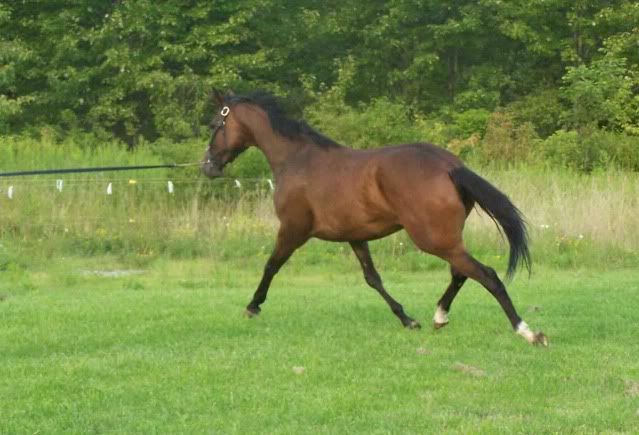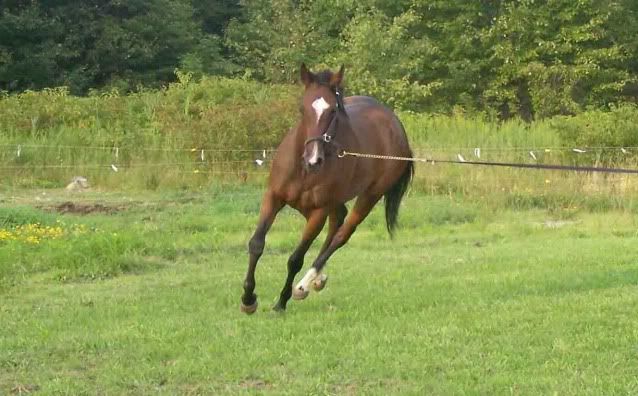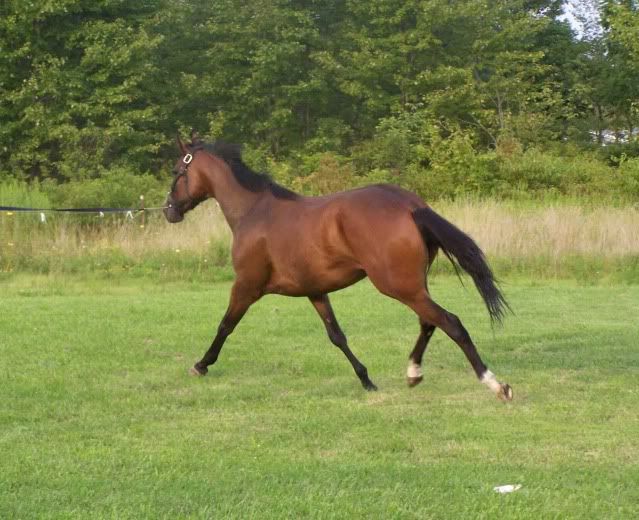 It was going so well, i fitted her with a saddle. She did great. I hopped on, we did walk and trot without any problems at all. We met mailboxes. Still those pesky dogs are scary. And the tall field grass is very suspicious. But all in all we did wonderful. I felt confident allowing our friend to hop on, who is not experienced with riding horses! None of the horses i currently have are A) Big enough to hold him and/or B ) Tolerant of inexperienced riders. As you can see, she was fine! Disclaimer - not matter how good she was, i wouldn't have put him on her had she not been as tired out as she was.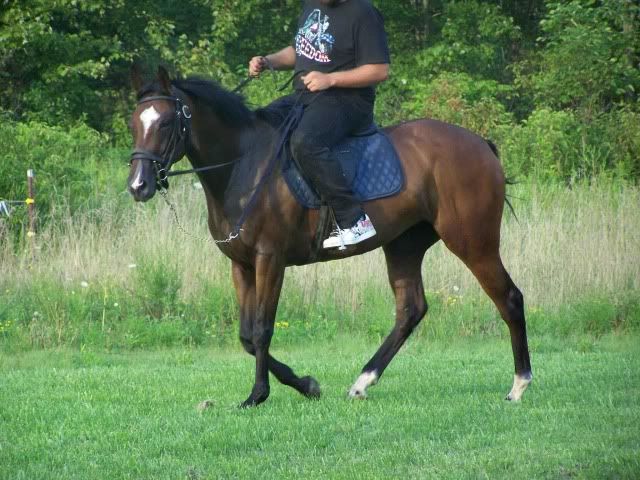 I rode her today (as soon as i was back in town) without lunging her, we did walk trot and she was a little pent up, but behaved wonderfully! I feel great about this, I have heard so many OTTB horror stories and have even worked with a few that were nightmares - this is heading more towards a romance, thankfully!
---
"Animals are not our whole lives, but they make our lives whole."
She is so beautiful, I am super jealous! I love the way her mane looks really fuzzy in the second picture, adorable.
---
All horses deserve, at least once in their lives, to be loved by a little girl.