Weanling
Join Date: Feb 2010
Location: on the way to Hell in a Handbasket
Posts: 291
• Horses:
1
Wow! I'm glad to hear she's doing so well for you! I can only imagine going from the track to a laid back atmosphere, she must not know what to do with herself! lol Best of luck in the future!
for a non TB fan, that's one nice looking horse you've got there. nice, young, and UNRACED! got to say that you've got a winner there, although still too tall (15hands and under for me).
Shes cute haha but shes technically not an ottb cause she never raced haha she more like an notttb (never on the track tb) =P
Posted via Mobile Device
She lived on the the track her whole life, so she is off the track, no?

I've learned a little more about her. I received her papers, and though there are no race records on her papers I talked to her trainer and I was told she DID race, just never placed. I have no idea how that works, or what to believe. She has no races on her record, but I was told she did race. I know nothing about that. From what i was told, I'm assuming you have to place for it to go on the record?

At any rate, I did some research and stumbled upon an article. Apparently stormy was the last foal her **** had, before she showed up at the auction and was saved from slaughter by Another Chance 4 Horses rescue. :( So sad.

In other news: Yesterday Stormy and I had a nice ride, we butted heads for the first time! It was actually kind of exciting, it's been too easy so far. She has started to become slightly barn sour, but nothing unmanageable and we're gonna nip it in the bud right away. Just your general "I'm-gonna-sort-of-walk-sideways-towards-the-barn-and-hope-you-don't-notice" thing. I'm giving her a day off today from everything (i've been lunging her at the very least every day) because i'm exhausted myself and have a lot of other non-horsey crap to take care of.

She's great, i love her. She's a beast. As to her size - I'm normally one to stay under 16 hands at all times (lucky to go above 15 lol), but well... i'm making it work. I'm only 5'1.
---
"Animals are not our whole lives, but they make our lives whole."
This is day 7! Her 4th lunging session.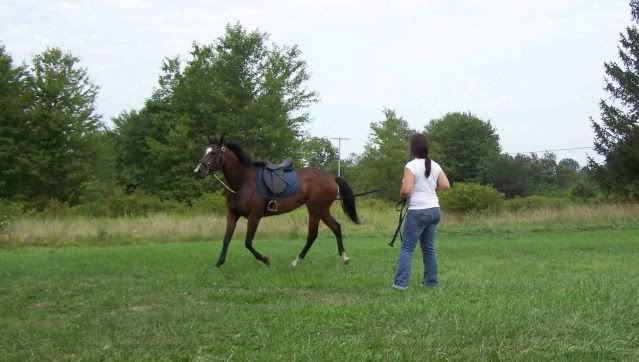 (The stirrups kept falling down, they were up for most of the session but not most of the pictures lol)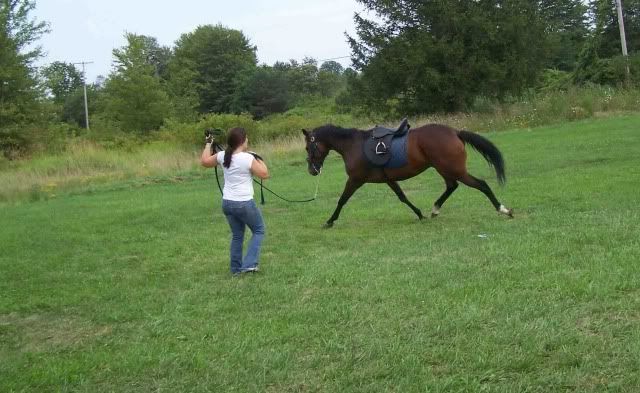 And riding: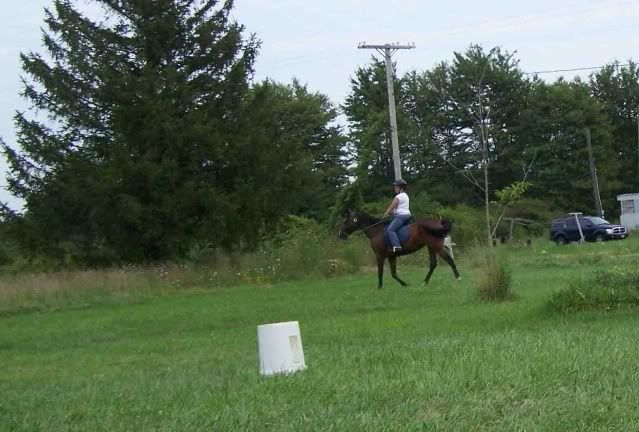 And...
Bad Poneh! :P
That's her leap/buck/jump sideways into a half canter/gallop thing she likes to do occasionally!
ETA: Please ignore me, I look hideous and fat and i was hot and the flies were attacking my face so my arms were all over the place, how humiliating! The horse looks good, so i shared the pictures anyway lol
---
"Animals are not our whole lives, but they make our lives whole."
---
Last edited by Squeak; 08-09-2010 at

04:12 PM

.
Can i make you girls any ictures?? and they are very beautiful! i have a Q/H and he is stubborn lol!
---
Real Horse Back riders ride in the Snow,Rain, And Wind. <3 Cecil,Kodee,Tilly,Pinto Bean,Romeo,And Demi