My girl showing, sharing the love, pics
---
This is why we do this, the money, the time, the effort and heartache. This weekend we had an in barn show. For the first time ever, our rescue horse was shown. Flicka has had such a rough life, and she's coming along so wonderfully.
Flicka is the black with the huge blaze, Red is the sorrel. She did awesome, came in 2nd in most of her classes, and stayed confident the whole time, which was most important.
My mother led us to rescuing Flicka, so she was overjoyed to see her go!!
A pregame pep talk!!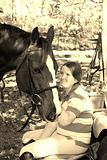 She always does this to the poor fella...I told her he wants BLUE up there!!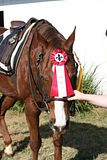 Jumping like a good boy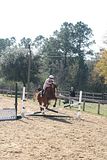 My Flicka girl, I am proud of the work I have put into this GREEN mare who now I can put a child on safely. She's coming five.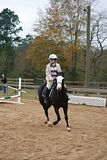 My mother and Sarah and Flicka....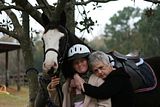 Photos are kinda small, but looks like everyone had a great time!
If you click on the photo's they enlarge.

Very nice! I used to own a horse named Flicka too.
like your horses espeicially Flicka
---
Country Woman


Looks like you guys had a great day, thanks for the pics.
---
Love to laugh, laugh at life, live to learn, learn to love
Great pics, pretty horses!!
---
Being horseless is the pits!!
Thanks everyone. They are clickable thumbnails, sorry, it's what I always do so I forget to say.
Posted via Mobile Device
Flicka is gorgeous
congrats!
Thanks so much! TO have come from emaciated and hairless she's awesome!!
Flicka is a girl after my heart cm. I adore bold face markings like hers! Kudos to you for giving her what she needed and doing well with her!
---
Life is like a camera. Focus on what's important, Capture the good times, Develop from the negatives and if things don't work out, Take another shot.