My heart stopped for a second
---
After our longggggg 3 hr trail ride with my friends, we hosed down the boys and threw them back out in the paddock. They both instantly went down to roll...right in the same spot. It was hilarious at first so I took a couple pictures, but then they rolled into each other and got tangled in each others legs and couldn't get up. They struggled for what felt like forever, when in reality it was only a few seconds. They got up and both walked off embarrassed and unharmed. They're such goofballs.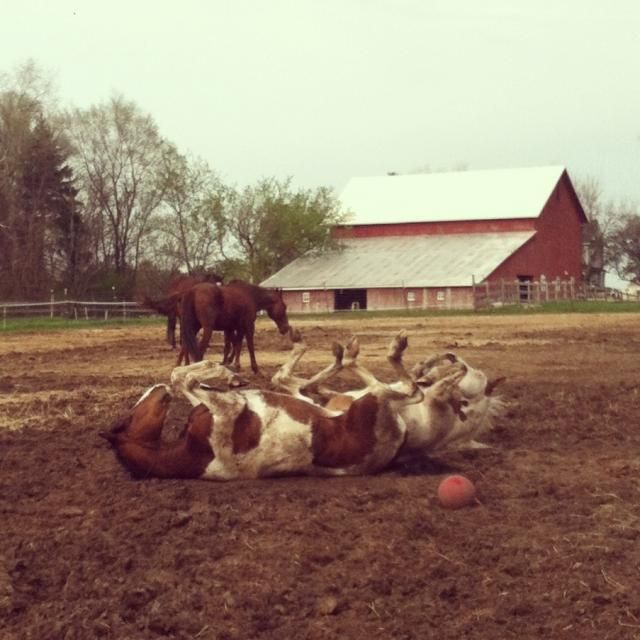 ---
Last edited by shellybean; 05-10-2013 at

01:07 PM

.
Showing
Join Date: Jun 2011
Location: Cariboo, British Columbia
Posts: 11,940
• Horses:
3
Must be the best rolling spot. Next time I would turn them one at a time, that's too freaky for me!
Posted via Mobile Device
Haha hard to tell where on horse ends and the other starts!!
Posted via Mobile Device
Ah, c'mon--that's the BEST spot!! Even has a Jolly Ball!!! WWEEEEEEEEE!!!!!!
That's too funny.
---
You just have to see your distance...you don't have to like it.
Synchronized rolling- I think you've invented a new sport!
Very Funny...I'm glad to see you're getting in lots of good riding time now.
haha that's adorable :P it'd be a bit nerve-racking, but since nobody was hurt, it's funny. XD