My horse
---
Here are some pics of my horse: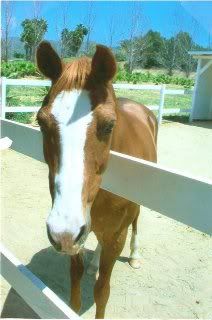 Foal
Join Date: Feb 2007
Location: See that person running in circles outside your house? .......yup, that's me
Posts: 12
• Horses: 0
Ahhhh, she's such a cutie. I love her blaze. What breed is she?
She is really cute, I love chesnuts with sox and blazes. Your horse has gorgeous head carraige...part arab??
I agree with you too..you look like a teeny little fairy LOL! :P
She's gorgeous!
Razeal- Yup, she's part arab. She's quarter horse/Arabian.
She has such a pretty face!
ahh so cute! she reminds me of my friends horse havanna