My horse Bert
---
This is my new buddy bert only a few months of haveing him and we are two peas ina pod
Showing
Join Date: Jun 2011
Location: Cariboo, British Columbia
Posts: 11,770
• Horses:
3
Hi, welcome to the forum, great pic of you & Bert. I used to live in Surrey years ago when I could ride my horse along aside of King George Hwy, so you know that is many, many years ago, lol.
My boy in our fav colors BLACK AND BLUE!!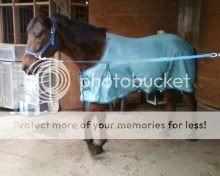 Handsome boy, welcome to the forum!! What breed is Bert and how old is he?
---
Being horseless is the pits!!
Bert is 7 years old and he is a standardbred an ex-race horse and as calm as a quarter horse :}!
Welcome Western Rider
you have a very nice horse
---
Country Woman


He sure is a good looking guy!
---
RIP Minnie, 1981-January 15, 2010
RIP Maggie Mae I miss you
He looks like a character!
thank you for the comments Bert is a bratty good boy if that make sense at all XD hes soo good i cant even ground tie him because he just follows me evverywhere and if im brushing him and have treats in my pocket he nips my butt!!!
how tall is he? and how long have you had him for?
---
Country Woman