My Horse and some I work with
---
First off this is my horse Safari, she is 1/4 Percheron mixed with QH and TB. She stands 16.3 hh.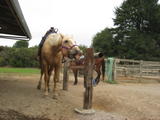 Here is Ginger, A Morgan that I have worked with since 1999
My other girl friend a Qh, is Hodina, she is one very remarkable horse.
This is Johnny Cash a Percheron and his bunk mate Charlotte a Gypsy Cob.
Now Rowdy, the butt head, the first time I had to take him out he put 25 staples in my scalp with his bit. We get along fine now, but he rides like an out of balance washing machine until he is in a gallop, then he is smooth as glass.
And last but not lest is silly Red. He rides just like Rowdy.
I hope that you enjoyed the photos, if you do I will post more from the ranch.
Those horses are pretty! But i sure wouldn't 25 staples in my head!
lol! It sounds like you have fun with them!
Thanks gallopracer992. No 25 Staples is no fun. I also had to walk from sea level up a to 1,300 ft. before I got some help.
That's not good.(sitting on the floor holding my head in sympathy pains!!!) That is not fun at all!
Thank you gallopracer992, but you do not need to feel my pain, just learn from it.
It is all in working with horse for me, if I had of listened to what Rowdy was saying in the first place it would not have happened.