My Horses
---
Hi Everyone! Here's some pics of my babies. This is Thunder. He's an 8yo qh. He was previously a roping horse but now he just trails. My mom and 2 1/2 yo daughter co-own him. He loves my daughter.
Next is Spirit. She's my newest baby. She's a 3 yo tobiano paint filly. Very sweet girl.
[IMG]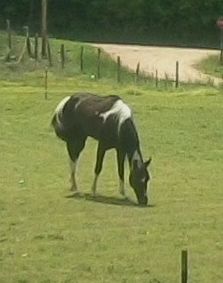 [/IMG]
and last but not least, My pretty girl Jane. She's an 8yo qh. Love riding this girl.
Beautiful babies!! That gray looks fantastic, hope the baby and he grow up to be best friends!
Thanks, I think they will be great together for many years. She can already lead him and groom him with no problems. She rides him bareback also. :)
They're all so adorable! You have quite the lovely group!(: