My little mare
---
So I'm brand new to this site .. and thought I'd put up some photos of my little gray mare. I know she isn't a looker .. and I don't have any good photos of me riding her, possibly none at all, considering no one is ever at the barn when I am :( But here are some randoms from the little over year I've been leasing her.
Looking pretty ..I guess. This was early last year when I had first started working with her. Back when she reared and bucked and didn't do anything good, except move like a superstar ;) She's improved SO much over the past year it's shocking.
Just this fall .. probably in October
Hanging out in a field .. looking dirty and fat. My bad.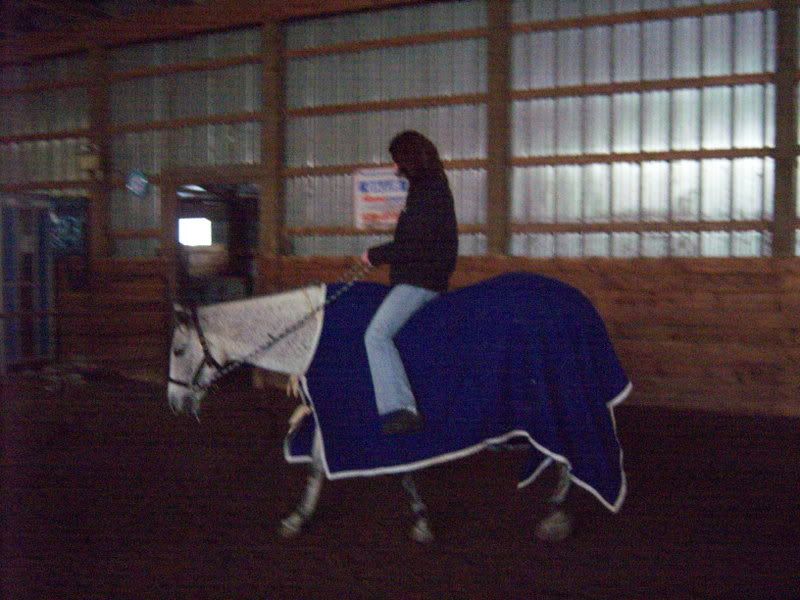 So this was a huge breakthrough for us. It is amazing she's stroll around in a halter and lead and not try to kill me and the people on the ground. She can w/t/c sans bridle these days :)
I love her. And that's all I'll post for now as I'm sure you've seen more than enough of my ugly little mare ;)
she's not ugly!!! she's gorgeous :) i love her :)
yeah what do you mean ugly?!?!?!?!
She is NOT ugly! She's sooooo pretty! I LOVE her face!
Hahaha thanks .. I love her. I say ugly with love. She's just built all that nicely, though her puppy dog personality and nice movement sure makes up for it. I'll have to get someone out to videotape me at some point in my life :( haha, the only people who would would be my mother or my boyfriend and they are both deathly allergic to horses.
allergic to horses?!?!? oh my gosh i think i would die lol
She is a very pretty mare, I really like her!
I'm a sucker for grays!
Aww she's far from ugly!!!
Well done for sticking it out and having rewarding breakthroughs with her... it's so worth it!
x
---
♥ Seoul Searchin' for the Lovebug ♥
I figured since I finally got some photos of her being ridden, I may as well post them :) So, here is a giant flood!
Up close and personal!
Playing 'shy Shyann'
So, honestly ... does she look good? Please just ignore me LOL
Our bums !
Obviously, the photos were only taken when we coming around this corner
<3 I really love her
I LOVE this photo of her.
That's all folks :)
---
-->You could do worse
than to be amazed<--
Not a looker?! She is BEAUTIFUL!!! There's a gray just like this at my barn and he is absolutely stunning (he's my trainer's horse)! Besides Buckskins - which of course I am partial to!
, my favorite are grays! I took lessons on "Gabe" my trainer's gray for a long time, before I got Sandie, here's a pic of him -- they are beautiful horses!!
I especially love the grays with the darker mane like yours has...I just think grays almost look magical! Don't they remind you of the unicorns you'd see in movies as a little kid?
---
"The times when you have seen only one set of footprints in the sand, is when I carried you..."
---
Last edited by Hoofprints in the Sand; 11-28-2008 at

08:49 AM

.
Awww.. thanks for that :) She is really cute and adorable and has the BEST personality on the ground and she's [obviously] really coming along under saddle! I suppose when I say she's not too good looking I mean conformation-wise hahaha and that gray has smaller ears than Shy I thin!
---
-->You could do worse
than to be amazed<--