Trained
Join Date: Sep 2007
Location: Hatton Vale, QLD, Australia
Posts: 5,227
• Horses:
7
my new horse - pic heavy
---
well i got a new little fella today so i thought i would share some pics. hes a rising 5 year old stock horse X quarter horse. hes in paddock condition and looks a little shabby but nothing a bath, some grooming and some trimming wont fix :)
meeting jarred over the fence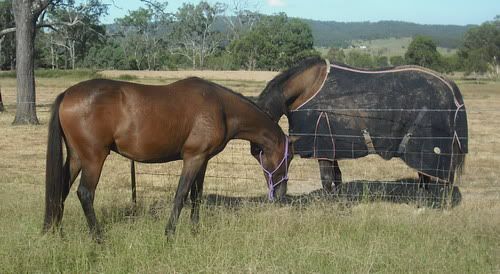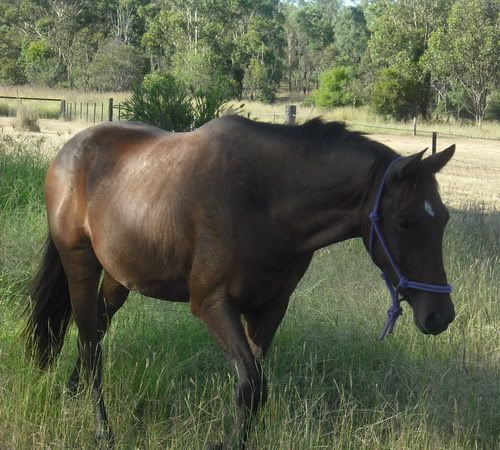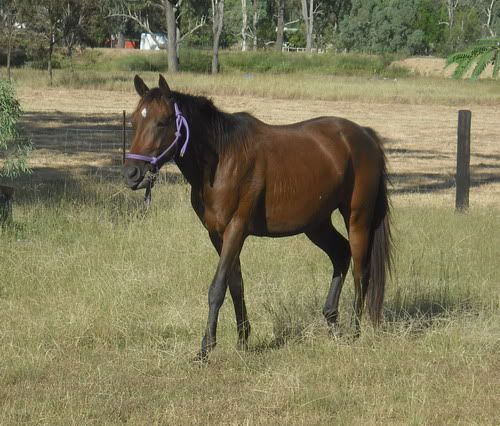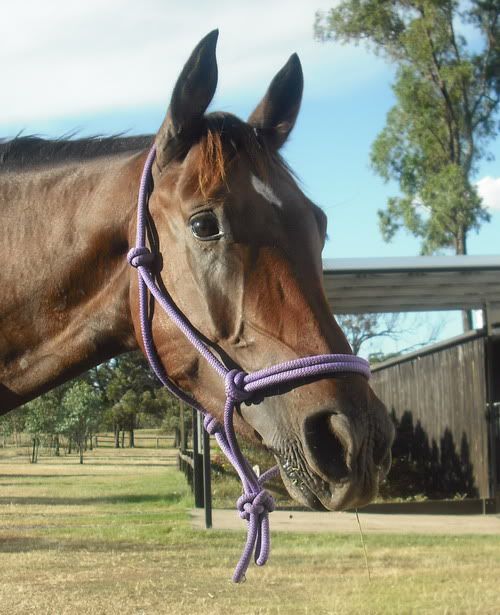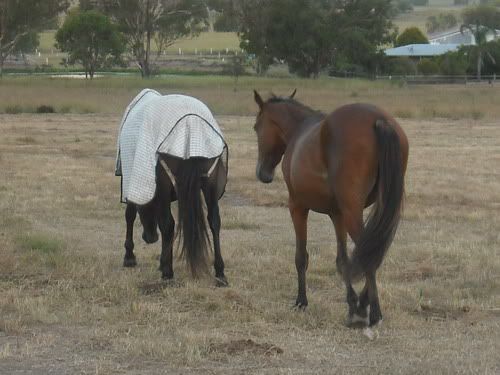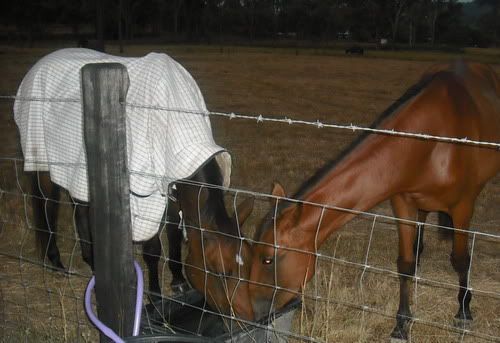 he is making great friends with my little colt. the colt is still young enough that he hasnt quite noticed hes a colt yet so he is running with the herd still. hes bottom of the pecking order though so he is enjoying the company :)
---
"I whisper but my horse doesnt listen...So I yell!!...He still doesnt listen"
He is a beauty. A little round in the belly but nothing that can't be cured. I wish you luck. :)
---
Always remember that feeling of looking at a big, open country over the ears of a good horse, seeing a new trail unwind ahead of you, and that ever-spectacular view from the top of the ridge!!! Follow my training blog:
http://robertsontraining.blogspot.com/
Trained
Join Date: Sep 2007
Location: Hatton Vale, QLD, Australia
Posts: 5,227
• Horses:
7
if youre looking at the rugless one in the last few pics thats my qh colt. chilli is in the rug. my colt is a fatty and is lazy so its hard getting him exercising to grow muscle. hes unbroken though so once i get him lunging etc he should start muscling up.

chilli (hate the name...must change it) is in reasonable shape. a little more weight and muscle tone and he should be lovely.
---
"I whisper but my horse doesnt listen...So I yell!!...He still doesnt listen"
Beautiful boy there!

And "Chili" isn't too bad of a name....my Mustang came to me with the name "Horace"! And I still haven't changed it, but I call him "Horace B" or "Bubs". (Friends started calling him "Horace the Boris" when I 1st got him, so it got abbreviated from there)
---
Horses are God's apology for men.
HE is a nice looking boy. It wont take nothing to get him looking super duper good. I love the last picture, so sweet lol.
---
quarter horses.....simply the best
Isnt it summer time down there? Isnt it a little hot for them to be wearing rugs?
---
quarter horses.....simply the best
Aww Congrats! He's a pretty boy. Nice to see he is making friends so quickly.

I love the pictures of them nosing one another. Well, actually, the head shots in general! And the running one is very pretty as well!
---
TM Tardy's Chick "Hunter" - 13 yo Paint
Remmy - 18 yo Morgan/QH cross
Gunner 3/31/11, Heidi 7/2009 Miniature Sicilian donkey

Wow. He's a beauty :)
---
Ever feel like the one place you are happy and whole is in the saddle?
What a gorgeous horse. I love his head and neck. What's the name?
Tons of people here have cotton rugs on their horses through summer. It can actually keep them cooler, as it keeps the sun off them.
---