My new horse (a rescue)
---
So well, I really didn't think I would be getting a new horse for a long time. My pony, Millie, got colic in December and had to be put down. I was absolutely devastated and didn't really think I could deal with getting a new horse. I guess I felt somehow maybe I did not want to replace her, and it was hard to cope with losing her and didn't want to go through that again.
But, about 2 months ago I got a message about a horse free to a good home, so I went and checked her out. Turned out she had been left abandoned (the number of horses now abandoned in Ireland is in the thousands due to the economic crisis - hundreds have been found dead from starvation in the past few months) and was rescued by a local centre.
Her feet were apparently in terrible condition, but were fixed up before I saw her. She was covered in lice, her teeth needed attention, and she basically just needed some love.
So I decided to take her and give her a home where she's actually be cared for.
She is very quiet and laid back, very tolerant of everything and is very willing and honest when ridden.
This is her the day after we took her home. Her head looks very big for her body because her neck is so thin and needs a lot more muscle! Her only problem appears to be a lump just under her hind fetlock which she was brushing, but I have since got boots that cover it right up :)
After 2 weeks:
And taken the other day: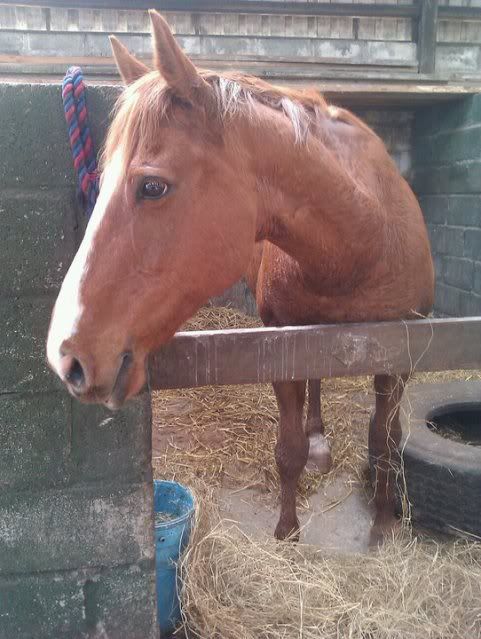 She'll look good once she gets a little meat on her. She almost looks like a Saddlebred or Saddlebred cross...
---
"And somewhere in the northwoods darkness a creature walks upright. And the best advice you may ever get is: Don't go out at night..."
Yeah, after a few months she'll be looking a lot better.
God knows what she is. most horses here tend to be a mix of irish draft, thoroughbred, connemara, and maybe different types of warmblood. but you never know really
Shes looking much better already!!! Shes cute!!
Awwh! She's the cutest!
---
I was a dreamer
Before you went and let me down.
Looks like such a sweetheart! So great that she got a second chance with someone who can love & care for her.
---
"If a horse fails to do something that is because he was not trained to do it. If a horse fails to do something properly that is because he was not trained properly."
www.wildestheartart.com
She has beautiful expressive eyes.
Thank goodness there are wonderful people out there, like you, who give horses like this a great home!
She does have lovely eyes. Its like her iris is smaller than a lot of horses so you can usually see a bit of white.

I'm really glad she does not seem to have any problems with people, she is so laid back and quiet, and stands still for everything, even getting washed.
Posted via Mobile Device
Sounds like you both lucked out finding each other! I'm glad you gave her a chance. She looks very sweet.