My New Horse XD aka the confidence builder
---
So I got a new horse!
Information? Shes a 13 year old quarter horse mare, been there done that. 14.3 1/2 hh and is for beginners up.
She arrived two days ago and they said to give her the morning to settle in and could ride her whenever. She got on well with Muss, gave a few threatning kicks but never really connected with her. shes still a bit hard to catch and ive ridden her twice, once with a saddle and yesterday after work bareback. shes honestly the calmest horse ever ive already gotten my confidence back towards being able to rug her with the back clips of the rug. Muss used to kick outta me to the point i dont unrug him unless i have to and so everytime i need to rug or unrug this girl she is perfect she doesnt move. She did have a little spook yesterday when i leading her back to her paddock and jumped back and crushed my foot so its pretty blue today. Not sure what she spooked at but as soon as she jumped back and i got her off my foot she was calm again.
Anyway when I went to view her when she was for sale i had two different horse experienced peple come with me different times and they both said she was perfect for me. We got her vet checked it came black clear and i went out there to see her get on the float as they agreed to bring her to my paddock since i had no float and they gave me the leadrope told me to put her on i did and she walked on right behimd me calmly. I was so suprised it was so easy but then again shes been on floats so many times shes used to it.
She has currently being ridden by a 10 year old for the last 3 years. Been a broodmare, I met her 2 year old daughter out there, such a pretty thing. But anyways shes so easy to walk and trot.
I lunged her out at the other persons place and she actually did it! she didnt do any of the crap muss always does.
I rode her bareback yesterday which was really scary but i was pretty confident after plodding her for half an hour :)
Shes done everything pony club, jumping, trail riding, campdrafting, led showing, hack everything. Shes very steady shes never tried to race into a trot or try and go to fast. Her only downside is shes a bit girthy but all she does is pin her ears back, nothing else. My friend rode her and tested her to try and see if there was any crap and said she tried everything to annoy her or upset her and she said nothing upset her.
So heres some pictures from first day home: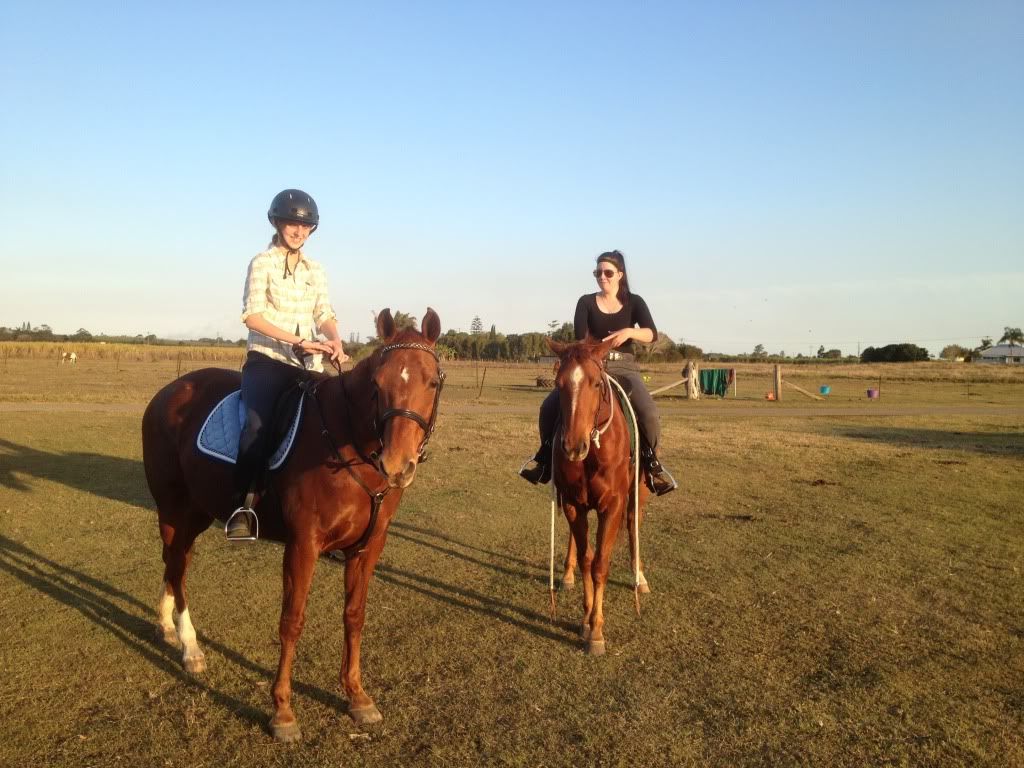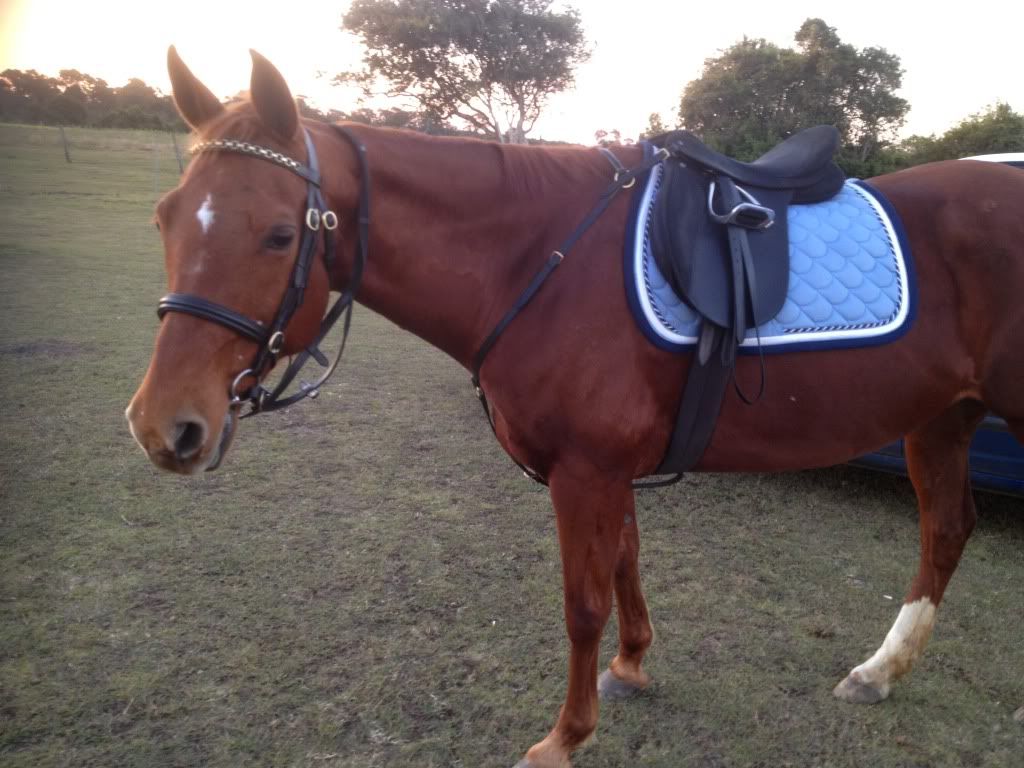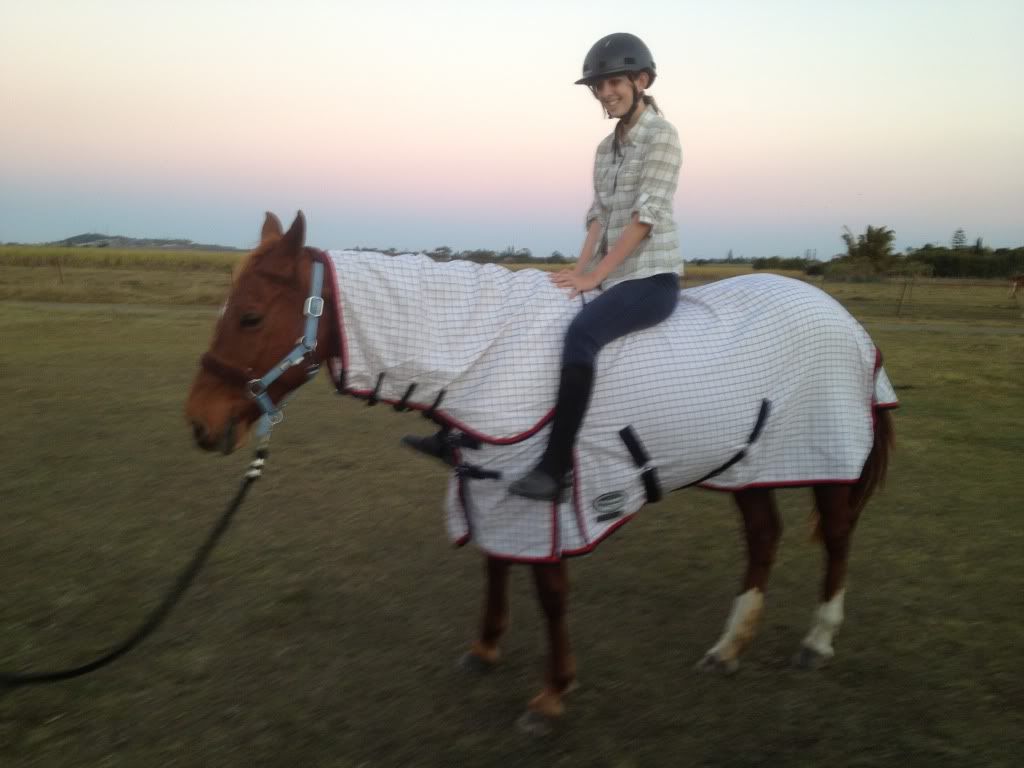 ---
Horseriding- The art of keeping a horse between you and the ground.
Congrats!!!so cute! Love your saddle pad by the way!!
Pretty mare!! She reminds me of "my" Lakota with more white.
---
Being horseless is the pits!!
Thankyou guys :) and yes everyone wants to steal that saddle pad lol. Im debating whether to make her gear blue or purple.
---
Horseriding- The art of keeping a horse between you and the ground.
Very pretty! I would stick with the blue
Blue!

She's gorgeous and so happy you found a confidence booster :)
---
"Strength is the ability to use a muscle without tension"

She is beautiful and the way you described her she reminds me of the old appy I used to have. I'm glad you found a horse you can really enjoy and KEEP THE BLUE!!
---
My two horse Apache and Sammy are my world
along with our dogs Patch and Bear.
But I will always love you Jimmy R.I.P
Nice mare & so happy you can just get on & ride. She's a nice age & size & looks to be a very nice riding companion,lucky you for finding such a gem.
Thanks guys, I spent the day brushing her and I do admit im getting so much more confident already from her. shes a sweetheart <3 Now we just need to sell muss weve reduced him to 1200 negotiable as we just want him gone but to a good home.
heres a video still of her trotting up the other day
---
Horseriding- The art of keeping a horse between you and the ground.