My New Obsession
---
So, if anyone has really paid attention to my past posts, you may be wondering what happened to the most recent horse I had been working with, Demon. Unfortunately, as much as I love the old fart, his owner and I are no longer getting along too well, and I just can't afford to buy a horse that I won't be able to compete on. I still see him often and ride him every once in a while.
That being said, I shall now introduce my new obsession, Brantley. He's an unstarted 4 year old registered paint gelding, owned by a friend of mine. I won't post his registered name without permission from his owner though. Takes a saddle and bridle, though not completely comfortable moving in them yet, but has not yet been backed. His owner doesn't have a ton of time to work with him, so I'm going to start bringing him along, with hopes of molding him into a lower level eventer/all around great horse. I have very serious hopes of buying this guy in the next year or so, once my income has evened out, if he's as great as I already think he is.
Without further ado, the cutie with the bootie. I only have one picture atm, but will be sure to snap a few more of the handsome fella this weekend. Please excuse the awkwardness of the picture. That is me lunging him. We were having a bit of a hard time, he had just had a baby melt down and was a little mentally stuck. It was a hell of a time getting some forward movement out of him without a lunge whip and without setting him off again. In the end I got few circles of walk out of him and decided to end it on that for the day. Didn't want to fry his brain as he was already a little overwhelmed. (Note: This was the first time he had been lunged in a month, and the first time having a saddle/bridle on in a few months. Keeping that in mind, I was very proud of him!)
Eta: I lied, plenty of further ado. Haha. I just keep thinking of things I want to clarify. This boy was rescued off a lot where his previous owner had abandoned him and another horse. When my friend went to pick him up, he was completely wild, never been handled, and still intact. I believe this was at most two years ago. He has improved in leaps and bounds since then, changing from an essentially feral horse, to the biggest cuddle bug you will ever meet. He was gelded not even a year ago, but acted like a gelding even before that. So please keep in mind, he does not have the time and level of basic training that most other four year olds do, which is why he still has baby brain sometimes.
---
"The art of riding is keeping a *horse* between you and the ground."
---
Last edited by xeventer17; 05-16-2013 at

10:27 PM

.
I know this is a little late, but I've been crazy busy and haven't been able to get out to the barn much. Here are some new pics of my handsome guy. It's not many, and they aren't great, but I was in a rush today. I'll try to get some more tomorrow :]
Nomin on some buttercups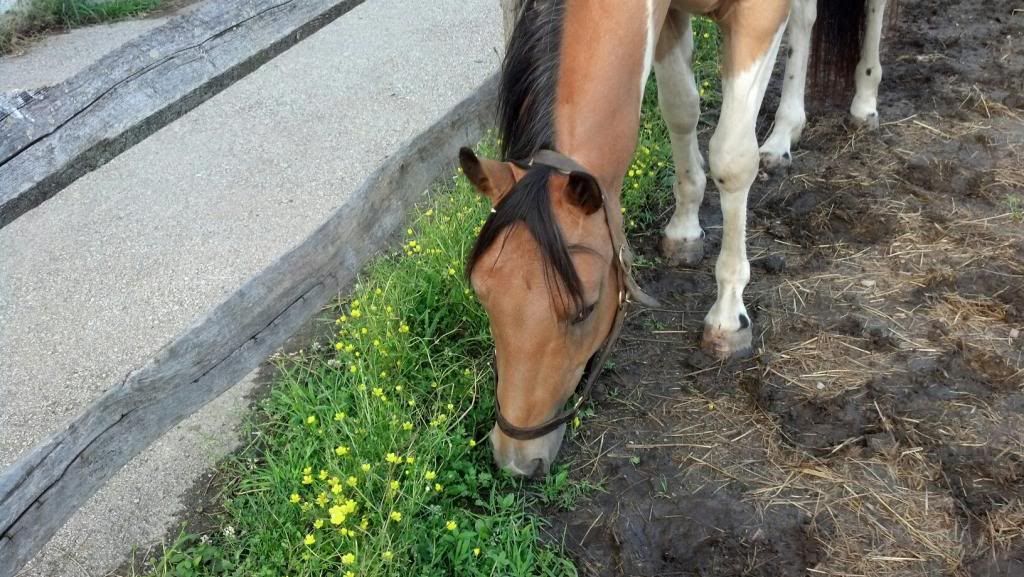 He knows he's good lookin.
Back to noms.
---
"The art of riding is keeping a *horse* between you and the ground."
very handsome
---
Don't Flatter yourself Cowboy I was looking at your Horse

LORI

Thanks guys! :]
---
"The art of riding is keeping a *horse* between you and the ground."
He matches my girl! lol...love him...good luck!
Here's Cheyenne
I love that color. He's gorgeous.

Your girl is beautiful too, Kelly!
---
"Donít be the rider who gallops all night and never sees the horse that is beneath him."
-Jelaluddin Rumi
Thanks! And she's gorgeous! That's funny on two levels because we have the same name. Although mine is spelled Kelley :]
---
"The art of riding is keeping a *horse* between you and the ground."