My Slaughter Rescue!!
---
2 years ago i went to check out a horse that was 2 days away from being shipped off to slaughter and fell in love. His name is Eclipse and he is a 16.3 (maybe ~15 year old) unraced thoroughbred (we were told tb, but i am thinking more of appendix). this poor horse was around 500lbs under weight, popping in everyone of his leg joints, couldnt stay in a trot without being pushed, and couldnt canter straight (he would lean in to the middle). i knew i could leave him, so we loaded him up, took him home, and i still dont regret it one bit. after working with him for 2 years, he now only pops in ONE joint (maybe two in the really really cold weather), now has a lovly trot, and an even more beautiful canter! plus he is the SWEETEST horse i hve owned! dispite being abused (which he STILL has some marks on him from that), he lets anyone ride him, he is ridden in a hackamore (strongest bit i have ever had on him is an eggbutt english snaffle), and he is ridden bareback and just a halter!! However, he still does not like the trailer, so that is the biggest work in progress with him!
here are some pics of him:
this is when he was FIRST rescued, he was SOO skinny!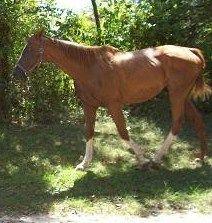 in this one u can see more of how un shinny his coat is, his skinniness, his mane was terrible, etc: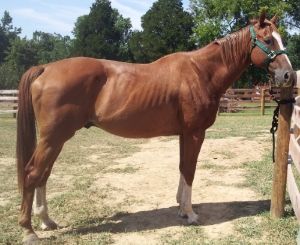 this is a picture of him taking about a month ago (also shows how tall he is cuz i am 5'1 1/2"):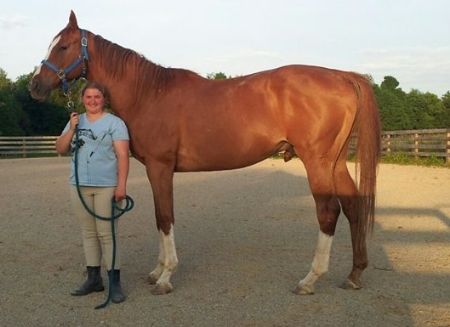 these next ones always make me laugh when i look at them. i have a 15.1hh thoroughbred and i use a lot of the same tack on them and the saddles crack me up because they look so puny on Eclipse, but perfectly normal on Charlie.
this is how the western saddle looks on Charlie:
and Eclipse...: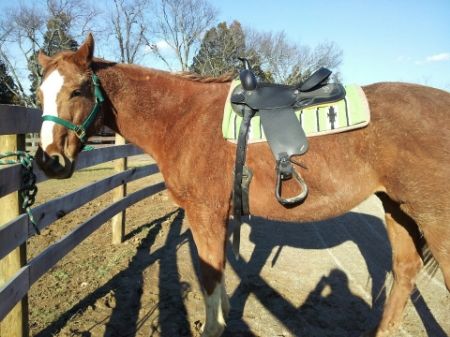 and now for the best one! English saddle on Charlie: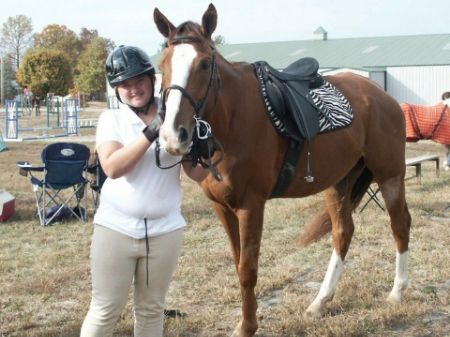 and now, same exact english saddle on Eclipse...: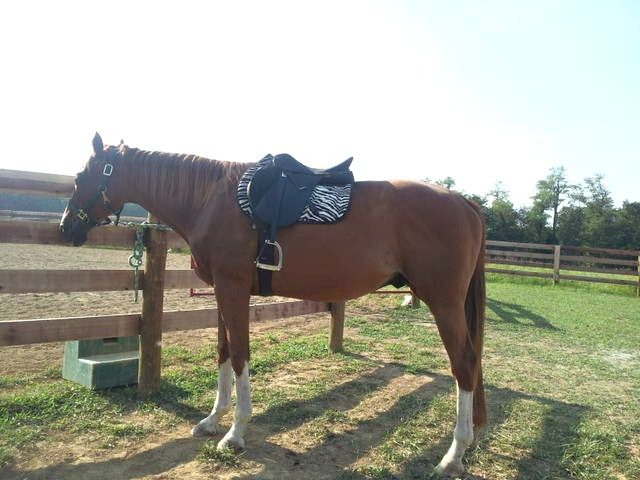 ---
Wow big difference! The english saddle makes him look like hes on stilts lol! Legs look soooo long! Hes super handsome though :)
Lol.

IMO...I see no Quarter Horse in him. I believe he's all TB.

Congrats. You should be proud!
Posted via Mobile Device
Welcome to the forum! Eclipse is a sweet and handsome boy - he's so lucky you saw what was the best in him!! Congratulations, and enjoy him :)
oh my gosh, the saddle shots made me giggle!:) Hes one lucky boy! so glad you found him and he turned into a great partner for you
---
Beauty is not diminished by those who refuse to see, hear,feel or in any way sense it. If you refuse to see beauty its you who is weakened.
Wow, he's beautiful. Congratulations too, he's so big!
---
"It doesn't matter how good you are. It matters if you have the passion." -Unknown
He looks awesome and is so handsome!! You done a great job, welcome to the forum.
---
Being horseless is the pits!!
I say he hit the jackpot with you! He looks so much better and has a happy eye. Wishing y'all many great rides together.
How do you know he was going to slaughter, because he was going to an auction? There are no "slaughter auctions". The brokers do attend. They don't want skinny horses but prefer the big fat well muscled quarter horses (more meat to bone).
What a lovely boy! Those comparison saddle pictures brought a smile to my face too.
---
Sometimes I wrestle with my demons.
Sometimes we just snuggle.