My Stud and My Son!
---
Our big mean stallion ;) GR (My son) really wanted to get on the horses while we were trimming feet and deworming today so when we were finished with Beau we let GR sit on his back while Beau Man had his oats!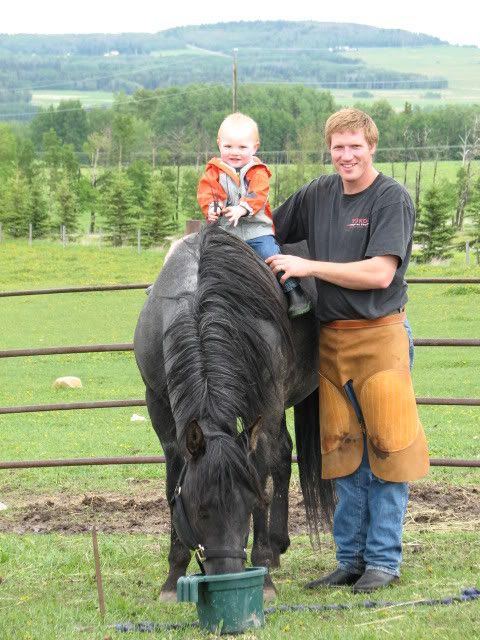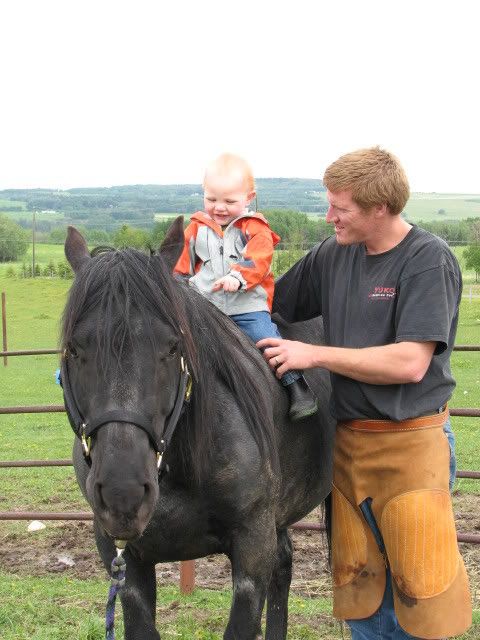 Those are really great pictures, Tiff!! Makes me want one of my own ;) Between you and hubby, that GR is gonna grow up to be a looker!! Better watch out! You can see George really loves GR... what great pictures.
---
The lovely images above provided by CVLC Photography cvlphotography.com
Thanks Allie!
I thought they turned out really good! George sure does love him, he is his world!
Awww how cute!! I love them. Your son is sooo cute! Is your husband a farrier?
---
"'For I know the plans I have for you,' declares the Lord. 'Plans to prosper you and not to harm you, plans to give you a hope and a future'" ~ Jeremiah 29:11
Great pics TIff, i am so happy to see some happy pics of your family
---
I love my horse. She is the wind beneath my wings.

John 3:16 (READ THIS PLEASE!)
He sure is Allie! Thank goodness, saves me lots of money..lol. He's very good at donig corrective trimming! We do all barefoot trimming.
Thanks Brandon. My red heads..lol
What a beautiful stud? Is he a blue roan? Can't really tell,lol.
Your son is sooo cute!
---
It's been awhile, but I'm back & back in the saddle!
Wow Beau is gorgeous! And your son ADORABLE!!! When he's all grown up he's going to be quite a horseman.
beautiful pictures!
Wow, I wish you and your husband lived by me. I am having the hardest time finding a good farrier here.
---
Cocoa - 32 yr old QH, Cherokee - 8 yr old TWH & Toby - 16 yr old QH
R.I.P. Cocoa 4/13/78 - 2/9/11
Small Town Girl, he is a blue roan. In the winter he is almost black in the early spring he is almost white. His summer coat looks like it is blue, a dark blue. He's a looker!
Thanks Mudpony! I sure hope he turns into a horseman!
Kim-I know what you mean, so did we. That is why George decided he needed to take over that job! Good feet are very important to us!