My Wolfman♥
---
Went out to see Wolf today and spent some time loving on him as for a week or two I have been under the weather due to side affects from anxiety med's and haven't been out to see him. :( Boy within a short time he seems to have matured more and his color sure has changed.lol A couple times when looking at him I swear he had this blue tint or hue to his coat..Pretty neat if ya ask me. :) Like normal he met me at the gate and I wasn't allowed to move an inch until he gave me mandatory slobbery smooches.haha After a hour or two of me and my 4yr old daughter loving on him we kissed him goodbye on his velvety nose and went to leave to head home. He was not happy at all! Poor guy even threw his bottom lip out and it looked like he was pouting.lol Alright I will stop jabbering and post the pics....
Hi Mom!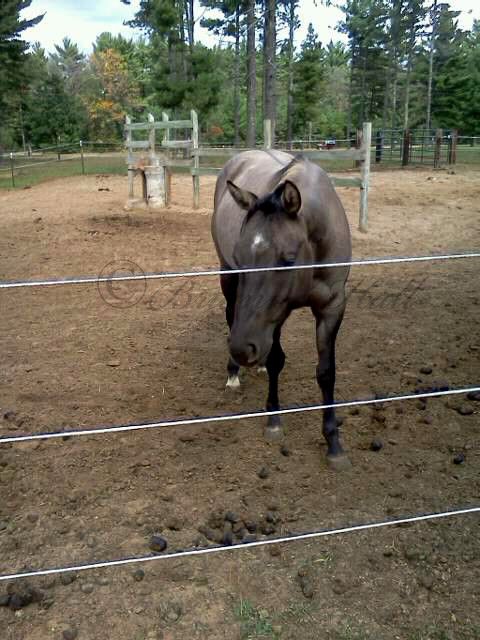 Time for SMOOCHES!lol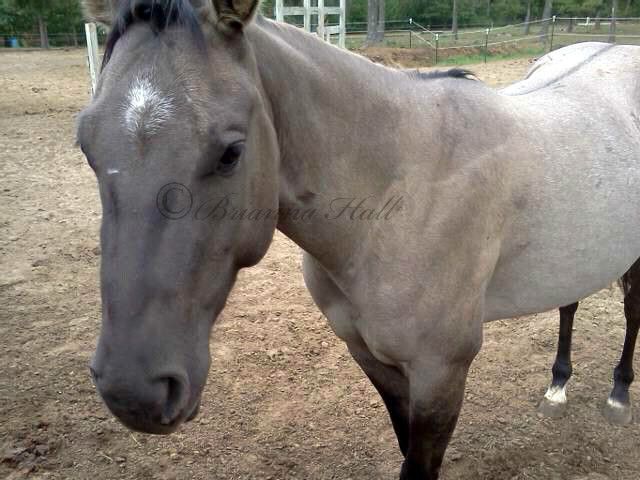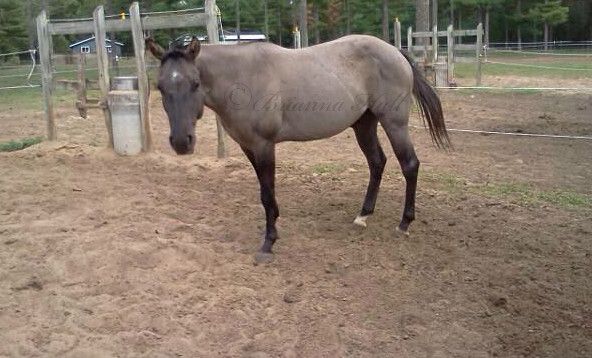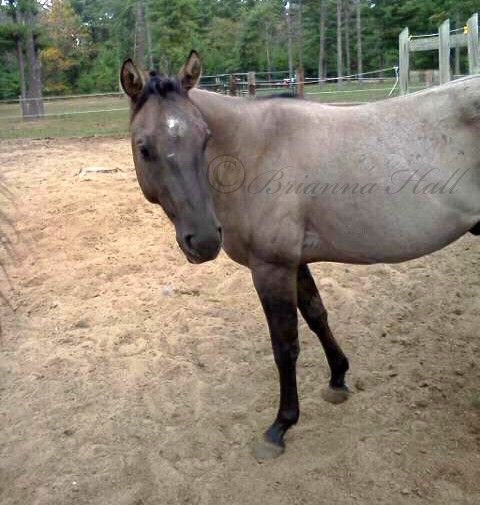 Holy ghetto booty..O.O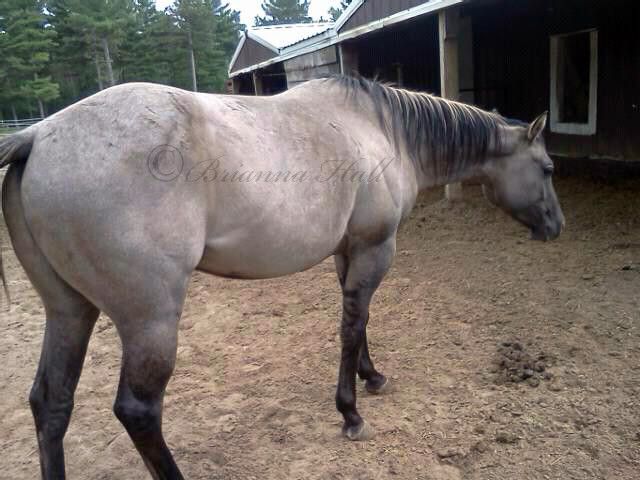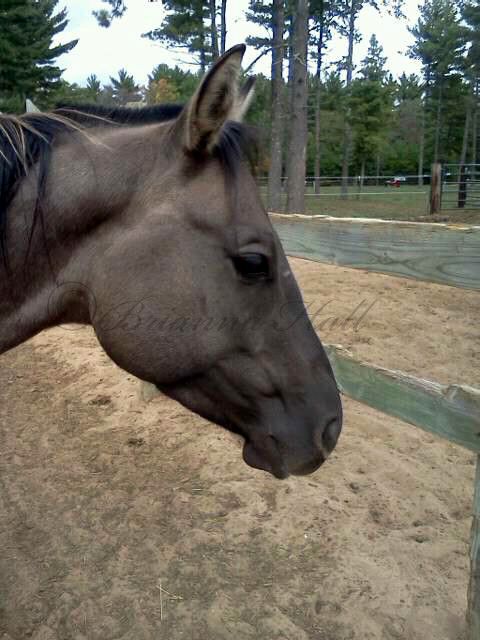 LOVE this one♥
and here is a cute edit I did of the above picture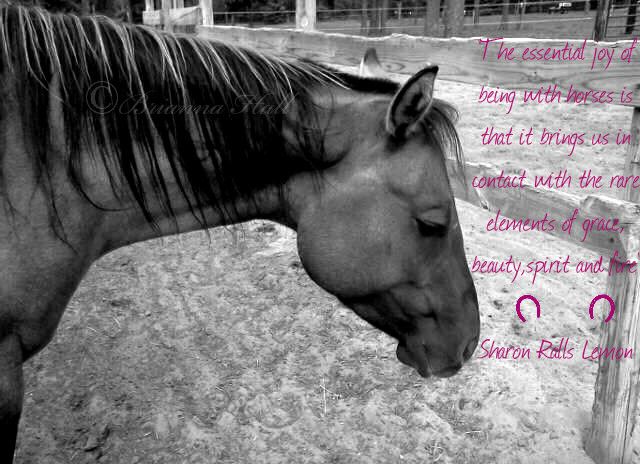 ---
Proud Mom of:
Grey Sky Aledo Elite, a.k.a Wolf- '09 grullo QH gelding
Apache-Paint/QH gelding ♥2003-2011♥ R.I.P ♥
Green Broke
Join Date: Jan 2010
Location: south of nowhere, north of nothing
Posts: 4,644
• Horses:
6
DANG! hes growing up so fast! i remember when you got him as a lil'un!

hes gorgeous
He's a handsome boy! Love the name.

I have a lot of sympathy for you. Anxiety is cr*p - the condition, the meds, everything. Must be even harder with a young child to care for. I'm about to go back on my anxiety medication and I'm not looking forward to it. I quit for a while but as I'm going to be moving in with my partner and I'm pretty unbearable to live with when I'm all wired and panicky, I've decided to get back on the med train. Not gonna take my mood stabilisers though, they were scary - I'd rather deal with the crazy bipolar mood swings than the psychotic episodes the meds cause!
Posted via Mobile Device
He's gorgeous as ever!!
When will you start riding him?
---
Being horseless is the pits!!
He's a gorgeous horse!!
Posted via Mobile Device
Horses: better than any meds or therapy in the world!!
Yes he is :) Seems like he went from looking like a little boy to looking like a man so to speak.
Thanks :) I just love unique names and thought that Wolf fit him. Plus it's quite entertaining to see the reactions I get when I tell people what his name is.lol It does suck.Especially when I get anxiety attacks so bad that I faint/blackout/pass out. Combine that with PTSD= one messed up and miserable person. Thankfully I was smart and got help before it was too late :) I have 3 children 2 boys and a girl of course.lol My daughter is the youngest(and the horse crazy one). It's hard to see how my anxiety affects them but things are starting to get better. Slowly but surely ;) I wouldn't wish this on anyone but it is comforting to know that I'm not alone in dealing with this type of thing..
Thanks :) I've sat on him a few times and because of my anxiety I'm taking it slowly even though he is ready for a bit more. He doesn't seem to mind.lol So far Wolf takes everything in stride and within the next couple times of we can do some walking around.
Thank you :) He knows it too.lol
So very true! Soon as I see Wolf I can feel myself relax and I couldn't ask for a better listener too.lol
And just because here are two pictures of Wolf when he was a little thing.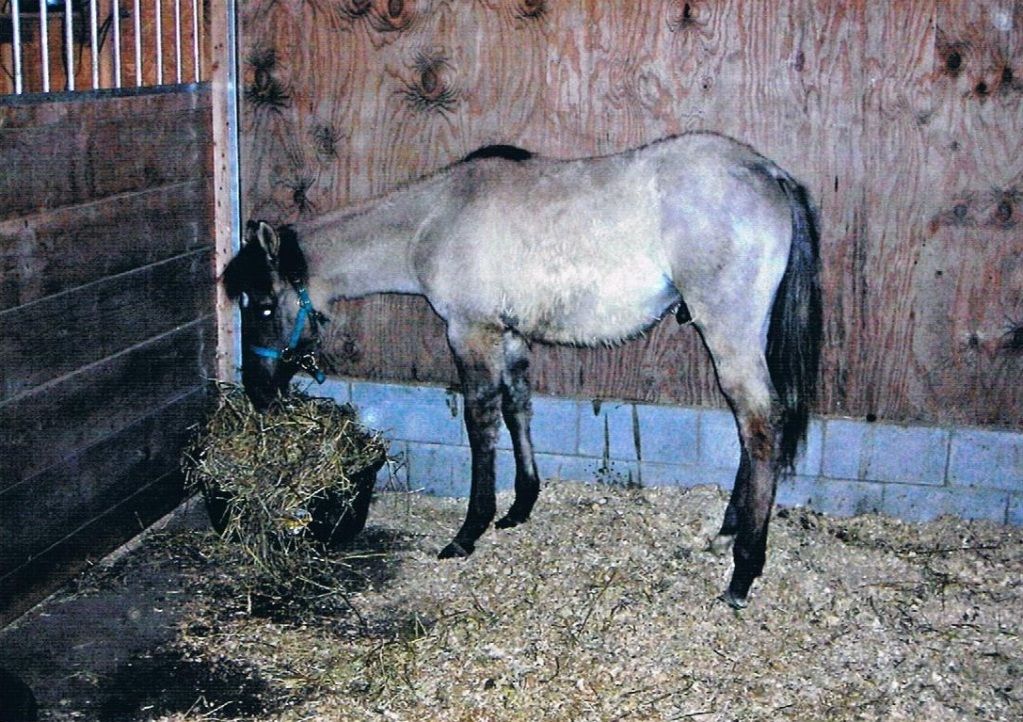 ---
Proud Mom of:
Grey Sky Aledo Elite, a.k.a Wolf- '09 grullo QH gelding
Apache-Paint/QH gelding ♥2003-2011♥ R.I.P ♥