Never a dull moment ;)
---
We had quite a ride today! Trailered to a trail head about 3-5 miles from me. Can't really ride to it because you'd have to cross the freeway (you could go under it) and that would freak the horses out, and just not safe. Anyhow, I rode my Fell pony Harley, and my friend rode my Arab Pony Calista. Both horses thought it was a free buffet of desert trees *rolls eyes*
Did you know dead white trees and dead cacti will eat horses? I didn't, either, until Harley informed me lol! Calista won't lead, and Harley wouldn't go near those, so a few times I had to get off and lead him, good thing he's only 13 hands lol!
Then we were riding in a wash, I turn around, and see Calista laying on the ground, Amanda just sittin' on her! SHe went down to roll lol! So Amanda got off and made her get up, remounted. Silly horse!
On our way back to the trailer (although we were just hoping it was the right way haha, did end up being the right way) we came across two gentlemen and their horses. We said hello, and like everyone, they wanted to know about Harley. Well, one of the mares started moving around, and there were jumping chollas all over... they are called that for a reason. If you just get near them, they practically jump on to you! They willl fall off in clumps just due to vibrations! And his mare backed into one! So cacti ALL OVER her back legs an hind end, so she went nuts (both guys were on the ground, not on their horses). Of course, horses react to this, so the other horses were getting flighty (not Cali too much, good girl!) and the other guy's mare and Harley also got into the jumping cholla!
Amanda and I got off, and all four of us led the horses further down the trail to a clearing. Trying to get the cacti out I got three needles in my finger, OUCH and they do NOT come out easy! The ends are barbed so they don't just pull right out. Calista was the only horse who didn't really get any cacti on her (a few spines on her legs but not a clump) but Amanda got some on her pants ;) One of the guys got some of the cacti off our three, then we al headed back to the trailers. Harley and Calista were just fine so we rode, but their mares were still jumpy (they had them ALL OVER their legs, inside and out) so they walked the long way back, we felt bad for them.
At the trailers they helped get the cacti off Harley for me, they felt like it was their fault (nah, they're horses, this is the desert, that happens!) They raise cutting horses, showed me a photo of their new foal, so cute :)
Neither Amanda nor I brought a camera :( I did snap some photos with my cell phone though.
View ahead of me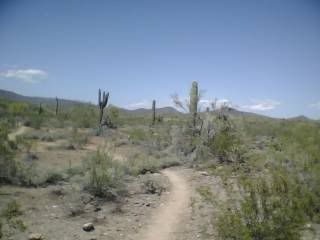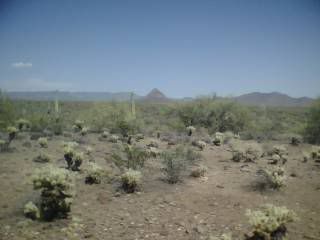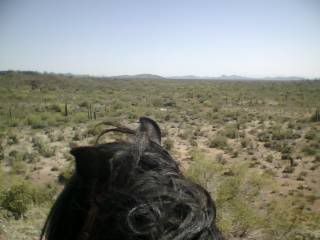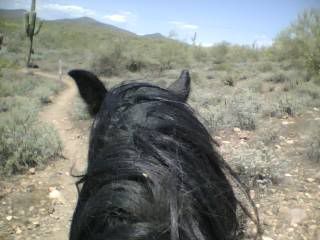 And behind me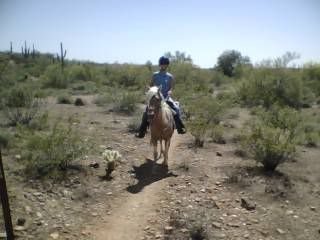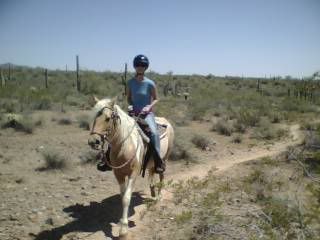 And after Amanda got Calista back up from her roll attempt lol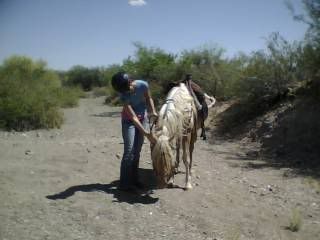 Took a shot of the cacti while riding, so odd angle... this was after getting half of them off!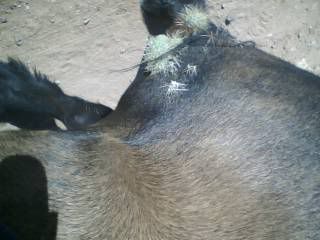 And a normal view of that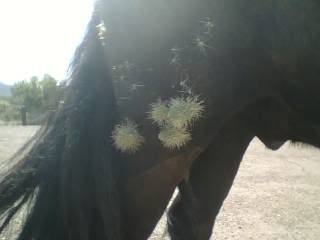 It was a lot of fun though :)
Wow, that was quite a day! Thanks for the pics.
---
The horse...powerful, majestic, beautiful.
Holy Cow! Attacking Cacti....for REAL!
Sounds like you had an interesting and humourful trail ride.
Really enjoyed thanks for sharing.
(truth be told I was lmao during the tell!)
LOL We were LOL'ing during the ride! ;) Yup, those cacti are evil! Other cacti are find and not so... erm.... mean? LOL ;)
Yeouch those Cacti sound nasty but what a beautiful ride
Sounds like you had a wonderful day! Great pictures, thanks for sharing! Look at that beautiful scenery!
haha! I can tell you now if our trail rides never had these challenges it wouldnt be as much fun!
Omg Scary cactuses!!!
This is such a great story! Its great you had such en eventful day!