New addition to our family... Sonny's Lucky Pro
---
Last week I was looking at the AC4H broker page to see what horses were on the feedlot. I do this occasionally to cross post on my FB page.
Anyway...this one older horse caught my eye. I dont know what possessed me but next thing I knew, I had signed all the paperwork and pay pal'd the money for him.
Went to pick him up this past Monday and he has been home with me now ever since. He is sick, has upper resp and conjunctivitis but I am not surprised since he was on a feedlot. His feet were terrible and he needed his teeth done pretty bad. Had the dentist, farrier and vet out this week for him already.
He is 21 yrs old, reg AQHA, a sorrel roan gelding who was trained and showed in western pleasure.
Here is the youtube video from the rescue that posted him:
And here are a few pics of him: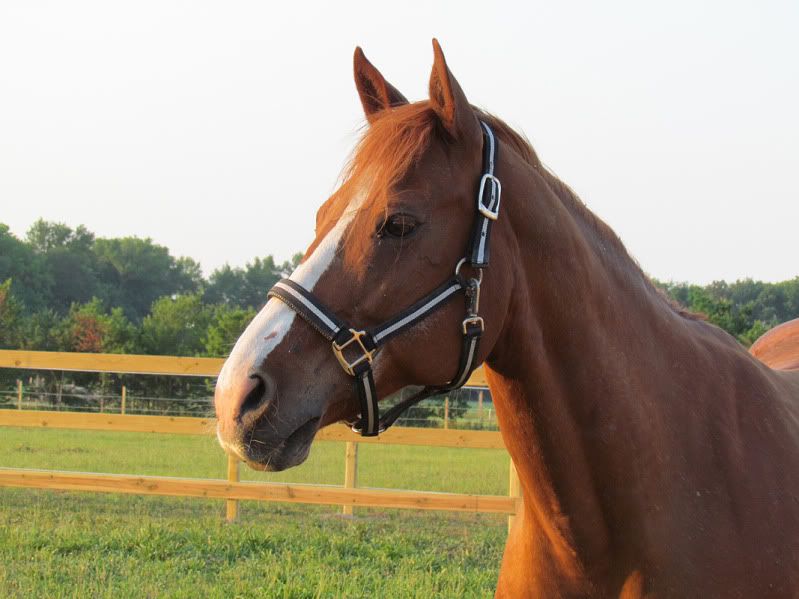 ---
Cocoa - 32 yr old QH, Cherokee - 8 yr old TWH & Toby - 16 yr old QH
R.I.P. Cocoa 4/13/78 - 2/9/11
He is extremely handsome!!! He looks like he's going to be fun
Wow o wow! He is a good lookin' guy!
---
RIP Minnie, 1981-January 15, 2010
RIP Maggie Mae I miss you
He is a darling and looks great :) Hope you have fun with him!
---
There is one principle that should never be abandoned, namely, that the rider must first learn to control himself before he can control his horse. This is the basic, most important principle to be preserved in equitation - Alois Podhajsky
He's lovely! Amazing what you can find in a feedlot, eh?
---
Sonya ~ 5 yr old Appaloosa/Welsh mare
Aww. Very cute. He looks very good under saddle. The way he back ups, turns and even walks. He is cute. I <3 him.
He is very cute. I dont know if im seeing things because the video was short of each gate, but he looks off in his front left leg. He looked like he was limping. Just food for thought or something to keep an eye out for. Like i said, i may not have been seeing things correctly. But i like him alot, he looks very well trained.
He does look pretty off in the right front in the video but that could have been due to his horrible feet.

He is an amazing looking horse and he has got some very serious training on him. Very nice and he is lucky that you found him.
---
Always remember that feeling of looking at a big, open country over the ears of a good horse, seeing a new trail unwind ahead of you, and that ever-spectacular view from the top of the ridge!!! Follow my training blog:
http://robertsontraining.blogspot.com/
Yes, he is definitely off in the front right. He has a cracked heel and his feet were very long and starting to scoop up like a spoon.

We had him trimmed the day after he came home and he is still sore and limpy. It will take a few trimmings to get his feet back under control and get him sound again.
---
Cocoa - 32 yr old QH, Cherokee - 8 yr old TWH & Toby - 16 yr old QH
R.I.P. Cocoa 4/13/78 - 2/9/11