New bareback pad!
---
This was made by GypsyTally921 on here.
Got to ride on it for the first time yesterday and man was it comfortable! I think Major appreciated it too since about the only place I don't have any padding is my butt.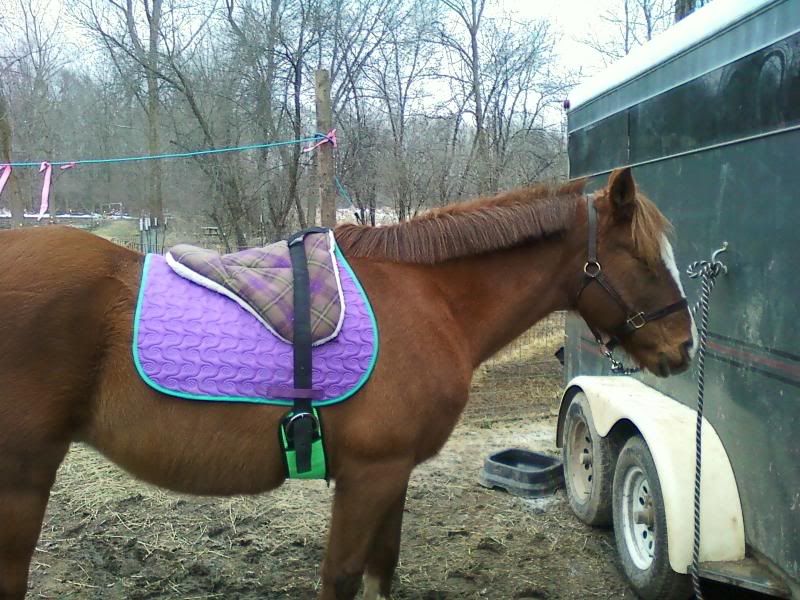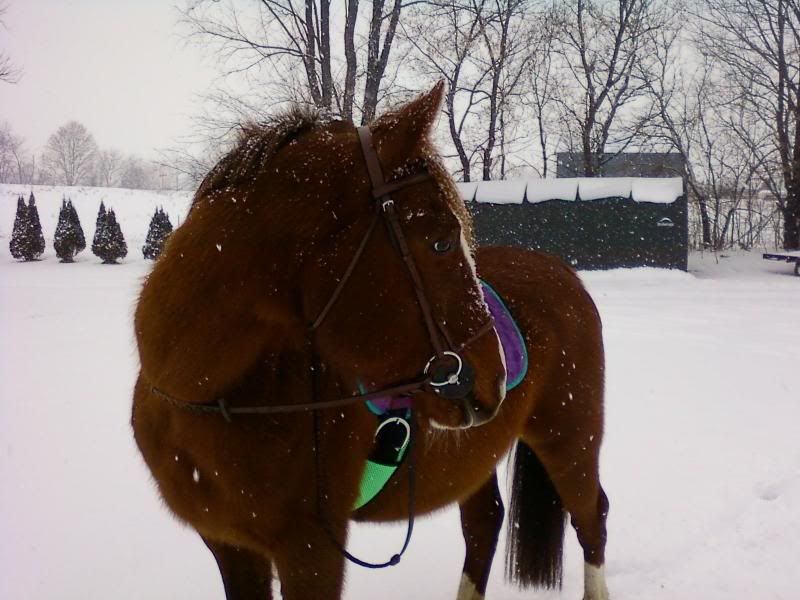 "Theres something on my back..."
"big sigh"
---
RH Queen O Anywhere "Sydney"
2009 Sugarbush draft
It's adorable! He looks great in purple. And I'm super envious of your snow... O.o We haven't gotten ANY snow here at all this year. It's totally not fair. =P
I love my bareback pad from GypsyTally. Best thing ever. =D
---
Fabio - 13 year old Arabian/Lipizzan gelding

~
Rest peacefully, Lacey.

You can have some of ours, I'll share!
---
RH Queen O Anywhere "Sydney"
2009 Sugarbush draft
I love my pad that Gypsytally made! They are amzing aren't they!
Major is a cutie, I love the colors on him.
---
RIP Minnie, 1981-January 15, 2010
RIP Maggie Mae I miss you
I had a super hard time deciding on the fabric and gypsytally was super nice about it. I picked this one out online thinking that it was black with pink and green stripes on it, well it didn't turn out to be that way! I am really glad that it ended up being the color that is since I decided to go with purple for Major.
---
RH Queen O Anywhere "Sydney"
2009 Sugarbush draft
Similar Threads
Thread
Thread Starter
Forum
Replies
Last Post
Bareback??

horseluver50

Horse Riding

13

09-05-2009

12:00 PM

Bareback....

Wallaby

English Riding

12

05-31-2009

11:27 AM

Bareback Pad

hotreddun

Jumping

7

05-29-2009

04:55 AM

Need Bareback Pad

horseloverd2

Tack and Equipment Classifieds

0

05-08-2009

10:00 AM

Bareback

missy06

Horse Riding

9

11-10-2008

06:16 PM