New to the forum, new horse(s)... life is good!
---
Hi!
Had horses growing up on a small farm in Yelm, and then later when I married. Divorce and life has kept me horseless for about 20 years- was unwilling to get a horse until I absolutely knew it would be permanent. Loosing a horse hurts too much.
Now, somewhat rusty but no less in love, I have horse(s) again!!
The TWH paint is mine, the two other paints are officially my SO's. Helped him find them over the last 6 months or so.
Just got my girl home two days ago, so I don't have many pictures of her and in the ones I have she isn't terribly well groomed. But I do a lot of photography, so more will follow.
Glad to find this site. Thanks for the opportunity to post and tell. so good to be back into horses!
gwen
(hope these aren't too big)
TJ 6 yo gelding, a bit past green-broke and working on it. a bit... over-weight, but working on that too.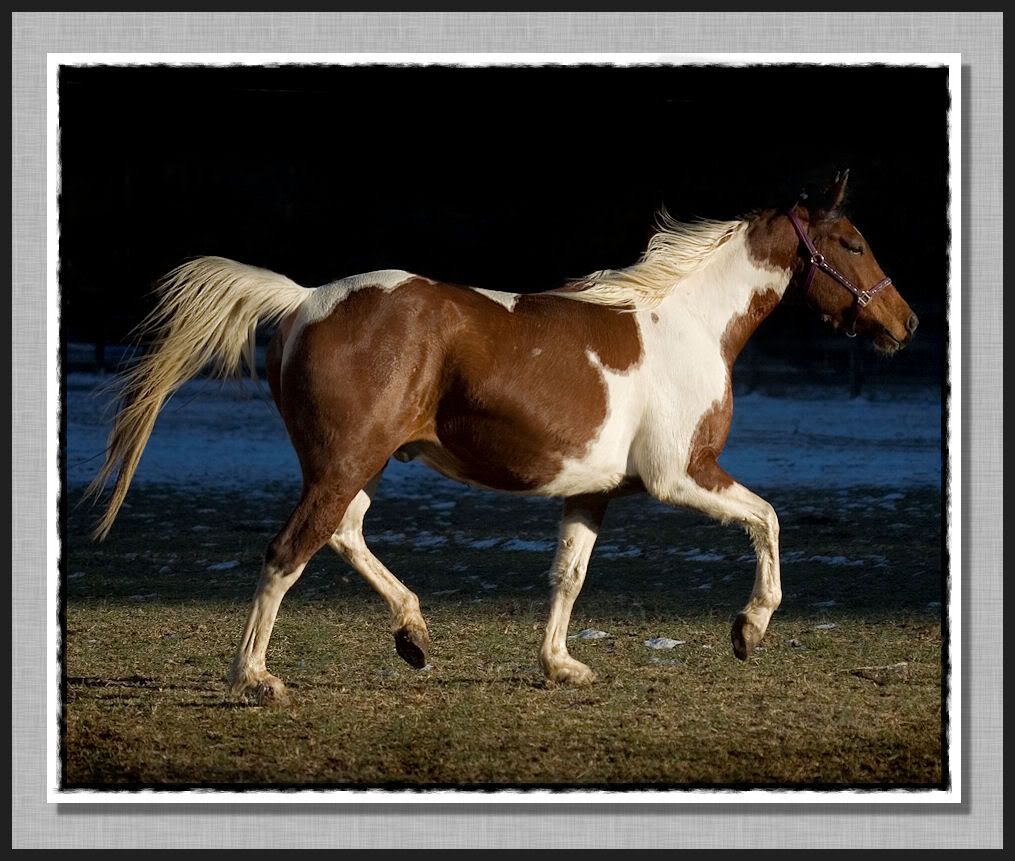 Georgia - 8 yo mare, turns on a dime, good manners mostly. Feisty though and loves to run.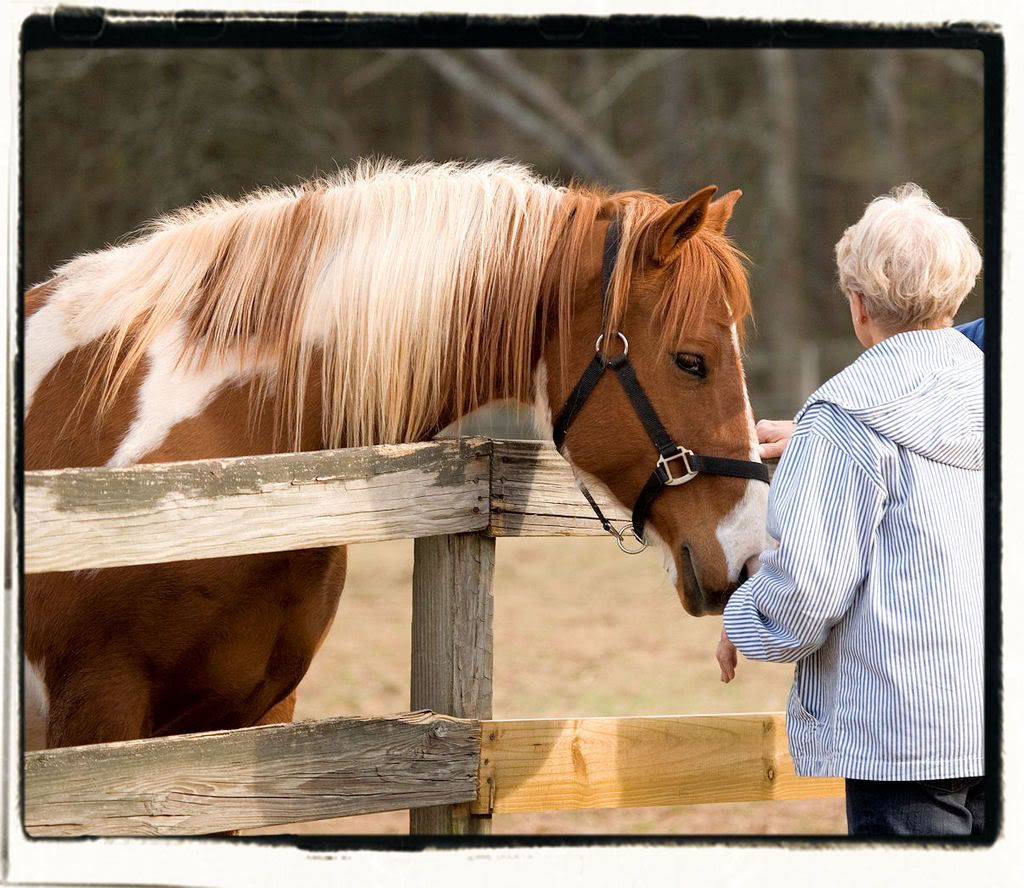 And my new girl, Cheyenne- a bit dirty and shaggy. 6 yo, great ground work, likes to go.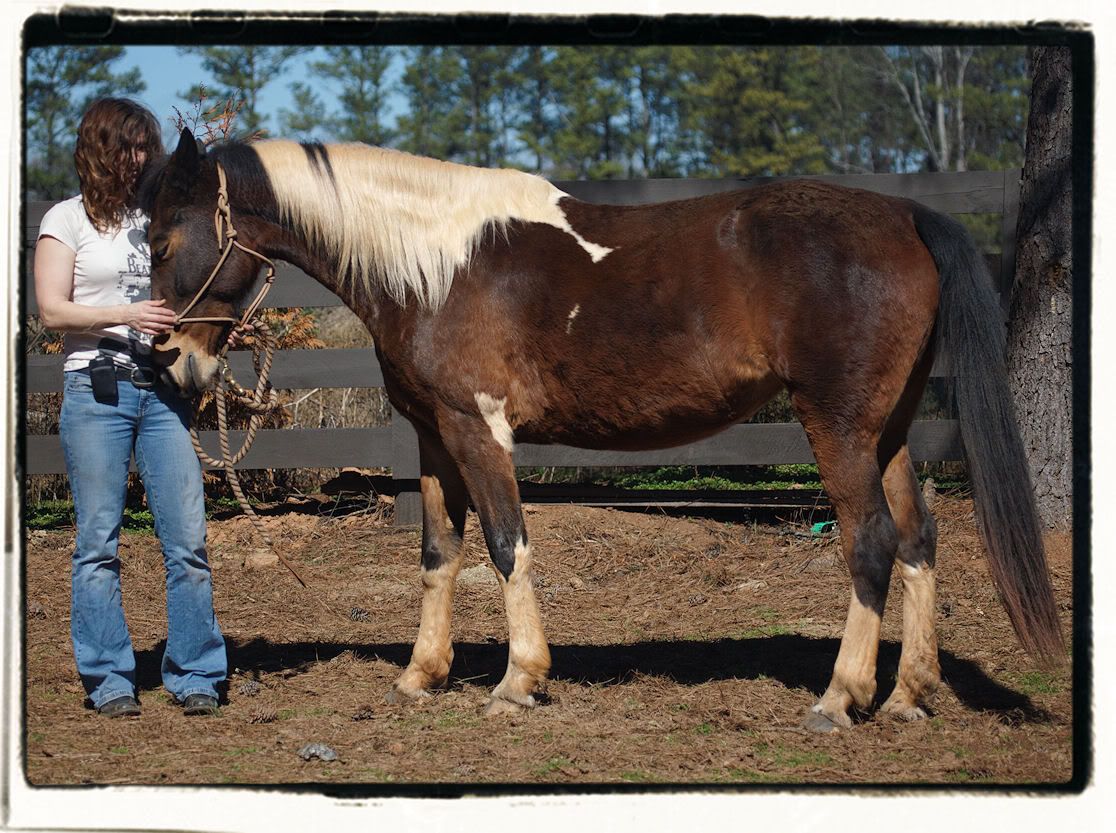 Welcome to the forum :) Are those photos taken with a digital camera, if so what kind? They are just really great shots and beautiful horses.
---

"Until one has loved an animal, part of one's soul remains unawakened..."
- Anatole France
Canon 5D
---
Thanks! I do quite a bit of photography.

I have a Canon 5d- it's a digital SLR. Love the camera.
I just googled it 12.8 megapixels and a SLR to boot no wonder the photos are so wonderful. Helps to have a photographers eye too
---

"Until one has loved an animal, part of one's soul remains unawakened..."
- Anatole France
and luck!
and patience. waiting for the right time, the right light, etc.
and editing...
like this shot:
fabulous
---

"Until one has loved an animal, part of one's soul remains unawakened..."
- Anatole France
Oh my gosh they are gorgeous!! Groomed or not! I have a soft spot for paints...I have 2! A Fox trotter and a Paso/paint cross. I love your pics. So classy! Wish I cnould takes pics of my boys like that!
I just realized something...
Your mare Georgia is a paint and you say she turns on a dime and my mare is a paint and turns on a dime so we named her Dime ha ha ha
I thought that was just an interesting fact
---
It is not just a horse,
It is the one thing that keeps me from being just a girl
Yearling
Join Date: Sep 2007
Location: Delregans Way Performance horses QLD AUS
Posts: 773
• Horses: 0
OMG!!!
Oh hey by the way lol, and welcome to the horse forum
Those photoes are breath taking... please post more!! :) Beautiful horses, they really are. And i bet your happy to have them apart of your life agian
Feel free to post more!!
---
Delregans Way Performance Horses
Bundaberg, QLD
Australia
Yes, welcome! Very nice horses, I espically like the last mare in your last post - I'm a huge fan of tri-colored paints! However really cute horses in general. I love your photography and borders. You'll enjoy the forum.