New mare! (needs name)
---
It's raining horses around here! I have yet another new horse, this one was given to me for free. Anyway, she was abused by a trainer and now has a lot of trust issues. She flinches at pretty much everything so we have a long road ahead of us before she gets her confidence back. Meanwhile she needs a name, I am totally drawing a blank on this one.
She is 6...registered Appy (MMS Irish Lace), any ideas on what her pattern is called? I am guessing snowflake. I hope to show her in halter, english and western.
Her whole tail was one big knot, took me forever to get it out and lots and lots of show sheen.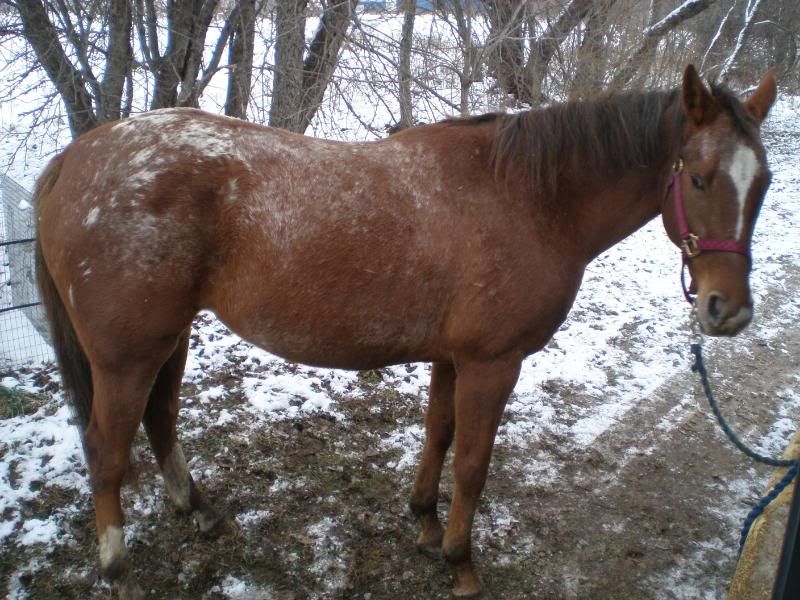 Any comments on her halter prospects? I know she's not square...
first day that she was here (thursday)
At least she's in good weight and appears to be healthy.
gorgeous!
Storm
Doogle
Dino
Dot
Spot
Blanket
Jacko
snow
lyric
boby
jack
lugalla
snowflake
lace
sundance
jasmine
cobalt
---
a silent night,wen friends are few,I close my eyes nd tink of u.A silent night,a silent tear,a silent wish dat u wer here♥ Is maith liom cąca milis:) lol
artsy
julie
roxy
dutchess
majestic lady
You know, she's not a bad looking appy. :) Nice long tail!

Some names I like that might suit her...

Ginger
Briza (Spanish...from Briseis, the woman Achilles loved in Homers Iliad).
Anita
Isabel
Bali
Bella, Belle
Pumpkin
Hazel
Hedwig
Rose

I'm sorry to hear that she was abused by a trainer. I'm sure you two will be able to work past that.
She's a cutie! Hm, name...maybe Iris or Lacey? :)
Yeah, she is pretty well put together, I think it helps that her dam is a thoroughbred, but I don't think anybody would ever be able to tell she's built like a tank, just how I like them.
---
RH Queen O Anywhere "Sydney"
2009 Sugarbush draft
pretty girl
---
quarter horses.....simply the best
Lacey? I think she is a blanket Appy... Kind of looks like she might get whiter.
I think that she is going to roan out, it is all ready happening around her eyes and nose. There is another appy at the barn that I think started out looking like mine but now at 20 is almost completely white with just patches of her original chestnut color left.

I don't like lacey because of that thing that happened several years ago with Lacey Petterson. Plus I don't like people names in general for my animals. I do kind of like Lyric.
---
RH Queen O Anywhere "Sydney"
2009 Sugarbush draft
I had an appy that was bay in the winter and would shed out with more white than roan.