New Mare needs name ideas
---
So I bought hope my new mare. She is an 15ish hands tall, will measure her tomorrow, Appaloosa Mare. She is a sweet heart, she is to be an trail horse and play day horse. She has been a trail horse and was in the training for western pleasure, but didnít enjoy slow work. I will be working with her to see what she will do, I am looking at maybe our first show in June, depending on what she will show in. She is very tender footed, didnít know how much until she came home, but will have our farrier looking that over to see what he can do. She rides great and really seems to enjoy being rode. Iím also looking for names for registered name is A Perfect Illusion and her barn name was Sugar. We kind of would like an uncommon name.
Her and me 
Trotting around
Can you stop with photos?
King (Dadís Tennessee Walker) she is behind him
Here she is again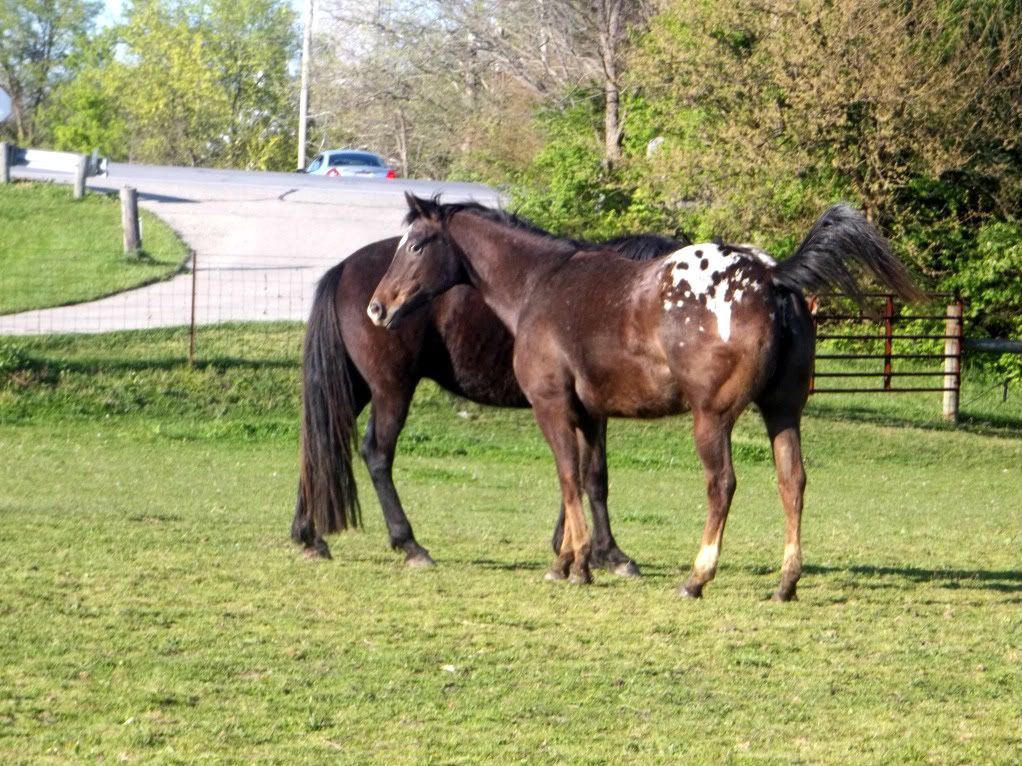 ---
Extreme Trail Rider and Barrel Racer.
King - 11 year old Tennessee Walker Gelding
Sassie- 7 Year old Appaloosa Mare
very nice pictures of your lovely horses
---
Country Woman


- Doll
- China
- Whisper
- Echo
- Kitty
- Bella
- Jinx
- Whiz
- Tango
- Gem/Gemma
- Precious
- Glory
---
"The greatest pleasure of a dog is that you may make a fool of yourself with
him and not only will he not scold you, but he will make a fool of himself too."
-Samuel Butler
I like Tango as mentioned... or Rain. Hmm. She's very pretty!
---
Horses are like therapy ~ and almost as expensive
She looks soo cute! I love her whitish speckles on her butt! Personally, if she was my horse I would name her Midnight Snow (bc she is mostly black with "dustings" of snow) and her shortened name would be Midnight :) Just my opinion.
Showing
Join Date: Jun 2011
Location: Cariboo, British Columbia
Posts: 11,759
• Horses:
3
No name suggestions, but I just wanted to say, I love her eyes!
Thanks for names ideas. They will be wrote down with the list others have gave us. She is an sweet horse, but we are still learning each other. Our farrier will be out Thursday to shoe her, as she can't be trail rode until then. She has very tender feet and talking to farrier to see what he wants to do with her feet. I did ride her today in grass and she is very mannered under saddle, but wants to do everything at an fast walk to trot, but on the ground she is showing some issues. It doesn't help being an new place and her in heat. We did noticed some of her spots looks like stars. And Waresbear, I love her eye too. More pictures to come, sadly couldn't get no riding picture.
---
Extreme Trail Rider and Barrel Racer.
King - 11 year old Tennessee Walker Gelding
Sassie- 7 Year old Appaloosa Mare
Her registered name made me think of Mirage. It's unusual, and has nickname possibilites: Raj or Mir. Congrats on the new addition!
---
We drink to our youth, to the days come and gone; for the age of oppression is now nearly done.
She's so pretty!! Congrats! I like Tango and Mirage for names.
---
Being horseless is the pits!!
I've always loved the name Sheba. Or Poppy, Alice, Effie, Willow, Trinket, Slippers, Henna, or Luna (: She's a GORGEOUS horse!

So I was looking on babynames.com at Pet Names and came across both "Dermis" and "Epidermis". Who would name their animals that?? Haha, off topic, but I thought it was funny!