New mare...SKINNY
---
So the new mare is here...and not at all what I expected. She is very underweight, her feet are really long and overrun, and on and on. Her hair is falling off of her legs and belly from standing in mud for so long. She was still covered when she got here (All the way in Alberta from Ohio) She had a nail in her stuck in her frog
and has horrible thrush. And I think she may be a cribber...not sure on that just yet. Could be that she was chocking trying to get all the food she could cause she is so **** hungery. Anyways I'm really not impressed and thinking she may be a big waste of money...but we will see I guess. Maybe she will come around and be a wonderful looking horse...
She does not have a name yet, so feel free to make some suggestions. I've been calling her Ohio, but she does deserve something better.
Also if you want to know the name of the seller feel free to PM me but please don't ask here as I will not talk about that in the public.
Oh, poor girl. She has a nice honest face and kind eye. She also looks like she has nice bone in her legs. I am sure that she will fill out beautifully now that she actually has a good owner. I look forward to watching her improvement and don't judge her too harshly yet, you never can tell by first glance what a horse will end up like.
aw poor girl, i am sure you will take good care of her.
She is definitally a looker, and she will look even better once she has some weight on her !
Boy is she lucky to have found you..... it is most likely not her fault she looks like this, poor girl. It will be exciting to see what she looks like after living under your care for awhile- she looks like a diamond in the rough. I like these names for her:
Bisera- means pearl in bulgarian
Gretta- also means pearl but in an english variation
Safira- meaning like a sapphire and there are red variations of sapphire
Ula- jewel of the sea
Xhevahire- long but looks unique, both pretty and messy at the same time- means jewel in Albanian
Tiff, I know she didn't come to you in the condition you were hoping, but I do see a nice mare in that horse -- give her time and I'm willing to bet you that she's going to be a darn nice horse once she gets some weight on her.
---
The lovely images above provided by CVLC Photography cvlphotography.com
Aww poor girlie.
I have to agree with smrobs...I see some potential in her.
Once she has some weight on her and some good care she is going to shine.

I like her build but at the moment she is thin. She'll come around. Sweet face.

She looks some what sad at the moment. I cannot wait to see her spirit come alive...
:)
HP
It sucks that you got her from my home state and she came to you looking like that. I know I can't control it but it makes me mad.

I read a book called The Blood Red Horse. It's centered in medieval times. She reminds me of Hossana's dame Sacramenta. I always said if I ended up with a nice sorrel I'd name it Hossana or Sacramenta.
Thanks for all the replies guys.

I see some potential in her as well...she's just a long way from there. She is supposed to be in foal for a June baby, but I also doubt that.

She does look sad and she does have some food aggression...but wouldn't you be sad and aggressive abour food if you looked like that.

Love the name Bisera...thinking of calling her just Sera for short.
I see great potential in her. I would be giving the seller a tongue lashing and asking for compensation since she was not the horse you thought you were getting...

I am excited to see how she progresses.
---
Ω Horses are a projection of peoples dreams Ω
She will come around and look good I am sure. Here is what I am sure she will look like when she is feed up. This mare is by the same sire.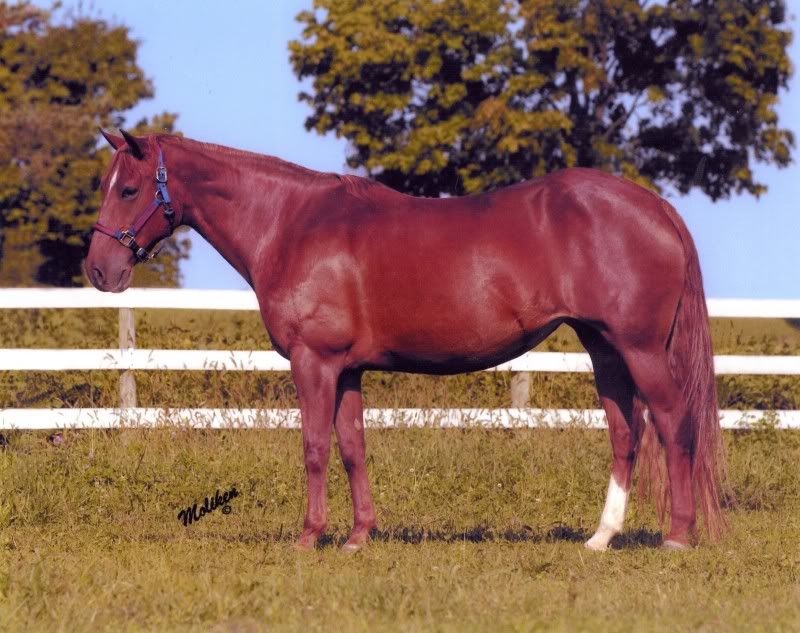 ---
-I'm so busy... I don't know if I found a rope or lost my horse.
-An Armed Man is a Citizen an unarmed man is a subject.
-Where ever free speech is stifled Tyranny will reign.