New member, long with lots of pics!
---
Hello!
I figured i would introduce myself and my horses here since A) I am an aspiring photographer and love pictures! And B ) Most of my horses are rescued, so before and after pictures are a must!
My name is Amber and I live in Northeast Ohio in the middle of nowhere. We have 9 acres and 5 horses, 6 dogs, 7 cats, 4 rats, and chickens! I am a vet tech, so lots of needy animals come my way. 99% of our pets were rescued in one way or another. I am 23 years old and have been with my boyfriend for nearly 7 years! I am a music freak. Animal freak. And photo freak! And a computer geek, I looove forums and cannot believe I haven't found this one until now. I am the "pants wearer" in my household, and leader of the pack! I can make our life rather stressful at times because I would rather eat potatoes for a week than leave a needy animal out in the cold.
Here on our little (nameless) farm, we tend to take in unwanted/needy horses and rehabilitate them and find them new homes. It's a hobby.
I will start off with our newest project who we brought home yesterday. I know NOTHING about this horse. He was pulled out of a horse sale by a gentlemen who beat out a horse dealer. Once he got him home he realized he was pretty lame. We haven't even had a chance to get the vet out to look at him, but i'm pretty certain this isn't something dire. I love this horse already, and i believe he's a keeper! We have bonded. You know that "thing" that happens with certain horses (and other animals)? We have that! He's not going anywhere! His hooves are horrendous but we can't do anything about that until the leg is better. He needs a little weight and a good bath, but he's still gorgeous.
Meet Floyd!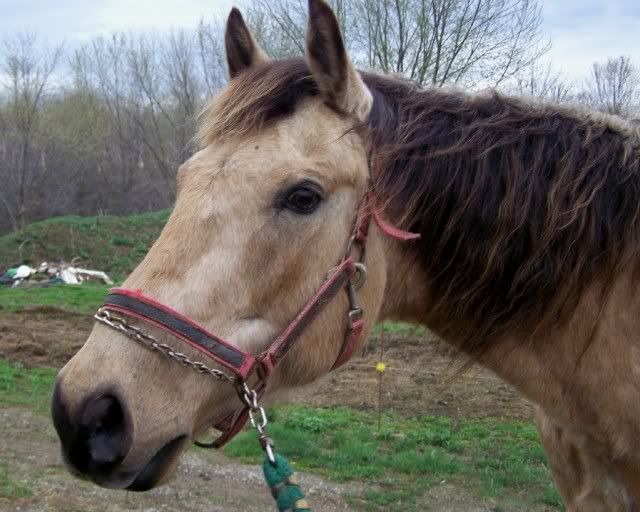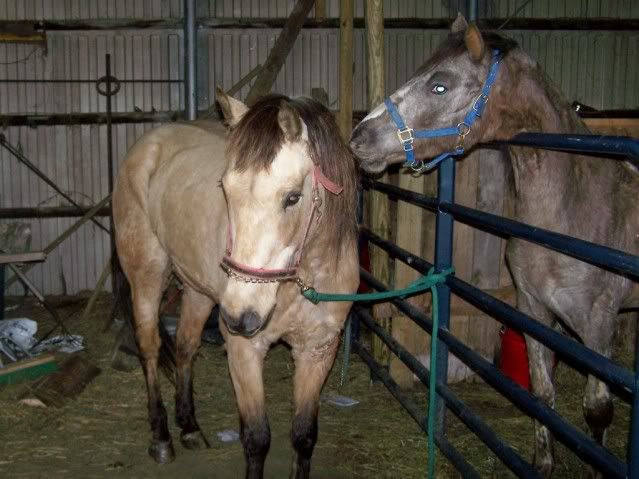 This is our second newest, Cosmo. He is roughly 20 months old. He is a very sweet boy, kind of quiet. But very scared, somebody beat him around a little bit. We've had him for about 3 months. He's an Appy (obviously!) and is nothing but legs! He has some swelling in his hocks, we're not sure exactly how sound he is going to be.
Cosmo Before
Cosmo now (horrible picture) This was taken last night and is the most recent. I realize now i have very few pictures of this cutie, but because he has yet to be gelded, he's never turned out and the lighting in the barn is terrible!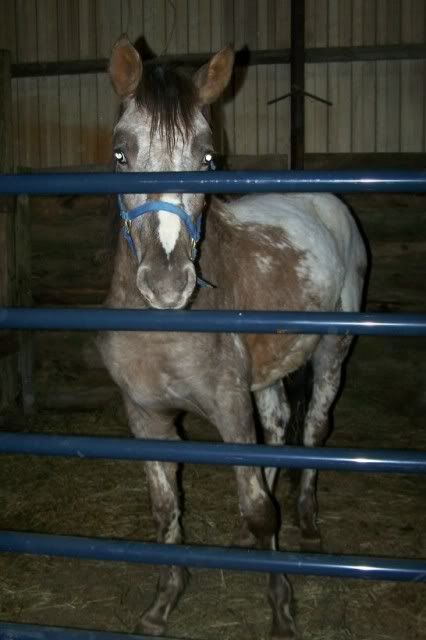 This is Tina, my semi-retired eventing/contesting girly. She has an attitude problem but i love her to death. She's a 15 year old Appendix mare. She came from a breeding lot that was horrendous, 4 months after bringing her home she had an unexpected baby. She is the Dam to both Socks and Evie (who are coming next).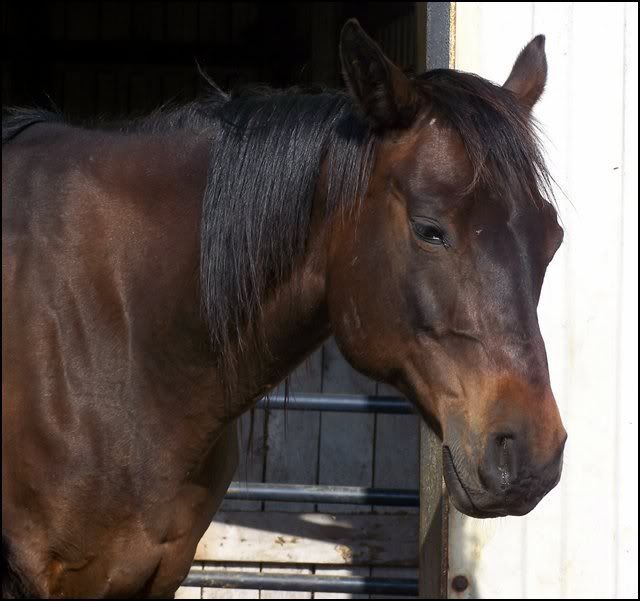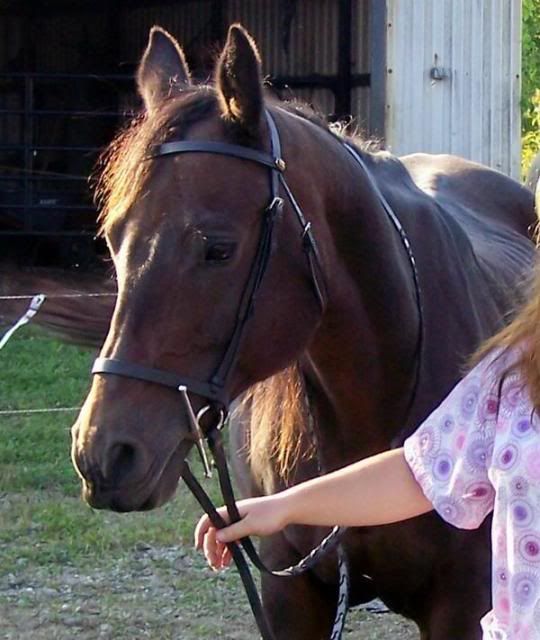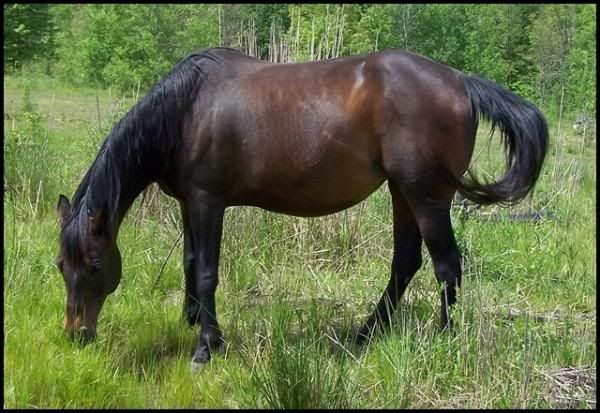 With a baby belly!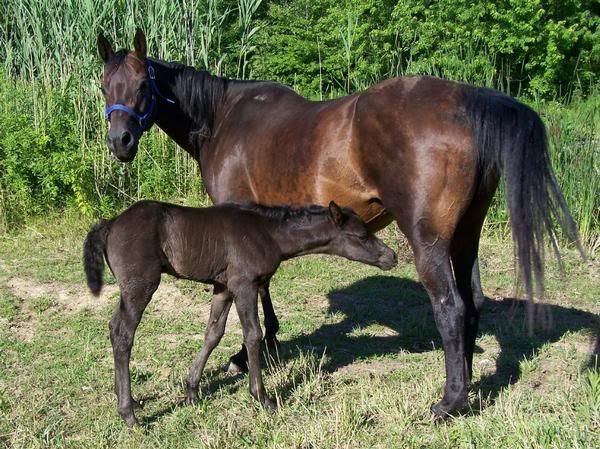 And with a baby! That is Evie Lynn.
This is Evie now. She was unexpected in that... Tina was boarded. And was turned out, and another boarded horse, a stallion... managed to tear through TWO metal gates after tearing out of his stall, cross a road, and get INTO the pasture to Tina (who was apparently in heat). Oh yes, it was disastrous. Thankfully she was the only mare out of 5 in that pasture who got bred. I was angry, i moved my horses out of that barn the very next day. But Evie Lynn was a blessing! She has her mothers attitude mixed with her fathers stubborness... she's a handful! She is currently for sale to the right home. She is now two years old. Dad was a gorgeous Haflinger.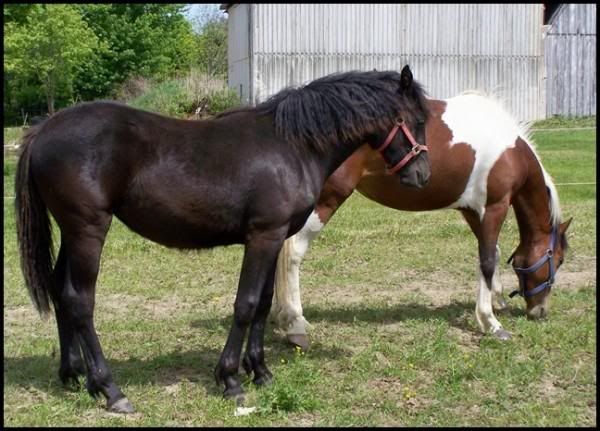 Last spring.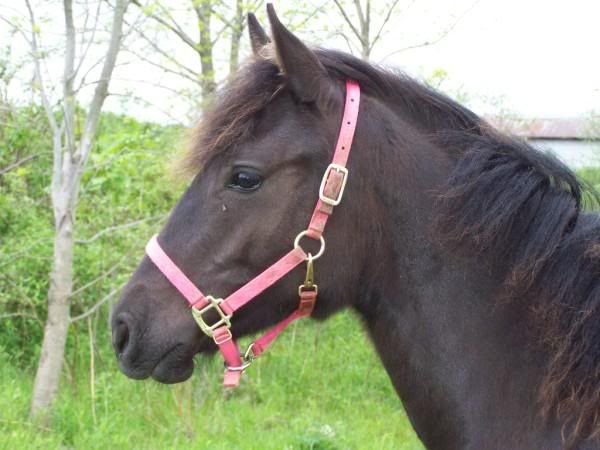 Now!
And my fave pic i've ever gotten of her...
And last but certainly not least is my little Socks! She was unexpected too! When we rescued Tina, along came Socks 4 months later. I absolutely adore this horse! She will let me do anything i want to her. I got started a little late on saddle breaking her, and with the Ohio winters and no arena, it's a slow process but we're getting there. I plan to be riding her this spring!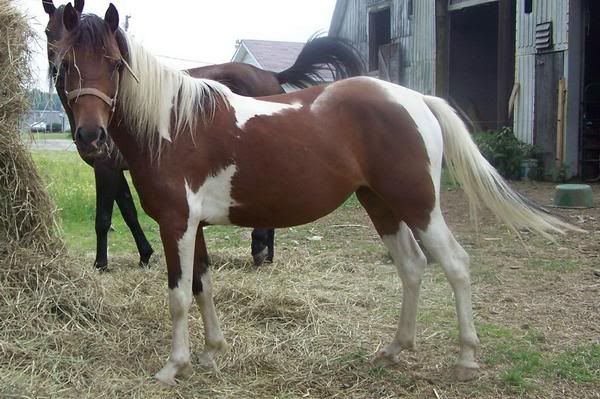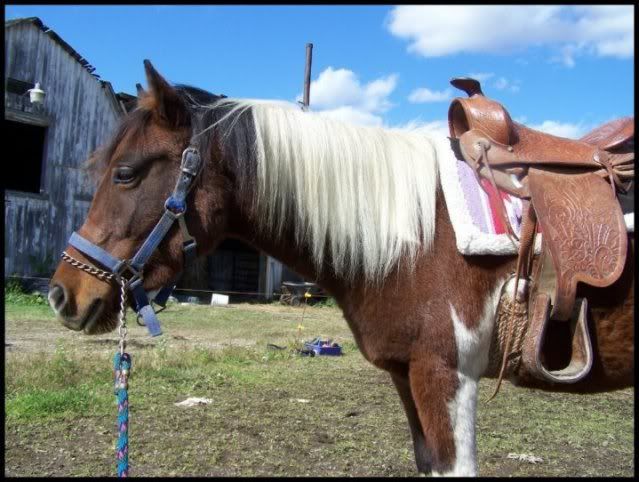 In training.
And her with me.
Well... those are my current horses! I hope you enjoy the photo's, i'm sure i'll have many more to share as i settle in here.
theyre cuties for deffinate like :)
What a great lookin' group there! I love Cosmo, he has the neatest coloring! :)
---
So nice to meet you... You sound like the kind of human I absolutely get along with :)
Adorable ponies!
Thanks for sharing!
Nice to meet you!!! What a cute bunch you have. I think my favorite is Socks. I'm a sucker for paints lol
---
- If today was your last day, and tomorrow was too late, could you say goodbye to yesterday?
Thank you! I'm pretty partial to Socks myself, Pecho's. But don't tell anyone! She is just so stinkin' sweet! For a 4 year old, she's amazing! I was putting my 4 year old cousin on her when she was 2.

I am really liking this community.
---
"Animals are not our whole lives, but they make our lives whole."
Welcome Squeak!!

What nice horses. I hope to visit with all of you, here, on the forum.
Welcome to the forum!
Looks like a great bunch you have there
all very cute!
Very awesome that you rescued them! It's very rewarding, isn't it?
Welcome to the forum. I love socks! Just adorable.