Teen Forum Moderator
Join Date: Dec 2010
Location: South East Texas
Posts: 7,157
• Horses:
2
If its broken, it may not be fixable. I can't believe they got you to pay even $50. Poor little love looks like a complete sweetheart, but he's a wreck. Definitely not locking stifles going on there...my mini mule has it and her legs have never done that.

Which bone did he break? It almost looks like his fetlock is broken but I really can't tell with all of that hair...
---
Everyone in your life is meant to
be in your journey, but not all of
them are meant to stay till the end.
Tibia?
Yes he will be having a splint put on it.
Kind of in the middle of the box is where it is.
See yes he stands on it but he does not want that area touched and he reacts when it gets moved certain ways. I can't believe it's broke.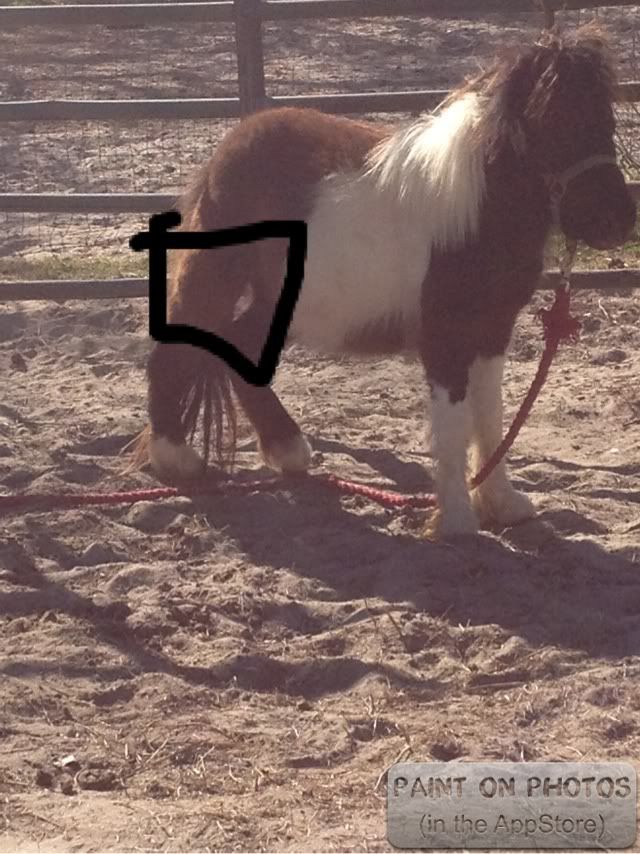 Posted via Mobile Device
If he doesn't improve he will have to be out down, not really any other choice.
Not letting him suffer once there's for sure no hope.
oh poor little guy!! I'll be sending good thoughts his way.
He was separated from a mare and stud but when they sold the mare they put him with the stud and I'm betting they put him out there while the stud was pissed off about his mare leaving and he got kicked.

They tried to tell me he only needed his feet done.
I knew better than that of course, knew it was worse bit didnt know it was broke!
Posted via Mobile Device
poor guy, its such a shame the way people treat animals. I wonder if they knew it was broken hmmm.
I hope it repairs well, least hes with you now!
---
Horseriding- The art of keeping a horse between you and the ground.
She had to know.

She went from $200 ( I suspect she thought some people that don't know anything about them would be wanting to buy a wittle pony). I told her I'm not paying that for this horse because I know something is wrong with its legs.
She quickly dropped to $50 and delivered him to me.

I know he had to be extremely lame when it first happened ( he walks now but has issues of course)

Hopefully he can get it fixed up, since he's so light.
I had a full size thoroughbred mare break a leg one time in a kicking fight with a tree ( was food aggressive and was feed time) she broke here in the same spot and had to be put down on the spot)
Posted via Mobile Device
I'm too annoyed at those people for words.
Poor little fellow! Maybe since he is so small you will have more options than a larger horse? I hope it works out.
Posted via Mobile Device
Quote:
Had him checked out. He has a freaking Broken leg!!!

The donkeys I have with him are skinny as hell too.

I can't believe some people.
Posted via Mobile Device
I really think it is a birth defect and it is common with mini's. He would have had to break both back legs and that is very unlikely and to survive it.