New Pics! newborn calf/horses and more!
---
Just born
daaaaw.jpg
Snow baby born around 7 p.m. New Years Eve night during a storm
Snow Baby.jpg
Still wet!
Minutes old.jpg
Mama had her under the apple tree. she wouldnt take her inside so my mom distracted her while my dad picked up baby and booked it inside with mama following. Baby was shivering so my mom apparently dumped an entire bale of straw on her! she seemed pretty happy though!!!!
Find the Calf.jpg
One Day Old BRIGHT LIGHTS!
Bright Light!.jpg
dubbed Faith (Faith Hill) first heifer calf that my cow Booger has had
Faith.jpg
Protective big brudder Flurry (Flurry obviously takes after his Charolais mama and Faith DEFINITELY takes after her longhorn daddy!)
Protective big brudder.jpg
Redneck Snowboarding Castle Style
redneck snowboarding.jpg
Poor Red had icicles for whiskers
Reds Nose.jpg
and my lovely boy Charlie (such a jughead)
Jug Head.jpg
the calves are adorable I love Faith!!!
---
My two horse Apache and Sammy are my world
along with our dogs Patch and Bear.
But I will always love you Jimmy R.I.P
Too cute!
---
Signature undergoing edits. Please standby.......
That calf was adorable! and i'm glad your dad made it inside with baby before momma gave her her opinion! haha I saw a calf being born once (happened to be at my friends parents cattle farm when it happened). it was a pretty cool experience considering i had never seen anything being born yet at that point.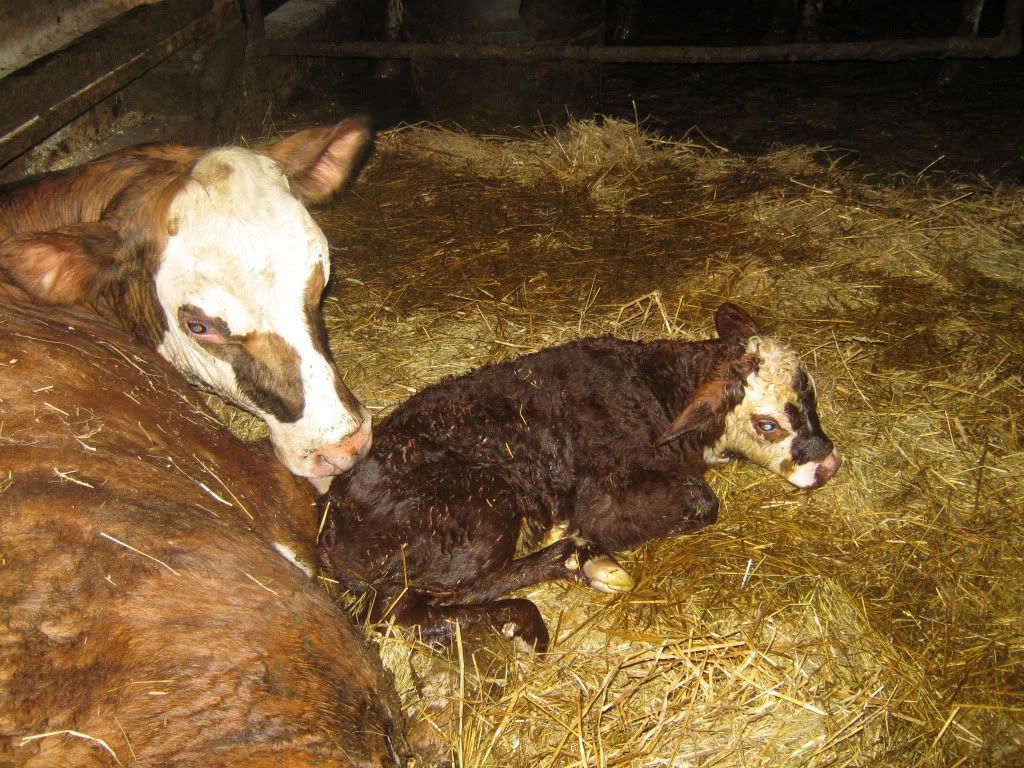 ---
Beauty is not diminished by those who refuse to see, hear,feel or in any way sense it. If you refuse to see beauty its you who is weakened.
Awe I wuv Flurry, so adorable! I still want a cow, when I was a child I watched City Slickers a millon times over and over and always wanted a cow just like Norman (Was that his name?)
lol thanks yall! yeah Faith is definitely a keeper! my parents are planning on taking her back to TX with us...but unfortunately Flurry is gonna have to be sold haha. i think my sisters neighbors are gonna take him. hell be a nice BIG bull being charolais/longhorn cross!


thats a cute little calf angielee! yeah theres nothing like seing a calff or foal being born


i think it was Norman FGRanch!