New rescue mare!
---
I got an e-mail from a friend awhile back that lives where this mare was and she was very worried about her care. I finally convinced her owner to sell her to me. Measha is an 8 year old "Breeding stock paint" but she's not registered and looks more quarter horse to me, I could tell her owner liked her a lot just didn't know a lot about caring for a horse. she's got good weight but no muscle. Her feet are also quite bad and she looks to have had an up and down diet the last few months as her feet have a few ridge's in them, my mom thinks she may have been foundered at some point but its hard to say. My truck is curently at the shop because i was in a car accident (no one hurt and it was only a dent) so im trying to find someone to bring her home. and of chouse i want her out of there ASAP! here are some pictures! i already had the farrier look at her feet and he says the cracked hoof is fine and should grow out in about 10 weeks or so, He said she doesn't need corrective shoes but they would help so im going to have him out again next week when i have her home to do that. feel free to critique her if you like! I'm sorry some of the pics are in black and white... i was messing around with my camera the day before and forgot to switch it back when i was done! lol!!
Her cracked hoof, not sure what caused it. I wont be riding her until its healed.
My mom feeling her over.
She's such a sweet heart! she's going to be so spolied!!
color!! woo hoo!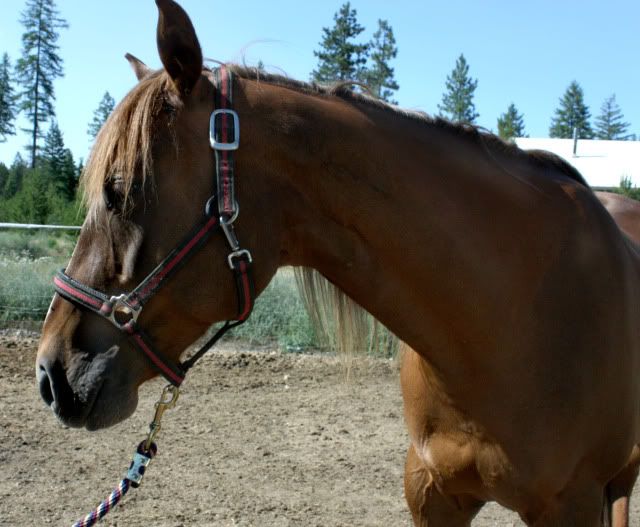 from the front. you can see how her hoofs have splayed out from improper hoof care.
hind feet.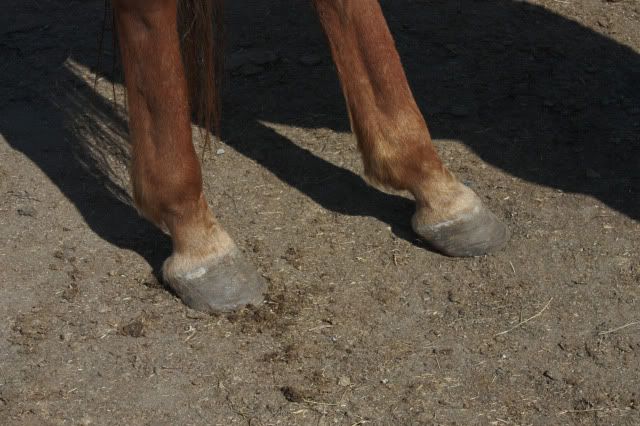 front feet.
She is SO pretty! And good for you for getting her!
---
When God Made Horses, He Painted The Good Ones.
"All I pay my psychiatrist is the cost of feed and hay, and he'll listen to me any day."

She's not in horrible shape, that's for sure, I have seen rescue horses worse, but she is very beautiful, I like her a lot, can't wait to see what she can do! :)
---
*~BEKI~*
you can start with nothing, and out of nothing or no way, a way will be provided.
She is definatly not really in bad shape. But she is a pretty mare and has great feet, Once that crack is taking care of she will have awesome feet! ;)

FYI I breeding stock paint and a QH look identical almost other than the color! :)
Quote:
She's not in horrible shape, that's for sure, I have seen rescue horses worse, but she is very beautiful, I like her a lot, can't wait to see what she can do! :)
very true! her feet are really the only thing wrong with her and they will just take time to fix more than anything else.
Banned
Join Date: Dec 2008
Location: At my house, or stable, duh!(Michigan)
Posts: 2,479
• Horses:
3
I bet she would be a great reining/barrel horse
What a pretty mare!!
Good for you for rescuing her, she's going to LOVE her new life being spoiled by you!
---
"The times when you have seen only one set of footprints in the sand, is when I carried you..."
She definitely is a pretty girl!
She'll be in good care now, and I'm sure you'll have lots of fun with her! :)
She's a lovely looking girl! It won't take her long to improve; her feet are her biggest issue.
---
"The ideal horseman has the courage of a lion, the patience of a saint, and the hands of a woman..."