No better way to spend the holiday! Claymore, Stiffler, and Rain *image heavy*
---
So Amarea, Tracie and I spent our holiday trail riding at York Hills Horse Park. (Albion, Indiana)
It was both Amarea's and Tracie's first ever trail ride, and a great time was had by all! Tracie and Amarea got to canter for the first time, and Tracie also took her first fall (Stiffler spooked at a maniacal, killer, gun-wielding deer) but was unhurt and got right back on. Both the girls are incredibly sore (and boy did they let me know it lol) but it was a beautiful day, perfect weather, and a great time!
Just starting out this morning - I was on Claymore (but managing the camera so you will see very few pics of him lol) Amarea on her new mare Rain (the appy) and Tracie on Stiffler (the bay, who is now hers, congrats on your first horse, Tracie!)
My view between Claymore's ears lol
We took a lunchbreak back at camp after the first ride, the horses had their lunch as well :) L to R - Rain, Stiffler, and Claymore
My adorable big fat spotty butt
Back out after lunch! We rode alongside a soy bean field on our way to Cherry Hill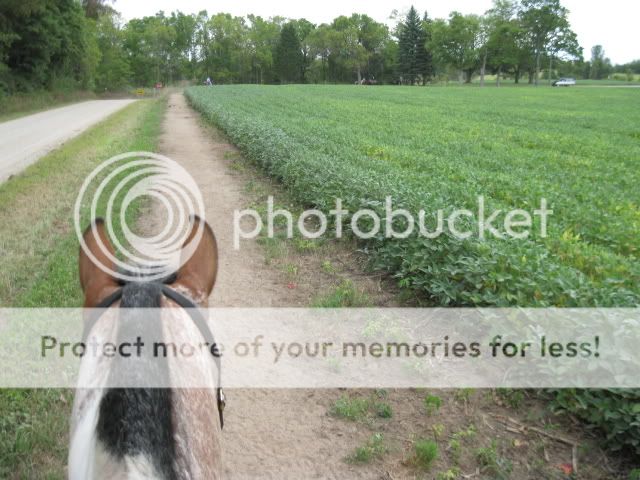 Tracie caught me by surprise and took off cantering on Stiffler in front of me! (talk about scrambling to stow the camera - but I think everyone was getting a little tired of me and my camera at this point lol)
Rain wasn't about to be left behind!
Amarea and Rain
Stiffler looking cute
Big smiles at the end of the day means - trail ride a success!
After a cool down, wash up (yay for provided wash racks!) we were packing up and getting ready to head home.
Tired Claymore:
Tired Rain:
Stiffler,
already
asleep:
Can't wait to go back. Since the place is less than 8 miles from my house, at 10 dollars a day ride you just can't beat it. Seeya next weekend, York Hills!
Started
Join Date: Aug 2009
Location: In the barn whenever possible.
Posts: 1,910
• Horses:
2
I am so jealous!! Sure wish I could have been there!! Thank you for the pics. It's been raining here all day so it's been a Bones marathon for me.
---
"Riding a horse is not a gentle hobby, to be picked up and laid down like a game of solitaire. It is a grand passion. It seizes a person whole and, once it has done so, he will have to accept that his life will be radically changed." -Ralph Waldo Emerson
Great pictures! That looks like y'all had so much fun!
Oh good lord... Could you have please chopped my big fat fanny out of the one? Geez LOL!

And you're right... I was A-MA-ZING! And correction LOL... I have cantered before! Just not within the last 15 years or so LOL! And Rain's is very different to say the least! I thought for sure I was going to pop right out of the saddle!

Yes my butt hurts but most of that is due to a saddle that's too small. I will have a seat saver in time for the next ride!

Oh and Indy... Don't forget about Claymore acting like a kid in the creek!
---
*Dreams are within reach, you just have to go that extra mile to catch them*
PD, so wish you could have been there! You would have had a wonderful time. You still need to hop a plane out for a weekend!
Jake and Dai, thanks! We had a blast!
lmao oh please, Amarea, your fanny is fine, besides everyone on here is more interested in looking at the horse's behinds anyways.
I didn't know you had cantered before, thought it was a first for both of you. Good to know! Rain is such a great girl though.
Yeah, Claymore likes his creeks. Water out of a hose or spray bottle is laced with poison and razor blades...but a good muddy ditch gives him hours of splish splashing enjoyment!
---
Last edited by Indyhorse; 09-06-2010 at

08:56 PM

.
And a lot of annoyed looks from Stiffler like "are you done already?" LOL!
---
*Dreams are within reach, you just have to go that extra mile to catch them*
Looks like y'all had a blast.
I rode this weekend, too. Three of us went out on Saturday for about 2 hours. Had a great time, and the horses were wonderful.
*pouting* why must I live allllll the way over here and everyone that actually rides is alllllll the way over there!

Looks like you guys had a blast! So glad to see that traci got a horse of her own! Oh and amarea...better be cantering with that pretty girl...or she may just magically disapear! LOL
Cori, any time you're down Virginny way, I'd be glad to let you ride JJ.
He's my 'anybody' horse. I've never met a horse with as sweet a temperament as his.
Casper's not an 'anybody' horse, but if you can sit a 300 mph. sideways spook, you're welcome to ride him, too.
Cori, you are only like a 6 hour drive from my place, right? Or maybe a 1/2 hour plane ride lol. Come out for a weekend and join us! Not like I don't have more horses than butts anyways. You could have a go on fat Willow lol