Not a horse but...
---
So I know there is a donkey section, but, since I ride my donks like horses, I figured they could be placed here. I am new to the forum, my name is Rachel, and I have 1 Belgian/Percheron draft mare named Nela (I've ridden her pretty much everywhere and done everything with her), 1 large Standard Donkey gelding named Charlie (training in progress), and one Mammoth donkey jenny named Lass who I trail ride all over the mountains.
Why ride donkeys, you might ask? Longears tend to be hardier than horses, get better "grass mileage", are smarter than horses, and tend to be more like "big dogs"-very affectionate. I love horses as well, but prefer mules and donkeys. They just have more common sense.
I am also about to own a yearling horse gelding named Stitch, he should be arriving next week as a new training project for me to help my fiancee Wolf learn to train. Should be fun!
Here are some pictures of my herd.
Me on Lass: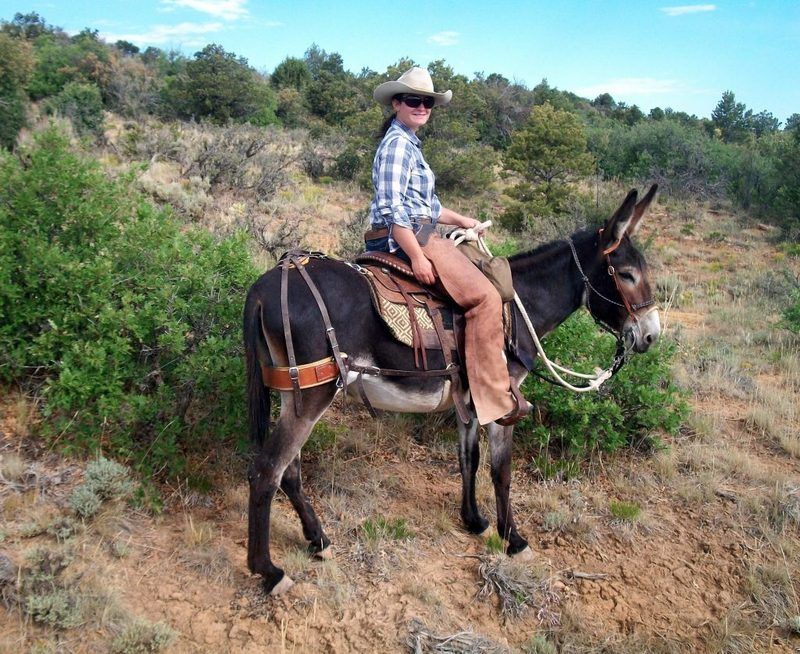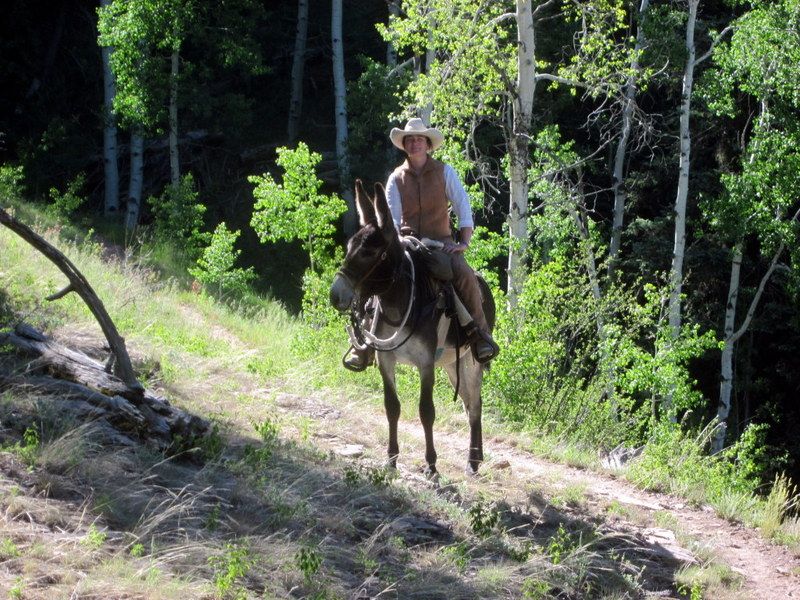 Me on Nela: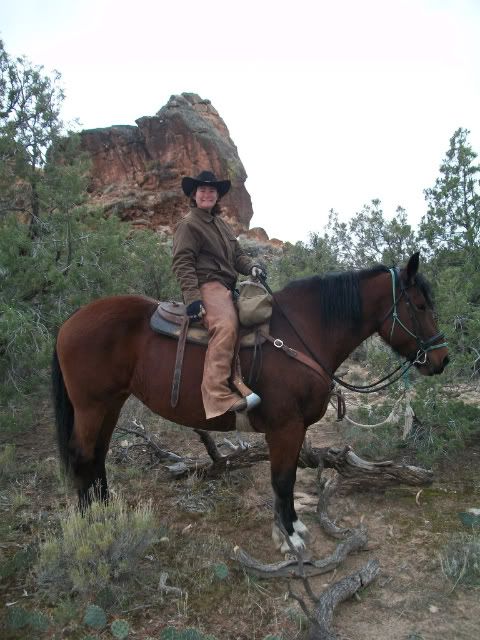 Riding Nela bridle-less: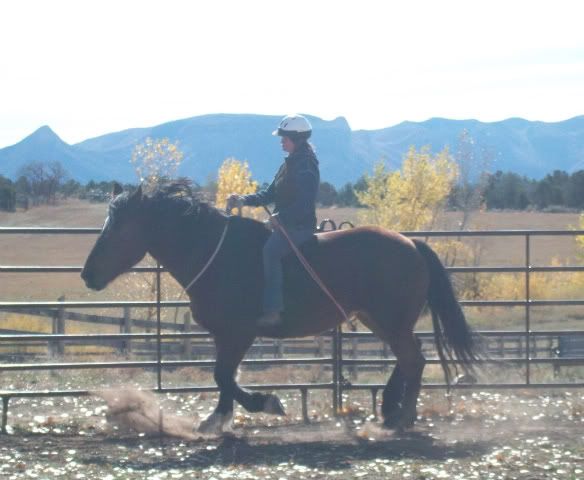 Me riding Charlie (donkey in training-this was his 10th ride ever!) while ponying Lass:
Wolf riding Nela, me riding Charlie:
---
Last edited by clipclopclip; 07-09-2012 at

12:59 PM

.
those are just fabulous pictures! I am learning to really appreciate the other equines. I wish I had a chance to spend some time around them. Lass is gorgeous and you look so natural aboard her.
Welcome to the forum! Love, love, love the long ears! Lass is welcome in my pasture anytime ;) One of these days I will convince my hubby I need one.
---
Life is like a camera. Focus on what's important, Capture the good times, Develop from the negatives and if things don't work out, Take another shot.
Thanks Tinyliny, I'll post more pics of the gang here soon. We ride all over the four corners area in Colorado, so we really enjoy getting out and seeing new things with the equines. I was always a hard and fast horse only person until I rode my first mule. After that, I swore I wouldn't ride anything with short ears again. :) Now I have reached somewhat of a balance, but I still think a good mule/donkey is worth more than most horses haha. We longear people are a strange bunch.
MH-Mammoth donks are just so much fun to ride! You definitely need one. I'll warn you, though, a quality untrained mammoth is worth as much as a nice, registered deadbroke trail horse these days as they tend to be rare and highly prized. Once you own a good donkey, you'll wonder why people own horses...donkeys just LOVE you and want to simply hang out with you. Mine will leave their hay just for some loving haha.
that's interesting. I had always heard that they were stubborn, and maybe, shall we say, "cunning". But never that they are affectionate. Maybe I am confusing a pure Donk with a mule. I never see full size donk's around here. only a few , very few, mules.
the miniature donkeys are too adorable.
A girl I grew up with had a couple. Her dad hunted off them. He had a jack that I rode a few times, his name was Oggie. He would bring them along when we had 4-H workshops, got to ride Oggie in a jumping workshop once - now that was some serious fun!
I'd love to have one but pretty sure DH would have me sleeping in the barn
I have quite the herd already. I snuck in a midlife crisis Hanoverian last fall and recently acquired a fat little welshie for my daughter. Don't know how I'd get a long ear past him, I'm open to ideas though
---
Life is like a camera. Focus on what's important, Capture the good times, Develop from the negatives and if things don't work out, Take another shot.
Absolutely love the long ears, but alas, I don't think I'm smart enough to own any!
Horses aren't nearly as intelligent and complicated as donks/mules, and I'm getting to the point in life I don't
want
to have to outsmart my animal to ride it! Arabians are as difficult as I want to go.
---
You want the truth? You can't HANDLE the truth!
If you are interested, here's why people think that donkeys/mules are "stubborn":

Horses evolved to live on open prairies..they see danger, they flee. They have room to. When you train a horse, you are always taking advantage of their natural willingness to spook away from a stimulus, whether it be a whip or your leg pressure. It just gets controlled down to refined aids as you and your horse become more trained.

Donkeys evolved in desert canyons/mountains. If something attacks, they THINK first. If they flee, they may just fall off a cliff! So training a donkey or a mule is different. You train them using the exact same aids, but you time things differently, and you ask slightly different things of them. For example: groundwork for a donkey doesn't involve lunging like you would a horse. You may ground "drive" them on a line a few steps, ask for a quick turn on the forehand, then a quick turn on the hind end, then back up two steps etc etc...this goes on FAST. You don't just ask for one thing and keep harping on it, or a donkey will say "hey! I just went around in a circle...why are you asking me again???"

When you ask something new of a donk, you cannot startle them into doing it like a horse. You have to wait until they think it through. It may take time, but once they figure it out they've GOT IT. That's it, you never need to repeat that training! No practicing or you'll untrain them. It has to make sense. For instance, asking a donkey to trailer load by using a whip behind them doesn't work, but tying the leadrope inside the trailer and letting them figure out that's where they should go does work. You'd never do that to a horse, because they won't think it through! A horse would get hurt. The donkey won't ever hurt himself.

I think a lot of people don't like donkeys because they have the unique ability to make humans look stupid. That's why a sense of humor is really important! Once you are their person and they trust you, they will always try what you ask of them. Most importantly, they'll think it through.
Haha Speedracer, it may take more effort to out-think a donkey, but at least they do think things through. The more I work with donkeys the more unpredictable and unsafe horses seem to me. That being said, I am acquiring a little yearling horse in a week, so we'll see if I can help him be sensible or not ;) Should be fun to go back to training a horse after having worked with longears!