Oh the changes that happen in a year and a half...
---
Yesterday, I was looking through all my pictures of Lacey and I was kinda surprised at the changes I could see in her eyes and in her body. I figured I'd post just cuz someone else might find that interesting.
So this first picture is back in July 2008 (so long ago! Goodness). She was about 300 pounds overweight and hadn't been worked or ridden in about 5 years. She was so fat that no western saddle would fit her and that an english saddle plus english girth that fit a hefty 16hh Morgan/Mustang cross needed two people to belt her in. My stirrup on the left had to be 4 holes longer than my right stirrup at all times for the stirrups to be "even". It was wild.
Anyway, July 2008:
She does not look very comfortable in this one... If you look carefully, you can see the fatty deposits on her butt... July 2008: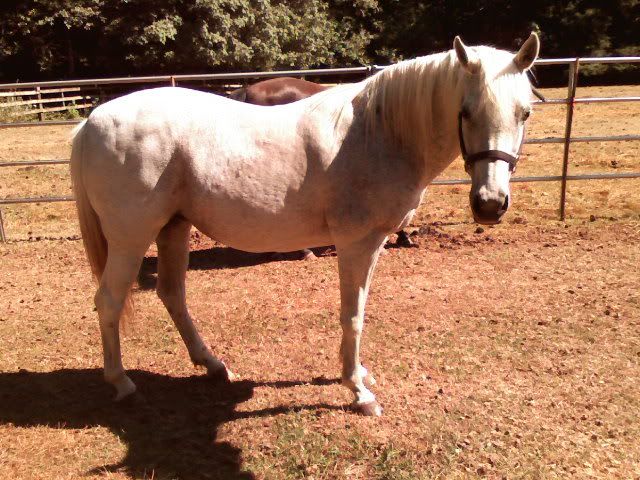 September/October 2008, after the weight came off and before the muscle appeared: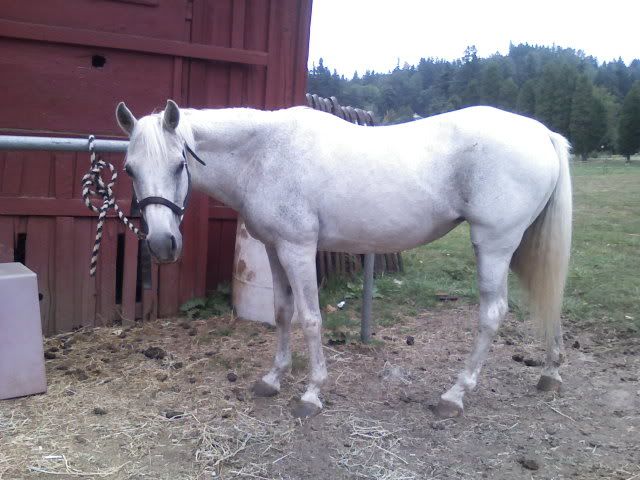 Feburary 2009:
Geez. Who looks like an old woman??? Feb. 2009: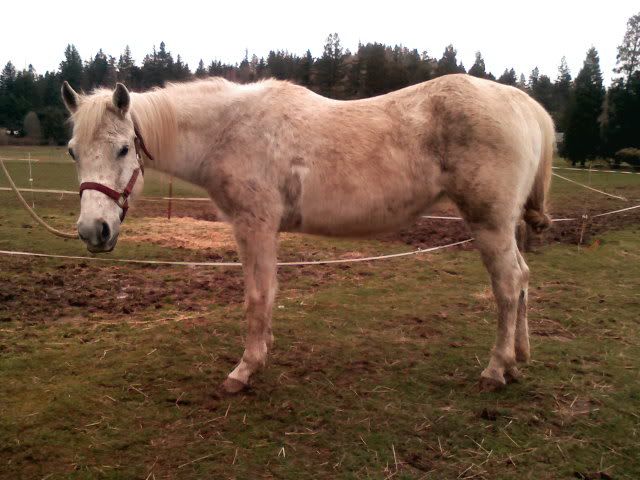 May 2009: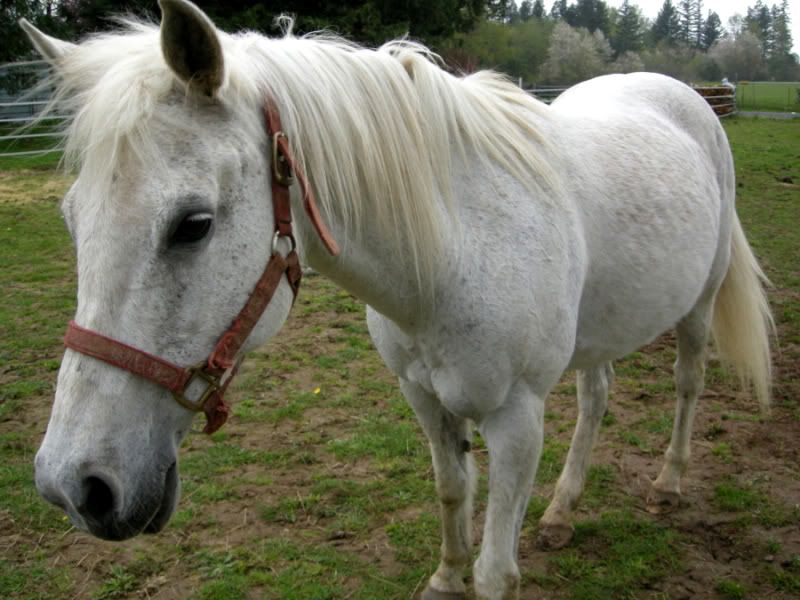 June 2009 (BOOM! Muscles!)
July 2009: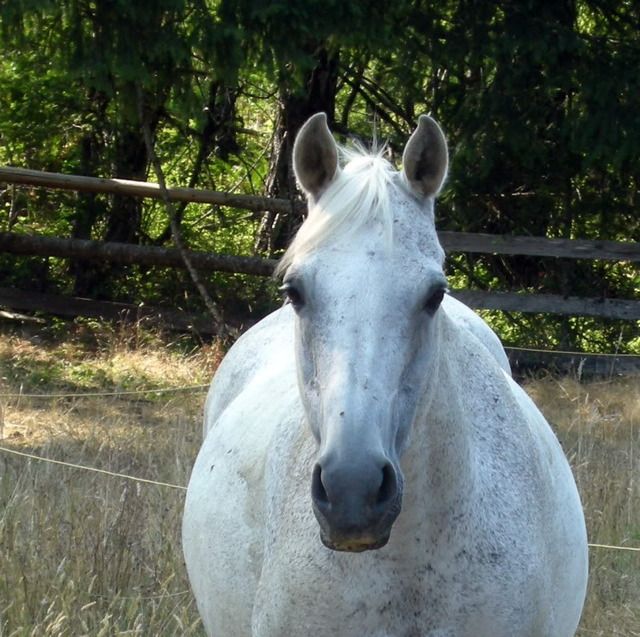 November 2009: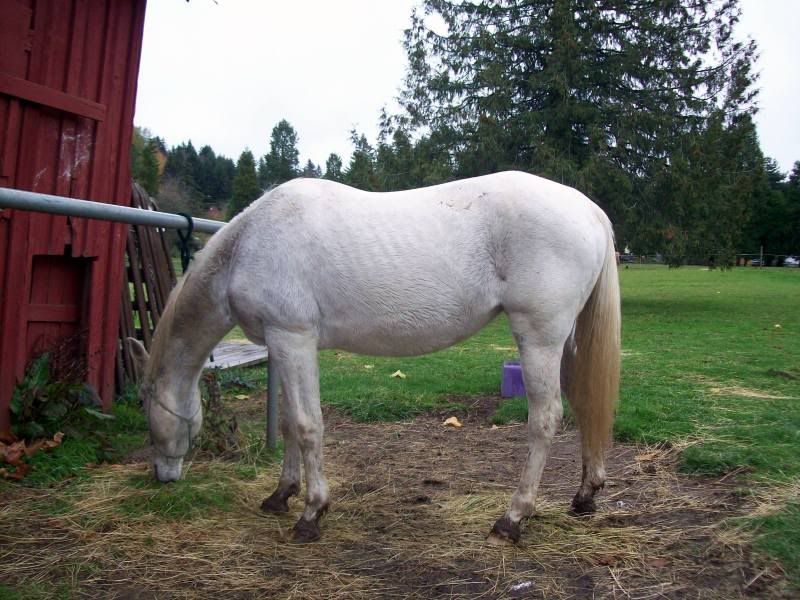 January 2010: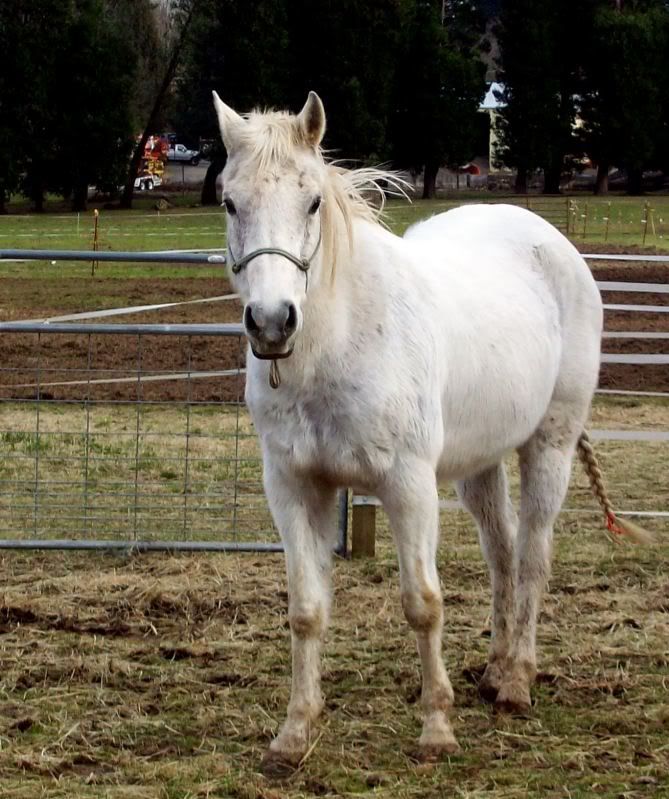 Hopefully I'll be able to do tons of hill work with her this summer and work on those muscles some more but comparing her this year around this time to her last year at about this time...
And for being a pasture puff for 5 years at her age and then coming back as well as she has? Dannnngggg. I'm very impressed with her.
---
Fabio - 13 year old Arabian/Lipizzan gelding

~
Rest peacefully, Lacey.

She is impressive and so are you. Not many people would have taken the time to put so much work into an "old" horse. You have done an amazing job getting her trimmed down and fit. She does look so much happier and more energetic, and dare I say it, more comfortable in her own skin
. Really nice work.
Started
Join Date: Aug 2009
Location: In the barn whenever possible.
Posts: 1,910
• Horses:
2
Wow! What a change! I adore the July 09 picture!!! She's stunning! Congrats on doing such a wonderful job with her, it definately shows!!! She's very lucky to have you.
---
"Riding a horse is not a gentle hobby, to be picked up and laid down like a game of solitaire. It is a grand passion. It seizes a person whole and, once it has done so, he will have to accept that his life will be radically changed." -Ralph Waldo Emerson
Wow, she has changed :) I love the July 09 pic too! When I first saw it I was like 'Wow, she has a big tummy!' and then I looked at the others, and realised it was just that photo. LOL
Thanks for all your kind words! =) It means a lot to me to hear that i am doing the right thing.

I like that July 09 picture quite a bit too. I took a set of pictures of her when I took her to a hemophilia camp this last summer and they all came out super well, she was just strutting her stuff. Haha

She does seem more comfortable in her own skin. She has next to no nervous "sugar high" type energy (where before she could hardly stand still for three seconds before blowing up for no reason) but she's still ready to go at a moments urging.
She's really one of a kind. There have been many times where I've wanted to give up because in the long run, I may only have ten more years with her so why am I putting all this energy into her? But something has always kept me going and I have to believe that there's a reason. Maybe I'll see the reason, maybe I won't, but whatever happens it will be right.

I'm also super impressed that she came out of, at least, 5 years of obese-ness (her previous owner visited her after all the weight came off and said "she's SO skinny!!!") without any noticeable arthritis at all. She's a real trooper.
---
Fabio - 13 year old Arabian/Lipizzan gelding

~
Rest peacefully, Lacey.

She looks great! I just love the partnership you two have together, and how you always put her first. I wish I had done a lot more photos of Tanner so I could see his progress too, but I have kept a regular journal of our ups and downs. Makes a huge difference on those days where you feel like "what the heck am I even doing, is it worth it?!" and then you can look back and see exactly how far you have come together. Keep up the great work, Lacey is one lucky mare.