Oh, little Ollie is cute :)
---
Wanted to share these cute photos I snapped, stretching for treats and begging!
Also my trainer got me a car sticker
of course a jumper
we are going to find a dressage pony to put on the other side too!
Ollie is doing great, over a hump in training and onto the next hump! Next week we haul out to clinic! Can't wait!
"pawleeze more of them berry good treats for me!?"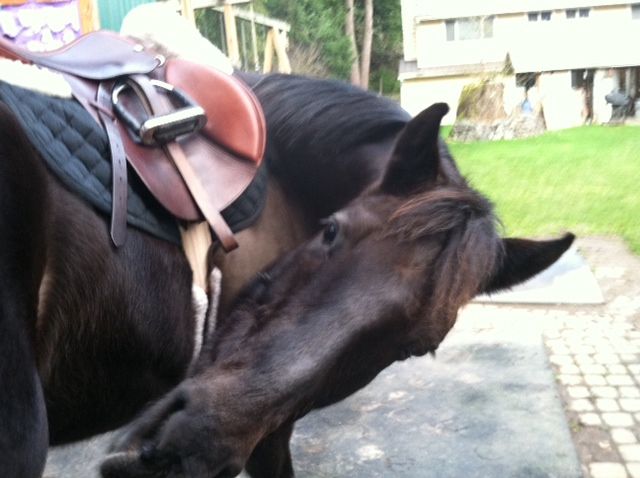 Doing his stretches for his carrot, he knows as soon as the carrot is in my hand what he's supposed to do
New pony jumping sticker from my trainer
Need to wash my car! Lol
He is adorable!
---
Falling Maples Homestead
www.fallingmaples.wix.com
HE is so stinkin' cute! Love the sticker!
Thanks!!
He just a big goober face!
He gave me lovely kisses and smuggles today ;)
He's adorable! I want to snuggle him lol. I love the sticker :P I'm in WA too! So do you jump? (Stupid question, just wondering haha)
Stichy- yes i do jumpers and dressage. Our main focus right now is dressage and will get back into some jumping next month I hope!

He's a super snuggly guy!
Ollie is adorable, I just love his name as well!
Cool care, I love my Jetta
Jetta's are great!!
His name was Mark when I was given him!! Haha
I always drove a pick up truck, and switched the my Jetta last year, and I LOVE it.