The old lady poneh busts it out...
---
Lacey was feeling SO good today. I wanted to take some pictures so I lunged her a smidge first to warm her up then I took her to the arena to let her run. I have never ever seen flag her tail (even though she's an Arab and that's what Arabs "do") and I have a hard time keeping her cantering most of the time, but not today!
She was racing around with her tail flagged, doing that "turn a corner then gallop really fast" thing that young horses do all the time and BUCKING.
She was just going for it. haha I was super glad I had my camera in my pocket because otherwise I might have missed out on documenting this entirely. I didn't get any bucking pictures becuase I was kinda in shock at her behavior. I'm just super happy that I got to see her so enthusiastic. The only bummer is that I have her tail braided so the pictures aren't as cool as they would have been if her tail was loose, but oh well.
It was pretty hilarious too because there was a little girl and her dad who were watching us from the other side of the fence and I'm pretty sure the dad thought Lacey was a crazy beast. Lol! The little girl fed Lacey an apple which she adored.
And now, the pictures (excuse the marginal blurriness, she was moving really fast!)!
Wow! She actually looks like an Arabian...pretty much the first and only time! Haha
Llama or horse?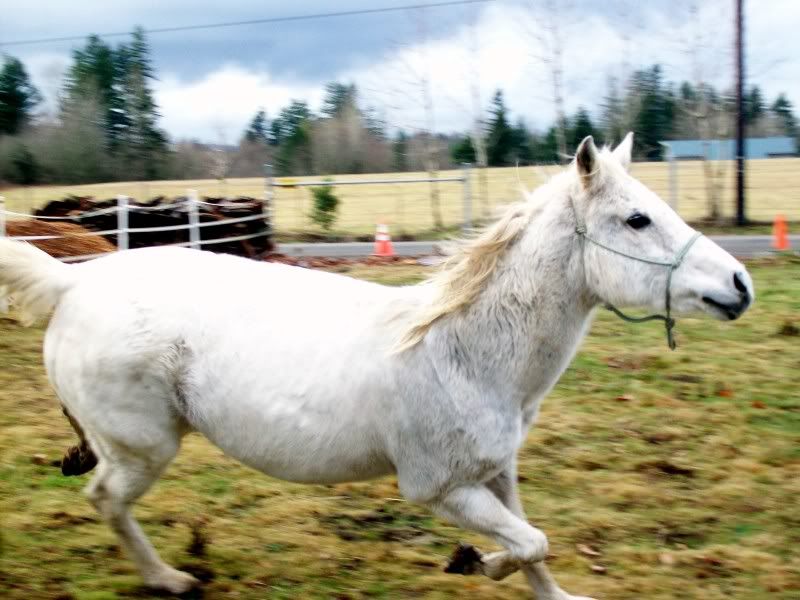 Extend much?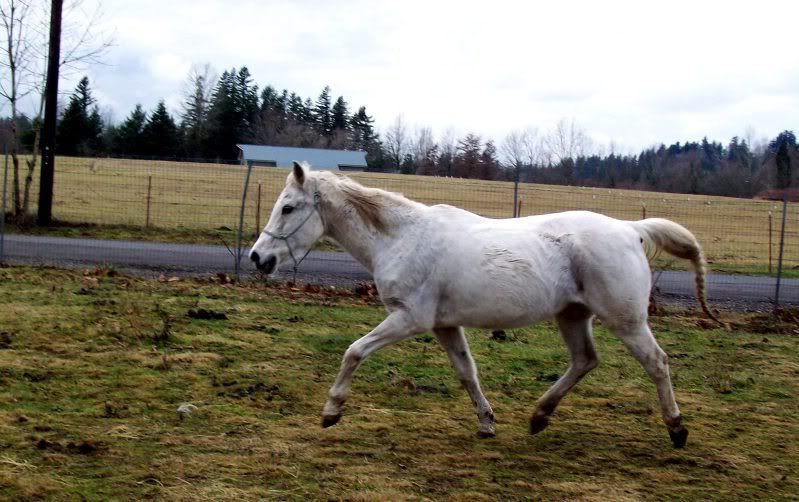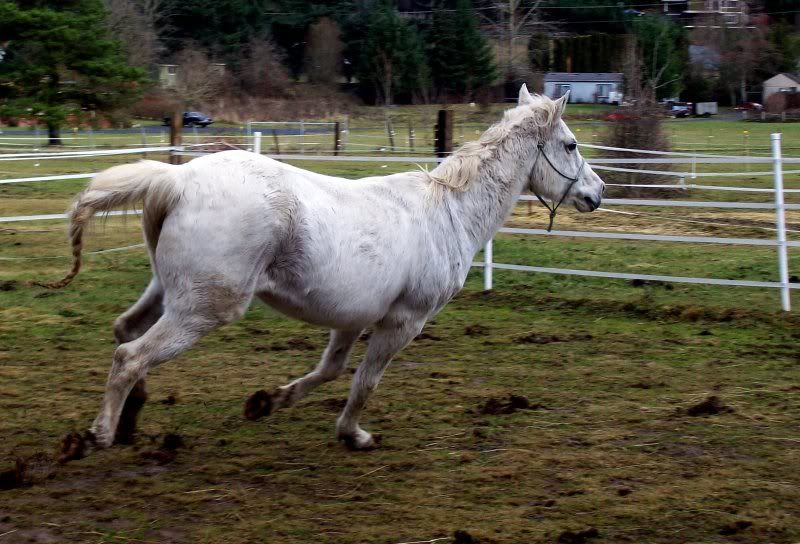 "'Sup homes."
"Hi there buddy!"
---
Fabio - 13 year old Arabian/Lipizzan gelding

~
Rest peacefully, Lacey.

I love them !
Glad she was having some fun ! :)
Haha very nice! I love the contrast of your photos!
---
-Horse racing is my passion-
Athena:15y Palomino QH & Shirley's Brittney:8y Bay OTTB
Wow...She is 24 years old? You may want to look in that mouth of hers again.
Anyways, she is adorable and appears to be very lively.
Thanks for the compliments! I love taking pictures of her, she's such a little character and it's great practice trying to get her attitude across.
PaintedHooves- Hahaha I know, right? Her previous owner was her breeder so I'd hope that she knew her correct age.
Although, when I first got Lacey, the previous owner told me that she was, then, 21 but then later on when I got a good look at the bill of sale, she was marked down as being, then, 23. So someone might be lying or she might really be that old, but I guess I'll never know for sure.
Yeah, I'm pretty much terrified of what she might have been like when she was a youngster. Heehee
---
Fabio - 13 year old Arabian/Lipizzan gelding

~
Rest peacefully, Lacey.

Oh trust me.... even at her age, this is normal for Arabs lol. My Arab mare is 28 and she STILL kicks up her heals... That is a glory of Arabs, they never seem to age spiritually.
---
♥ Gypsy gold does not chink and glitter. It gleams in the sun and neighs in the dark ♥
She looks a lot like our Arab mare, Gracie who lived to be 33 and was spunky until around 30, then finally started to act her age. Thanks for sharing!
---
Dana
Riverside, CA