Penny
---
Penny walking towards me, she's a real smooch and will always come up to you in the paddock.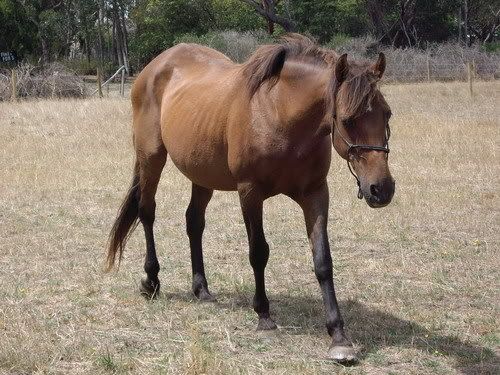 Penny looking fat and sleek in summer.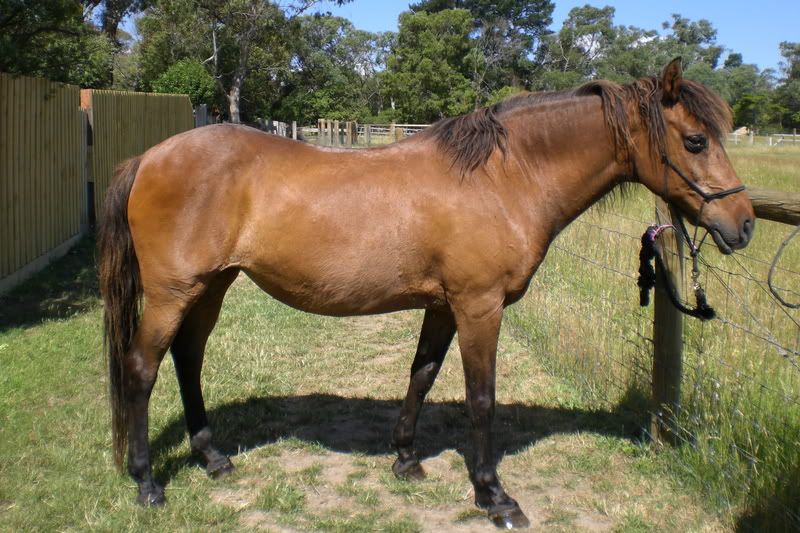 Me and Pen out on the trails.
Doesn't look bad for nearly 27, eh?
Unfortunately she ishe dropped the weight when winter hit, as she is hard to keep the condition on, but I'm working on it and she's putting the weight back on. She's also a lot fuzzier in winter, a real wooly mammoth. This was what she looked like when I got her (which was 2 years ago mid-winter):
She'd been left untouched in a paddock for five years. It was me or the knackery. I heard through a friend of a friend that two horses were being given away for free, so we contacted the people, rocked up with a float, caught her, loaded her, said thanks and left.
Technically we did everything wrong, we could have been given a monster, lol, yet Penny had been anything but. she has never kicked/bitten/bucked/reared and only bolted once when a bit dog had a go at her. She has been a dream first horse, not a push-button, I've certaily learned some things from her but she has given me so much confidence.
I'll always love her!
She's adorable! You have done such a good job with her and she looks so much healthier.
She looks great after all your loving kindness. Bless you for saving her from the knackery.
So many older horses start to look very thin and swayed. She looks much younger then her 27 years. Good job
---

"Until one has loved an animal, part of one's soul remains unawakened..."
- Anatole France
What a kind eye! You gotta love her!
Aww bless. She's beautiful, definatley doesn't look her 27 years, such a pretty mare.
I think its wonderful that you saved her. Such a good mommy.