Peter Du Fort
---
Hello, im new to the forum and thought I'd introduce you to my horse.
Name: Peter Du Fort
Stable Name: Peter
Breed: Selle Francais
Age: 6 Years Old
Height: 16.2hh
Colour: Bay
Gender: Gelding
Disapline: Dressage
History: He was a riding school horse at my old stable and when I didn't get along with my other horse anymore I swapped my horse and my mums horse for Peter. I basically started with him from scratch, he could hardly canter when I first started riding him. I just 3 months he could do a prelim test and his first ever competition he came 3rd and after that was placed nearly every time. He was so good that I was no longer allowed to compete him in prelim and had to move up to Novice, im hopefully doing elementary with him this year. He qualified for the dressage championships (Preliminary Senior class) which I was afraid that we couldn't compete in it as he was diagnosed with kissing spines and I have spent the last 5 months rehabilitating him. We managed to compete and he came 2nd! I was the youngest rider and he was the youngest horse! (Top 4 riders compete in the championship).
Here he is!
I rode Peter yesturday Properly with lateral work etc for the first time since end of April! and this is only his 3rd time being ridden since I came back off holiday, the rest is lunge, lunge and more lunge haha! Asked him to do medium trot on the lunge and kept pushing him to see how much he would extend by! he was amazing best hes done yet
Peter is so much happier now since I moved stables and have managed to sort hm out with his kissing spines. hes working alot better, hes more forward, picking up his canter transition straight away (hes never done that before) his lateral work is amazing at the moment, still not quite straight and forward enough but 100% better, considering hes hardly been ridden and asked to do this in about 5 months!!!
Looks like his finally getting better (touch wood) and my hard work has paid off!!! ;D Please ignore my position (heels up, head down, collapsed wrists, leaning forward) lol I no its bad haha but we are both a little rusty since we both havent properly been ridden/ridden in 5 months!
It was quite cute haha it was really windy and dusty that day and he was so quiet also there are mirrors in the arena, as u can see, And I think Peter fancied himself haha he kept slowing down when walking towards the mirror and putting his ears forward haha hes so cute! The mirror helped me big time especially with the lateral work and my position haha, my arms are actually bent in most of these!
enough waffle lol onto the pics
when looking at these, you must take into account that this horse has kissing spines :( but hes still amazing!
Pretty boy!
Leg Yielding (the ones where he isn't crossing over too much, black and white pics, is our 'first attempt' in about 5 months, I think he did pretty **** good! Really need to work on straightness too)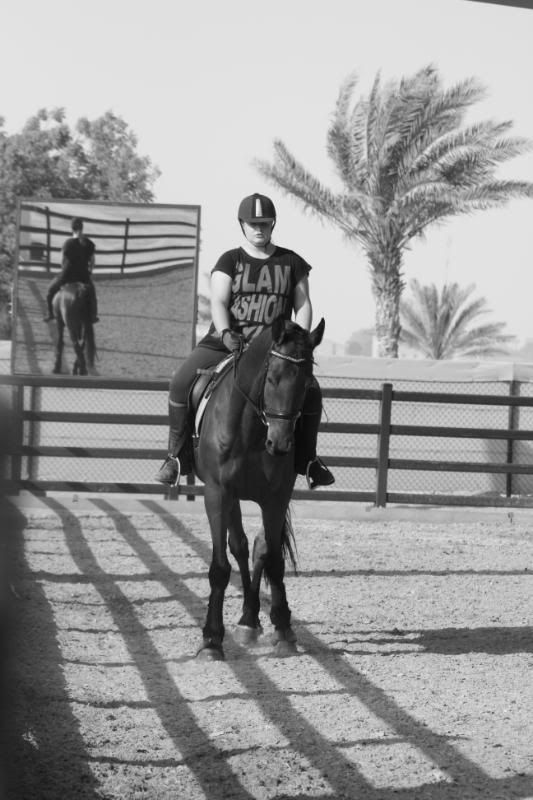 My Fav (I love how u can see it in the mirror too haha)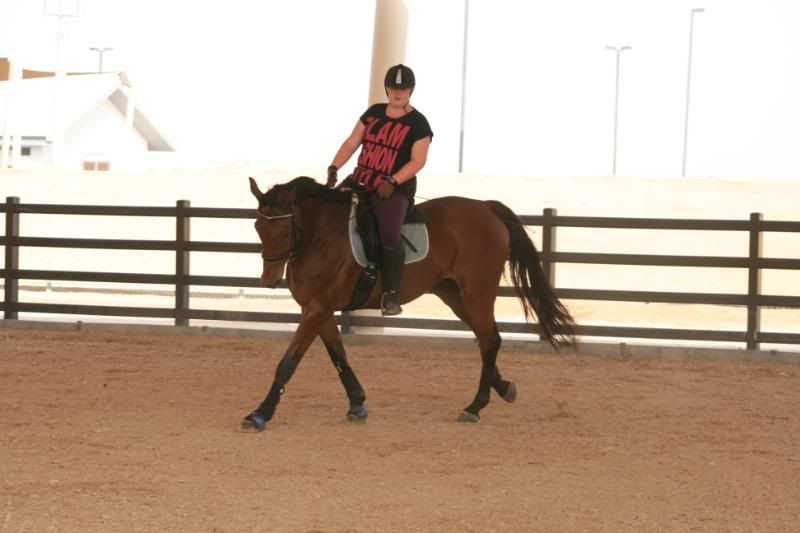 I think hes looking alot better ::)
I will say again please ignore my position as im a little 'rusty' and I know Peter wasn't really 'tracking up' but I didnt want to push him too much.
In The Paddock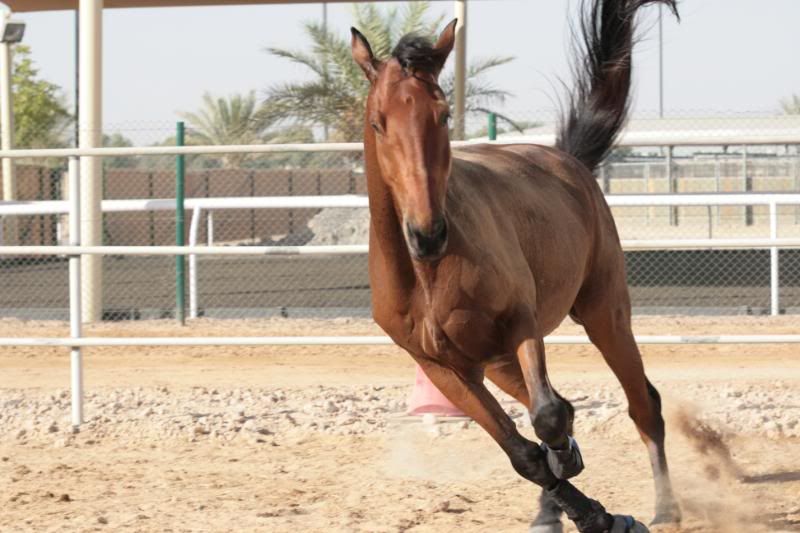 The Invisible Jump!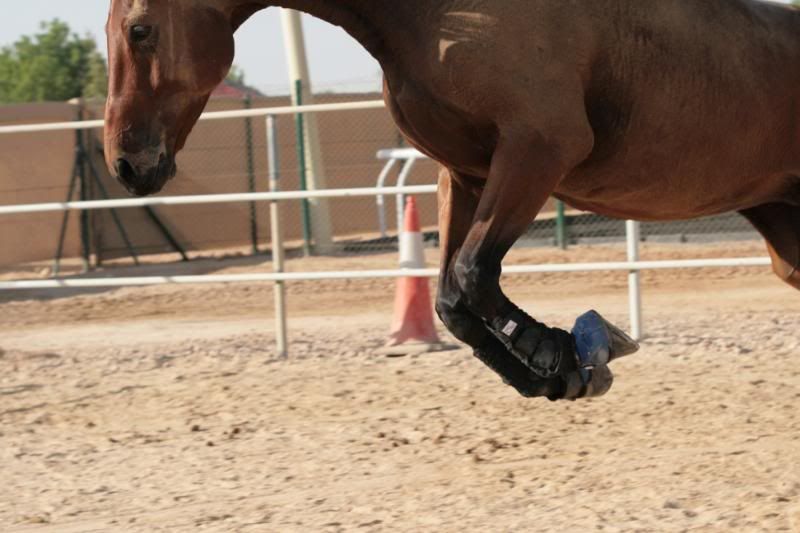 MY ALL TIME FAV PICTURE OF HIM!!!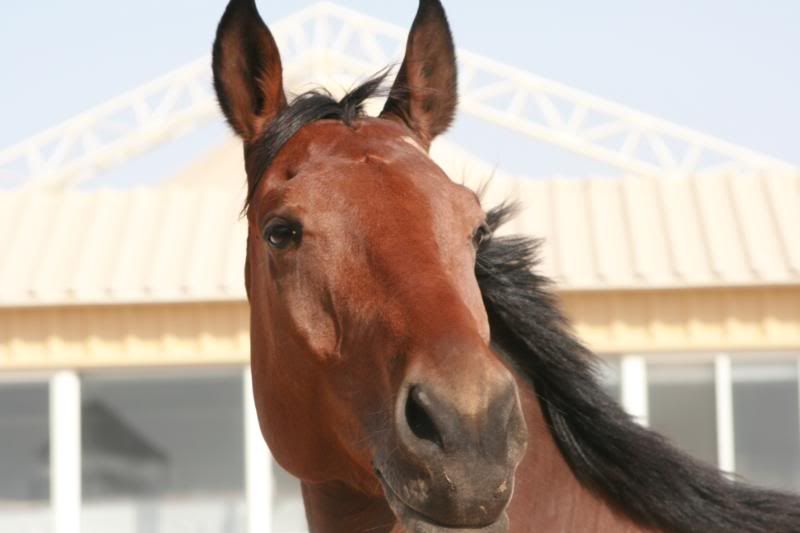 Welcome! He's gorgeous! What's kissing spines?
very handsome boy and welcome to the horseforum!
---
quarter horses.....simply the best
thanx. basically the sections in his spine are touching and rubbing together causing him pain.

Basically I spent the last 5 months lunging him long a low and loads of carrot stretches to rest and stretch his back and to build up his topline. The vet has told me he is not longer in pain and I cant start riding him normally!

There are olympic horses with the same problem, but as long as he is worked properly and has muscle on his topline to support his spine, they are fine.
Oooh ok, thanks for the heads up!