Pics from trail ride today.
---
My sister, brother in law, and me went on a trail ride today. I have the camera so of course no pics of me thankfully, but unfortunately only pics of Gypsy at the trailer. We brought four horses, but Wizard just came along for the experience, he wasn't rode, my sister rode my dad's horse Sockett.
Hard to see maybe, but here are the four butts ready to go,
Poor Genie being left behind, she was not happy,
And away we go (didn't even end up w/ any ear pics, that's odd),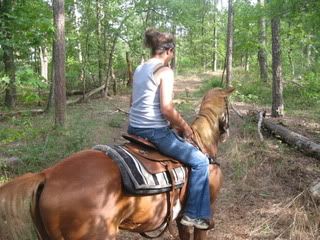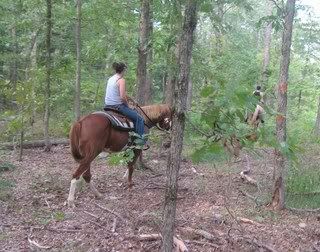 Wildlife along the trail,
(it's hard to see, but there is a little reddish frog in this pic)
Trail led back to the highway, Sockett needed the road experience, he handled it beautifully,
And back at the trailer (getting late and the pics were getting abit blurry)
And one of my brother in law's mom's dog Tank,
Cute pics! And I wish I could find a turtle or a frog on the trails! We have enough streams for them.
Cool pictures. I think I've found the frog, its small and on the right side next to the twig?? LOL
---
Enjoy The Ride
Yep, that's it! My brother in law was making fun of us for taking their pics.
That dog is so cute!!!! I love the pics.
---
RIP Minnie, 1981-January 15, 2010
RIP Maggie Mae I miss you